It was the first time Neil Patrick Harris (aka Barney from How I Met Your Mother or the creepy ex-boyfriend from Gone Girl) has presented the Oscars and the full verdict is yet to come in on whether he was better than James Franco or as eyebrow-raising as Seth MacFarlane.
The immediate consensus is that the comic actor was pretty cringe-worthy. Here are some of the best and worst jokes of the 87th Academy Awards – not going by who laughed in the audience (hey, they were always going to be uptight about diversity jibes).
Best jokes
"Tonight we honour Hollywood's best and whitest – sorry, brightest."
On Benedict Cumberbatch: "It's not only the most awesome name in show business, it's also the sound you get when you ask John Travolta to pronounce 'Ben Affleck'."
"Welcome to the Oscars, or as I like to think of it, the Dependent Spirit Awards."
To Dana Perry (who is wearing pom-poms): "It takes a lot of balls to wear a dress like that."
"We've got the glamour, the glitter, people tweeting things on Twitter. And no-one's drunk and bitter yet 'cos no-one has lost – from opening number "Moving Pictures," by Frozen's "Let It Go" writers Robert Lopez and Kristen Anderson-Lopez
"Our next presenter [Dakota Johnson] is not only the star of the record breaker for biggest February premiere ever, 50 Shades of Grey, she's also the reason you had to explain to your grandmother what a spanking bench is."
"In Zero Dark Thirty [Kathryn Bigelow] helped kill Osama Bin Laden. In A Million Ways to Die in the West I pooped in a hat."
Funny pictures from the Oscars 2015
Funny pictures from the Oscars 2015
1/25 Oscars 2015

So relieved (apparently) at having got her name right, John Travolta decides he'll hold onto Idrina Menzel's chin. Charming

Getty

2/25 Oscars 2015

Emma Stone doesn't seem to be puckering up towards Julianne Moore quite as enthusiastically as her Crazy Stupid Love onscreen mum

Getty

3/25 The Oscars 2015

Neil Patrick Harris adjusting his underpants

Getty

4/25 The Oscars 2015

T.J. Miller getting a little over-excited

Getty

5/25 The Oscars 2015

Jessica Chastain appears to receive an accidental pat on the boob from Emmanuel Lubezki

Getty

6/25 The Oscars 2015

We're not sure what's going on here but Kevin Hart and Eniko Parrish don't look impressed

Getty

7/25 The Oscars 2015

Anna Faris gets a hand holding the weight of her dress from Chris Pratt

Getty

8/25 The Oscars 2015

John Legend looks composed as Chrissy Teigen pulls a funny face

Getty

9/25 The Oscars 2015

Neil Patrick Harris and Anna Kendrick are open-mouthed with awe at their opening number

Getty

10/25 The Oscars 2015

Ethan Hawks reveals that even the most handsome actors be seen from a bad angle

Getty

11/25 The Oscars 2015

Nicole Kidman and Keith Urban practise their best hair shakes for the cameras

Getty

12/25 The Oscars 2015

Something made you chortle, Julianne Moore?

Getty

13/25 The Oscars 2015

John Legend helps Chrissy Teigen with her dress - Oscar seems to have grabbed hold of it!

Getty

14/25 The Oscars 2015

It's not that bad Alejandro Gonzalez Inarritu...you won, right?

Getty

15/25 Oscars 2015

Rita Ora appears worried about her performance

Getty

16/25 Oscars 2015

Naomi Watts has a point

Getty

17/25 Oscars 2015

Eddie Redmayne is so happy to have won best actor he is damned if anyone is going to try and take it off him - he'll hug it to himself standing on one leg for extra protection

Getty

18/25 Oscars 2015

Michael Keaton seems to be telling David Oyelowo that he dropped his glasses - but David is too busy posing with his wife Jessica

Getty

19/25 Oscars 2015

Oh no, wait, they weren't David's glasses after all

Getty

20/25 Oscars 2015

Eddie Redmayne can't seem to fit his new gong in his pocket. Maybe stuffing it up his sleeve might work better?

Getty

21/25 Oscars 2015

Jared Leto wins the award for best beard at this year's ceremony

Getty Images

22/25 Oscars 2015

Rita Ora said she hired a bodyguard because she was borrowing so many diamonds - but it looks like she needed on to carry her skirts

Getty

23/25 Oscars 2015

Questlove tries to win the Oscars selfie of 2015 award

Getty

24/25 Oscars 2015

He gets a few friends involved

Getty

25/25 James Lucas

Getty
Worst jokes
"Robert Duvall, every five minutes, please wake up Octavia Spencer if she gets sleepy. Eddie Redmayne, every five minutes, please wake up Robert Duvall."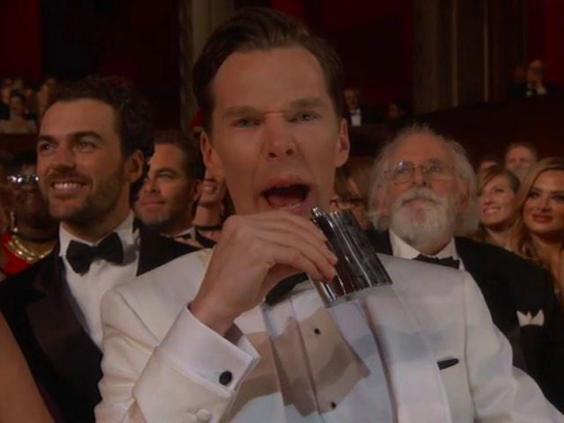 "The eight Best Picture nominees brought in over $600 million, and American Sniper is responsible for $300 million of that. Put it to you this way: this half of the theatre are the other seven nominees: American Sniper is Oprah [looks directly at Oprah]. Because you're rich."
"There it is, American Sniper with Bradley Cooper. The most prolific sniper in history, with over 160 confirmed kills. Or, as Harvey Weinstein calls it, a slow morning."
"Every nominee is getting a gift bag tonight. It contains make-up, shoes and an armoured car ride to safety when the revolution comes."
"He's the real deal, pants down. I mean hands down. Channing Tatum!"
"Tonight is also for the people who love these movies, who bought a ticket, who took a ride, who got lost in the stories that inspire us, the stories that motivate us, that remind us to be brave in the face of danger, to chase impossible dreams and to stand up for our rights. Tonight, on this stage, we have come together to celebrate and hopefully to fall in love with moving pictures all over again. OK, maybe not Smurfs 2."
Reuse content