Effie Gray has endured almost as much grief in reaching the screen as its lead characters face during their brief and miserable marriage.
The film, which boasts the first original screenplay written by Emma Thompson, examines the troubled relationship between eminent Victorian art critic John Ruskin and his younger wife Euphemia "Effie" Gray. It is three years now since the film started shooting and at least five years since the project was first announced.
Whatever legal and financial difficulties it may have faced during its lengthy journey toward completion, this turns out to be a fascinating, albeit strangely downbeat, costume drama. It boasts the production values of the best Merchant Ivory pictures but also has some of the same intensity and perversity that characterised Jane Campion's The Piano.
Thompson's screenplay approaches the breakdown of the marriage between Effie and Ruskin, one of the great scandals of the Victorian era, as if it is a dark Gothic fairy tale. Effie (Dakota Fanning) is introduced to us as a "beautiful young girl who lived in a very cold house in Scotland." Like a heroine in a Bronte novel, Effie is plucked from her childhood home to begin her new life faraway.
Ruskin (Greeffie grayg Wise) is one of the most distinguished critics and writers of his day. He has known Effie since childhood and regards her as a muse. The problem, which quickly becomes apparent, is that he has an utter horror of physical contact. He seems disgusted by his wife's body and will not consummate the marriage. In the many books and articles about the marriage, it has been suggested he was repulsed by her pubic hair, her odour or even the fact that she menstruated. The film isn't prurient in its depiction of the bedroom scenes. "What do married people do?" one spouse asks. Ruskin's tragedy is that he doesn't have a clue. Unsurprisingly, with such a husband, the young, high-spirited Effie becomes sickly and despairing.
Director Richard Laxton plays up the grotesque elements in Effie's plight in the home in Denmark Hill, London, that Ruskin shares with his parents. Mr Ruskin (David Suchet) and Mrs Ruskin (Julie Walters) are portrayed as social-climbing busybodies who've mollycoddled their son. They've brought him up to be a genius but have turned him into an extreme prig in the process. He hates parties. His idea of small talk is to discuss the purpose of art. The one sympathetic character Effie encounters is Lady Eastlake (played by Emma Thompson herself) who reminiscences about the wretched early days of her own marriage to Sir Charles (James Fox.) The difference is that she and Sir Charles managed to mend their relationship.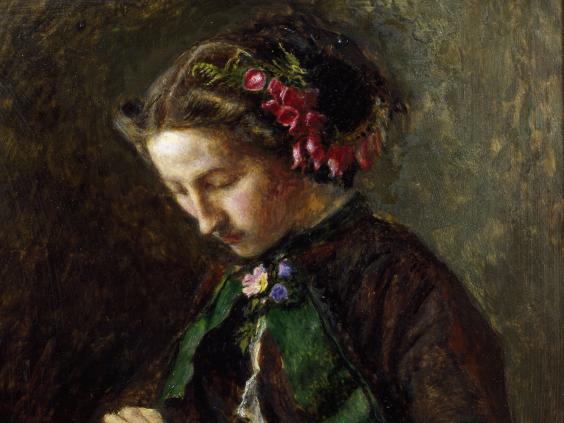 Ruskin also features briefly in Mike Leigh's new film, Mr. Turner, in which he is played by Joshua McGuire in comic fashion as an absurdly high-minded art critic. Here, as portrayed by Greg Wise, he is a far sadder figure. In a subtle and affecting performance, Wise manages the unlikely feat of making Ruskin seem half sympathetic. He gives us the sense that the character is as much a victim as Effie herself. Like Benedict Cumberbatch's Alan Turing in new thriller The Imitation Game, he simply doesn't know how to express his feelings.
With his mutton chop whiskers curling around his cheeks, his cravats and his high collars, Wise's Ruskin cuts a very elegant figure. He fully agrees with his mother's assessment of him as "no ordinary man" and is vain enough to like having his portrait painted. At the same time, he is so enwrapt in his own work that he simply doesn't notice his wife's misery.
American actress and former child star Dakota Fanning (in a role that Carey Mulligan was originally expected to play) is likewise impressive as the long-suffering Victorian heroine. Fanning captures both Effie's vitality and humour and her mounting depression. With Ruskin as her husband and her tormentor in chief, she undergoes a transformation similar to the one she endured in Kelly Reichardt's recent thriller Night Moves (in which her character was so remorseful about an act of eco-terrorism that she drives herself toward a breakdown.)
Midway through the film, there is a picturesque interlude in which the unhappy couple decamp to Venice. Ruskin admires the local art but deplores the city's hedonism and decadence. Effie, for the first time in the marriage, has some fun, flirting with officers, dancing and even taking the gondolier's oar. Ruskin, as might be predicted, doesn't even notice that his wife's antics are provoking malicious gossip. Nor, back in London, does he realise how ill and downcast Effie is becoming. A Scottish doctor (a gruffly effective cameo from Robbie Coltrane) is able to see in an instant what is ailing her. On his advice, Ruskin takes Effie up to Scotland with handsome young artist John Everett Millais (Tom Sturridge) in tow.
Effie Gray is beautifully shot by cinematographer Andrew Dunn. Whether mist-shrouded Scottish lochs and waterfalls or maze-like Venetian alley ways, he manages to make all the settings here dramatic and mysterious. Even so, the emotions here remain muted. We see Effie gazing with fascination at the naked Millais as if he is Mellors the gamekeeper in Lady Chatterley's Lover.
Their attraction toward one another is evident but the filmmakers don't want to lapse into melodrama or play up the repressed eroticism too much. The main focus is on the disintegration of the marriage between Ruskin and Effie. Thompson's screenplay makes it clear how limited Effie's options have become. In the patriarchal society of the day, she has almost no rights. Worse, she has nothing to do. The monstrous Mrs Ruskin won't even let her help in the garden. She doesn't have the consolation of her husband's intellectual pursuits and thanks to Ruskin, she has no children to look after either. Effie is not an Anna Karenina-like tragic heroine but simply a very unhappy Victorian wife.
The filmmakers do an excellent job of portraying her misery but that's very bleak subject matter for sustaining an entire movie.