Anna Coogan didn't feel like she had a lot of love songs to write when her home city of Ithaca, New York, came within 30 days of running out of water. "This area that usually has so much water was just bone dry," says the former biologist turned rock musician. "All the waterfalls were gone – they were just these big rock formations." 
The Boston-born singer was preparing to go into the studio last year to record her latest album, The Lonely Cry of Space & Time, when Ithaca had its driest March-through-June period on record. "I've been thinking about global climate change for a long time, and this is the first time that it's starting to become clear that it will affect the individual," she says. 
Speaking from her living room, the high-spirited and attentive American is cautious about overtly linking the drought to climate change without data to hand. But that hasn't allayed her fears of the immediate impact environmental damage could have on humanity. Researchers at Cornell University in Ithaca are unsure whether more dry summers like the one experienced last year should be expected in the region, but it's possible that severe short-term droughts could increase in frequency.
Last year's drought and the run-up to the US election made a profound impression on Coogan's writing for the new record. She explores the inflammatory rhetoric of the 2016 presidential race in "Collateral", the divisive immigration debate in "Wishing Well", and the turmoil of the Middle East in "Burn for You".
"I tried to liven it up sometimes, but it just didn't come out that way," she admits. But Coogan insists there are "happier songs" on The Lonely Cry of Space & Time, including the title track, which is a celebration of the discovery of gravitational waves. "It was such an inspiring story in this otherwise really dark time." The rest of the album is made up of "love and break-up songs", because she had to "keep a few of those in there".
Coogan used to work as a fisheries biologist on a monitoring project of Lake Washington in Seattle, so the subject of climate change is dear to her. "It wasn't directly a climate science project, but everything ecology-based ends up touching on climate change." As the opera-trained singer points out, the lake she worked on "is warming and species are shifting".
Both the singer's mother and husband are scientists too. And while Coogan no longer works as a biologist, of particular concern are the Trump administration's alleged ban on Environmental Protection Agency officials speaking out publicly and the proposed 20 per cent cuts at the National Oceanic and Atmospheric Administration, the government agency which protects coastal resources in the US. 
"I worked directly with the data for years so it's been really brutal to watch it come so quickly onto the chopping block," she says. "There's no respect [from the Trump administration towards scientists], and I think there's even a pretty negative feeling that the scientists themselves have been preventing other industry jobs from happening."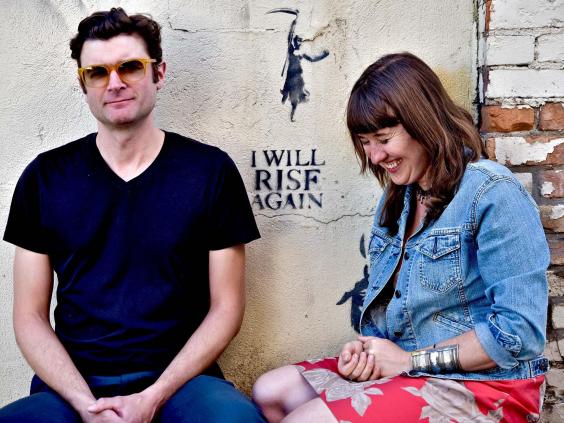 However, Coogan is confident that the project she worked on for the University of Washington will survive through local and private funding. "But a lot of the projects that my school worked on, and a lot of the projects that my friends work on – they're definitely at risk." Although she's concerned about climate change denial at the highest levels of government, the singer is optimistic that pushing the issue back to a local level will force mayors and governors to take action to prevent further environmental damage.
She is also heartened by the fact that she could speak with Tom Reed, her Republican congressman, at a rally just days after he met Donald Trump in the White House in February. "Whether he's going to listen to anything I think is another matter, but that did highlight that there is some hope," she says. "There are people that have the ear of the President that may or may not be willing to listen to some of the things we have to say."
A liberal thinker herself, Coogan recognises that the left has consistently failed to understand the needs of voters in rural America. "For years, it's been these blue cities that have the big population centres and kind of a sea of red. I do think that the left has to take stock of that fact." Indeed, she tried to make her own inroads while at the Tom Reed rally by talking to Trump supporters. 
"They're not crazy and they're not bad. I think it's easy to get wrapped up in that kind of thinking." The general gist of Trump supporters' concerns at the rally was that "people really disliked Obamacare". She adds: "Especially people with small businesses. I'm no policy expert by any means, especially on healthcare. But it is a flawed system." Coogan also sympathised with those frustrated at the high taxes in her state – she gets hit by them too as a homeowner.
But while the apocalyptic themes of The Lonely Cry of Space & Time appear to portray an artist who has lost faith in humanity in the face of a new President who is "turning climate denial into more of a national policy", the singer-songwriter is conscious of keeping her anxieties in perspective. After all, as Coogan says, "Darkness is relative, isn't it?"
'The Lonely Cry of Space & Time' is out now
Reuse content