Midway through his packed set at the South by Southwest (SXSW) festival's venue Fader Fort last Friday, Damon Albarn brought on De La Soul for the Gorillaz hit "Feel Good Inc". The upbeat track was welcome in a set heavy on the stripped-back piano-led songs of new album Everyday Robots. And when Albarn ended the show with "Clint Eastwood", announcing, "we've never performed this song in its purest form, ever," before bringing on original collaborators Dan the Automator and Del the Funky Homosapien, who spat out the rap to the group's biggest hit, only to introduce Snoop Dogg, the crowd erupted. What had been billed as a half-hour set turned out to be twice that length and a festival highlight.
That is the beauty of SXSW. Whereby at other festivals – Glastonbury excluded – rigid schedules dictate bands' single shows, at SXSW it's about the surprises taking place across the five days, and being in the right place at the right time. "Jack White's in town," one taxi driver told me. "You'd better follow him on Twitter – he might pop up in a bar somewhere." He didn't, but then Green Day's garage-rock side project Foxboro Hot Tubs did, and so did Justin Bieber.
SXSW is as much about the surprise pop-up shows and the day party showcases, held by everyone from influential music blogsite Brooklyn Vegan to webzine Spin, as the official scheduled shows of the evenings. During the week, most acts play several shows across the city's 111 stages. Thousands of delegates, mostly industry types from A&Rs to journalists, rush from venue to venue in search of the next big thing.
With 2,394 acts on offer, as well as music films including Gruff Rhys's American Interior and a documentary about Edwyn Collins, even creating your own schedule can be a challenge.
Old-timers complain that the event is no longer solely about the rising acts playing tiny bars around town hoping to score a record deal. The corporate side can be felt more keenly with brands inviting the biggest stars to play shows. Samsung hosted Jay-Z and Kanye West, while Lady Gaga's intimate performance at Stubbs was for Doritos. With T-shirts in shop windows everywhere bearing the local slogan "keep Austin weird", Lady Gaga did her best to oblige. From the minute she appeared on a mechanical spit-roast, the pop star's show was all about spectacle. She was vomited on with neon green, then black, liquid, and she rode a bucking bronco. In her keynote speech the following day, shecalled for artists to reclaim power from the industry. "The truest way for us to maintain the music industry is to put all of the power back into the hands of the artist," she stated. "I refused to compromise."
This was the first year that the iTunes Festival took place at SXSW, with performances from Coldplay, Willie Nelson, Kendrick Lamar, and grunge legends Soundgarden. All eyes were on Coldplay as they debuted four songs from their upcoming album Ghost Stories on the first night. Its first single "Magic" delivered minimal electro-groove and Chris Martin's laid-back vocal, while the other three were just as downbeat.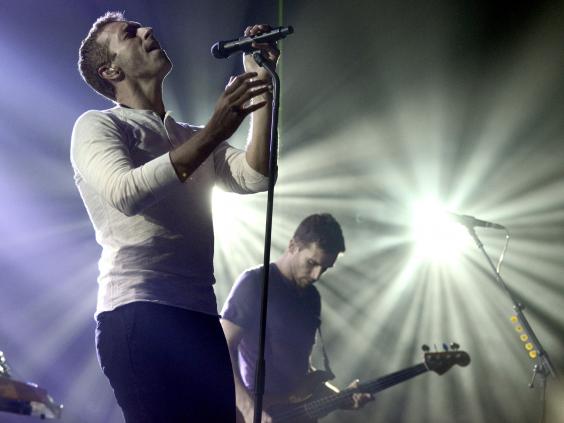 It's the ideal place for established artists to promote their new albums. The Kooks, whose new soul, gospel, and hip-hop-infused songs "Down" and "Around Town", created with hip-hop producer Inflo, and dubbed "electric church" music by charismatic frontman Luke Pritchard, sounded fresh and thrilling.
Acts from The White Stripes to M.I.A made it after appearing at SXSW, and it's still a festival where fans share tips, and bands can get their big break. Last year, Syd Arthur were snapped up for deals after being scouted at their British Music Embassy show. The previously ignored Kent band suddenly found themselves at the centre of a record label scramble.
One of the most talked about acts  was Kettering psych-rockers Temples. They sold out the 2,000-capacity Shepherd's Bush Empire a week earlier, and by the time SXSW drew towards its end, their British Embassy show was packed.
Even on the relatively dry Radio Day Stage at Austin's Convention Centre in the early afternoon, Phantogram's eerie folk and shoegaze set to sharp electro-indie production transformed their surroundings.The Brooklyn band are already a big deal at home in the US but it's only now that they have their first official UK release, an EP, before their album arrives later this year. Another female-fronted buzz band was Lucius. While many new bands' sound are indebted to 1960s girl groups, none are doing it quite as inventively as the Brooklyn band whose debut album Wildewoman is due in the UK this month. Fronted by singers Jess Wolfe and Holly Laessig, their soaring harmonies dovetail as the band lend electronic textures and shimmering guitars. 
Benjamin Booker  was another discovery. Such was the wall of sound that came from the Chevrolet Courtyard at Cedar St, it was surprising to see that the 22-year-old from New Orleans was accompanied by just drummer Max Norton. The Rough Trade signee's frenzied guitar-strumming and raw, soulful vocals were hair-raising in intensity, recalling the blues-rock of early Kings of Leon and The Black Keys. Los Angeles band Terraplane Sun, and their sun-drenched blend of blues, rock, soul and folk, delivered with laid-back California style, was one of my favourite shows.
"Don't try to do everything" was the piece of advice to keep in mind as showcases slipped me by. SXSW is an endurance test for the most seasoned music fans. But it's worth it.
South by south best: Five finds to follow
Royal Blood 
The Brighton bass and drums duo delivered blistering, powerful rock in the vein of early Muse and Queens of the Stone Age. They play Reading and Leeds Festivals in August.
Glass Animals
Tipped by Radiohead's Colin Greenwood, and the first signing on Paul Epworth's Wolf Tone, their pulsing indie electronica was a hit. The Oxford band tour 16 to 21 June. 
Jungle 
It was very early days for the London collective when they showcased their mesmeric modern soul to SXSW crowds. They have a tour in May and play Latitude Festival in July.
Bear Hands
Purveyors of smart, tightly-delivered post-punk indie-rock with Talking Heads basslines, the Brooklyn band play the Great Escape in May.
Cousin Marnie 
A more intriguing Lorde with sparse tribal beats and earworm folky melodies. One to watch.
Reuse content