Pick a landmark recording from the past 50 years of popular music and the chances are that Charlie McCoy has blown up a harmonica storm, shaded in a guitar fill, or even added a dab of sax, somewhere within its grooves.
"I've played on some 13,000 sessions," reflects the genial 74-year-old, a multi-instrumentalist, who is the most recorded harmonica player in history. "I've been on some great sessions. And some stuff that's downright horrible."
It's a typically modest assessment from a Nashville, Tennessee session musician whose name may not be widely known but whose vital contribution to a wealth of classic recordings certainly is.
That's McCoy playing the sax on the unforgettable, propulsive opening riff to Roy Orbison's "Oh, Pretty Woman". The mallet percussion on Bobby Vinton's desolate "Blue Velvet" is his work, as is the distinctive bass harmonica backing on Simon & Garfunkel's "The Boxer".
McCoy, a Floridian teenager who visited Nashville for a week in 1959 hoping to find work as a drummer and quickly established himself as a versatile session leader, played organ and harmonica for Elvis Presley on seven of the King's movie soundtracks.
From Perry Como to Leonard Cohen, Cliff Richard to Dolly Parton and Jerry Lee Lewis to Johnny Cash, the production line never stopped, with McCoy improving countless recordings while sticking to a maxim of never stepping on the toes of the star who is paying your daily wage. Oh, and the wheezing harmonica theme to The Old Grey Whistle Test, "Stone Fox Chase", that's McCoy, too. "I got a good royalties rate for that," he jokes.
"We always compare the song to a picture," explained McCoy, whose harmonica blowing stood out for its velocity and melodic phrasing. "We're just here to provide the frame, to make the picture look and sound good. If you didn't learn that your career would be shot."
"As musicians you don't get to say 'yes' or 'no' to a session," McCoy said, lounging in a chair at the Nashville Country Music Hall of Fame and Museum, where a plaque attests to his achievements. "Only if they weren't paying union rates."
Now McCoy is to receive an overdue taste of the spotlight, thanks to his association with Bob Dylan at a crucial point in the folk poet's career.
In 1966, McCoy helped lure the East Coast bard-turned-electric rocker away from the hip New York scene to record in Nashville, then a culturally Conservative, Bible Belt city, out of step with popular music trends.
The resulting double album, Blonde on Blonde, recorded with McCoy and the Nashville Cats, the city's supremely skilled A-list players, is still regarded as one of the greatest LPs ever made.
Dylan said the album was "the closest I ever got to the sound I hear in my mind". He returned to McCoy for the spartan follow-up John Wesley Harding and the country-informed Nashville Skyline album. But Columbia, Dylan's record label, had ordered him not to step foot in "backwards" Tennessee.
McCoy said: "The bible of that movement was Rolling Stone magazine and it was not kind to Nashville. Quotes like 'cookie-cutter music, all business and no art, assembly line music'. But we were A-list musicians who knew how to get a lot of music, at high quality, in a very short space of time, on a small budget. These guys were incredible."
In 1965, Bob Johnston, a Nashville songwriting hustler, found himself producing Dylan's Highway 61 Revisited album in New York and invited McCoy to town, promising him Broadway tickets. His real motivation was to get him to play guitar with Dylan.
"He said, 'I'm getting ready to record another song, why don't you grab a guitar and play along?' It was 'Desolation Row'." Dylan was knocked out by McCoy's licks on the epic track and sensed a new musical journey.
"Bob Johnston said, 'You know, I was using you as bait. I wanted Dylan to come to Nashville and he didn't want to.' So I was bait and it worked."
When Dylan arrived at Columbia's Music Row studio in Nashville, it was a shock to the system for McCoy, used to highly regimented sessions. The muse refused to strike. "We sat there from 2pm till 4am the next morning and we never played a note. This was unheard of, everybody was on the clock. We couldn't believe it. You're figuring out ways to stay awake because he might decide at any minute that he wanted to record and we wanted to be ready for him."
"I don't know how many games of ping pong we must have played. Then at 4am he came up with "Sad-Eyed Lady of the Lowlands", an 11-minute ballad. And everybody's sitting there saying, 'Please don't let me make a mistake.' He just started playing it and kind of left it up to us to decide what to do. Every recording, there was no conversation."
McCoy, who played guitar, bass, trumpet and harmonica on Blonde on Blonde, established a limited form of communication with Dylan. "I'd say, 'Bob, what would you think if we did this or that?' And his answer would always be, 'I don't know, man, what do you think?'
"So I finally went over to the producer and I said, 'You know what, I've got to quit asking because he's not answering. If we do something he don't like, maybe he'll say something.' And the producer said 'That works for me, so go ahead.' So that's the way that it went."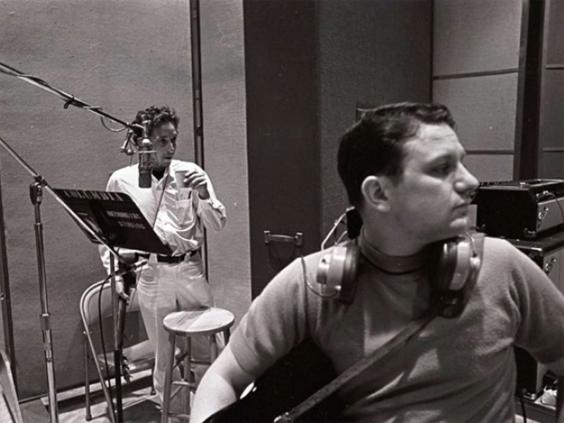 The cross-fertilisation of the Dylan sessions opened up Nashville to a wave of rock and pop artists including the Byrds, Simon & Garfunkel, Paul McCartney and Eric Clapton, who came to the city to record, with many invited to perform with Johnny Cash on his popular television series.
A major exhibition at the Country Music Hall of Fame – Dylan, Cash and the Nashville Cats: a New Music City – tells the story of this fruitful musical dynamic, and a new 2-CD album, featuring a previously unreleased version of Dylan's "If Not For You", contains many of McCoy's greatest contributions. It includes "The Boxer", which was a wholly different experience to recording with Dylan. "Paul Simon's office called and asked me, 'Do I own a bass harmonica?' OK, that's what he wants me to play. Simon was very definitely in charge. Every single note you hear on the record was dictated to me by him."
Although McCoy has recorded 39 solo albums and will tour Europe with his own band this summer, he takes pride in maintaining a background role. "Good music is good music whether it's your idea or my idea. I've been so blessed in 53 years of music. I've been on some good records and some that weren't so good but we can forget about those."
Today Nashville is home to Taylor Swift's digitally constructed precision pop, removing the need for intuitive session players who can turn round an album of live recordings inside a day. "A lot of the musicians record their contributions separately, they never see one another and I think that's kind of sad," McCoy said.
"A lot of young people don't realise songs are words and music. You get a lot of young guys with a lot of skills and they play flashy and they don't realise that. They don't seem able to pull it back.
"We have so many musicians here now, you don't have to put up with players with attitudes and you don't have to put up with over-playing. There are enough guys who can do a great job." Wise words from a master craftsman – who is still available to blow some mean harp for any artist who needs a blast of authentic Nashville musicianship.
Dylan, Cash and the Nashville Cats: a New Music City' exhibition runs at the Country Music Hall of Fame and Museum, Nashville, Tennessee until 31 December 2016. The accompanying 2CD album is released by Legacy Recordings/Sony
Reuse content