Two years before their game-changing album Kid A, Radiohead released a documentary film called Meeting People is Easy. The title was ironic. It centred on the band touring their hugely successful 1997 album OK Computer around the world and having a thoroughly miserable time of it, Thom Yorke emerging as the very antithesis of everything we had come to expect from our successful rock stars.
"That film really spoke to me," says Everything Everything's 31-year-old bassist Jeremy Pritchard, brightly. "I watched it again and again, and thought it was a totally normal way for people in a band to behave. It was only much later I realised it wasn't perhaps quite the best text we could be learning from." Nevertheless, it was the same band to whom they turned for inspiration after Kid A broke the rules in ways major albums by major rock acts rarely did.
"We were 15 when that came out, and it changed everything," says singer Jonathan Higgs, 30. "When we were growing up, there was still a very clear division between guitar bands and dance acts. It was positively tribal. But then Radiohead came along and threw out guitars, and with it the very idea of genre. It blew my mind."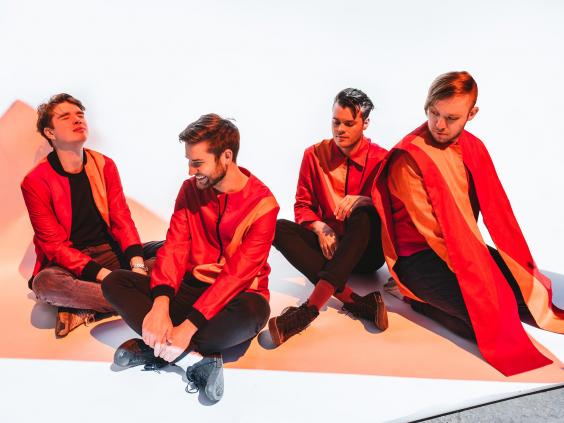 Three members of Everything Everything – Higgs and Pritchard alongside drummer Michael Spearman – met while at the University of Salford between 2003 and 2006, and they formed the band with guitarist Alex Robertshaw in 2007, naming themselves after the first words Thom Yorke can be heard singing on that seminal album. Like their idols, they would go on to play music that was not easily classified, rock and indie mixing with elements of rave, and arranged in what seemed, on paper at least, as unnecessarily complicated rhythms. And all topped off with a jerky falsetto from Higgs, a man who sings as if suffering from an itch he cannot quite reach.
Their first album, 2010's Man Alive, was nominated for a Mercury Prize, and was followed three years later by Arc, a largely bleak record in part formed by Higgs's depression. They toured that album heavily, and then, in 2014, took some extended time off. The singer sat at home stewing in front of the television, and became addicted to rolling news – 2014 proved an internationally violent year. There were bloody uprisings across the Middle East, and terrorist atrocities became commonplace. This served to deepen Higgs's depression, which subsequently bled throughout their new album, Get to Heaven, released this month. The album explores what people who are marginalised will do out of desperation, and references both Ukip and Isis. The highly strung terrorist protagonist of "No Reptiles" for example, feels violence is the only response to their alienation. "I was in the war/ You were in the war/ I was on my knees/ You were on your knees" he sings, then: "I'm going to kill a stranger."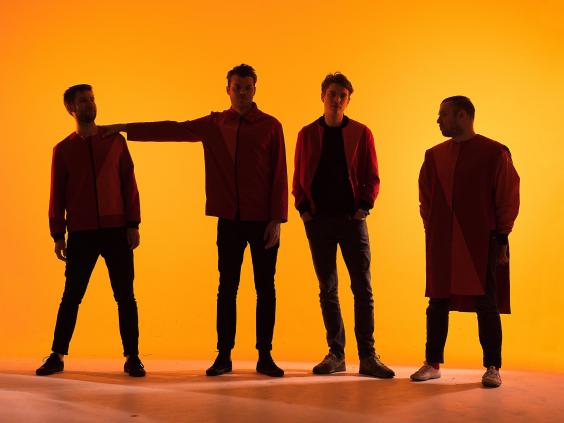 It is quite the most arresting album of the year so far, nervy and agitated but also melodically joyful and euphoric. It is already being hailed a masterpiece.
"Best not dwell on proclamations like that," says Pritchard decisively. I ask him why. "Because that way mental illness lies."
Lunchtime in central London, and two members of the band are whiling away a spare hour in a cavernous pub, drinking mineral water, before an appearance on XFM requires them to reconvene. Pritchard tells me they like to spend as much time apart as they can while on the promotional treadmill, "because we spend so much fucking time together as it is". Promotion, it seems, is a necessary evil, which perhaps explains the guitarist and drummer's absence right now, and Pritchard's own slightly distracted air.
Higgs is the more present of the two. He is earnest and polite, a pair of watery blue eyes peering out from beneath his fringe. His speaking voice is far more rich and sonorous than his elasticated singing style might suggest. He could read the news.
He tells me that the more he scoured the headlines last year, the more helpless he felt. And when Mancunian cab driver and aid worker Alan Henning was decapitated by Isis, that helplessness turned to revulsion, and anger.
"That just brought everything so close to home," he says. "I had all this violence, all this crazy shit, racing around my head, and the only way I could get it out of me was by writing it down." He tries to smile, largely in vain. "To be honest, I didn't realise quite how bad I was feeling at the time until we had finished the record, when I started at last to feel a little better."
Higgs may not have realised it, but his bandmates did. Recording sessions for Get to Heaven were blighted by the singer's mood-swings. "It affected us pretty adversely," says Pritchard. "If somebody has hurt their leg, that pain doesn't necessarily transfer to everybody else, but depression invades the room. There were days when we would wake up and go: 'Oh fuck, here we go again, another day in the studio staring awkwardly at each other and not saying very much.'"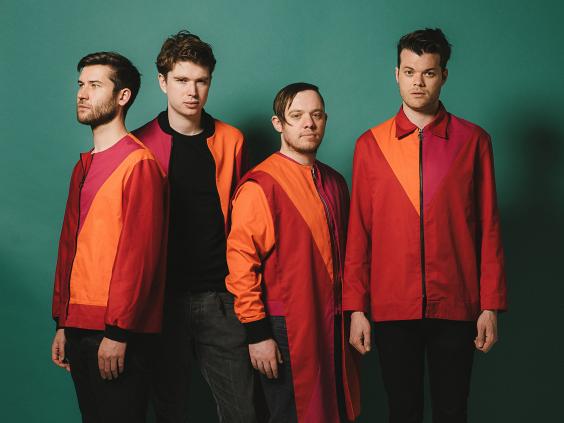 Higgs tried to improve the situation by switching medication. "It was supposed to be a gradual change, but I just switched overnight," he shrugs. "Pretty stupid of me, and as a result I went literally mad for a while."
Though depression is a wretched thing to live with, he concedes that, for a songwriter, such a condition can be something of an emotion to draw from. "It can, yes, but I've reached the point now where I know all the supposed pros and cons of it. I used to talk myself into thinking that when I was medicated I was not as good a songwriter, somehow. But I know now that that is bollocks. When I'm not on medication, I don't want to make music at all. I don't want to do anything." Like the band that most inspired them, Everything Everything have found that little has come naturally to them in this complicated business of being in a band. It has all been a learning process and often an uphill struggle. They will never be Kasabian. Higgs tells me that each new hurdle – from the way they present themselves in interviews and photo shoots, to how they interact with fans and comport themselves onstage – are barriers that push up against their comfort zone, and which they have to navigate themselves around. He offers an example.
"I've been encouraged to start going down [to] the front of the stage when we play live. I'm planning to try that out," he says, adding: "Soon." He is also learning not to read what gets written about his band. He rarely likes it when he does.
"I read a review the other day that said we were unashamedly pretentious. Sorry, but is it really pretentious to write about global issues? I mean, who wants to hear yet another middle-class band writing songs about touring, about their lovers? I cannot think of anything more boring, frankly, and so I'm not going to apologise for using my f****** brain. We're not exactly radicalising anything here, we're just expanding our horizons"
"Perhaps some people just think we're a little too bellicose," offers Pritchard.
Higgs glances at him, askance. "I'm afraid I don't know what that word means, Jeremy."
"It means belligerent, argumentative, confrontational."
This seems to satisfy Higgs. He tries another smile, and this time it beams.
'Get to Heaven' is out now
Reuse content