The sunglasses, you sense mere minutes after meeting him, are impenetrable for a reason: the man behind them is, too. But Gaz Coombes never had many rock-star proclivities and so, soon after sitting down in this central London bar 15 floors above Regent Street, once he has switched off his phone, ordered a Coke and crossed one skinny-trousered leg over the other, the sunglasses mercifully come off. But, despite being here to talk about his robust new album Matador, a certain diffidence permeates; his unshielded eyes never fully lose the attendant crow's feet. An hour later, at our conversation's conclusion, I will ask the former Supergrass frontman how it was for him, concerned that our talk never fully flowed.
"If you're happy, I'm happy," he says in a way that doesn't entirely convince.
Coombes, now 38, has been a pop star for the past 20 years. Supergrass, a trio of school friends from Oxford, were the most effervescent of propositions in the 1990s, a band whose 1995 debut album I Should Coco is enormous, raucous fun. By the time they released the single "Alright" – arguably the second best song of the Britpop era – they were inextricably linked with the musical movement it helped define. And though they never quite scaled the commercial heights of contemporaries Blur, Oasis and Pulp – whose "Common People" was arguably Britpop's defining moment – they were certainly their creative equal, each album consistently and rigorously inventive.
But, in many ways, the band remained doggedly two-dimensional, largely by design. Coombes seemingly possessed little desire to cultivate a persona the way, say, Liam Gallagher or Jarvis Cocker did, and the band's collective stance was elusive and tight-lipped. They may as well have held up a "No Entry" sign. And despite drummer Danny Goffey's involvement in what briefly became known as the "Primrose Hill set" (Goffey was dating the singer Pearl Lowe; they and a coterie of A-list friends, among them Kate Moss, were a paparazzo's dream), they largely balked at the trappings of modern celebrity.
"We were always quite resistant to that sort of thing," Coombes says now, playing with his sunglasses as if tempted to put them back on again. "We enjoyed our little bubble, and staying in it – not arrogantly, I hope; we were just protective of ourselves. We didn't want to analyse what we did, or have it analysed. We just wanted to do it."
Supergrass ended in 2010, requiring Coombes, by now married and the father of two young girls, to negotiate the often tricky path facing any singer of a formerly successful act. Many of his peers have struggled to establish themselves without guitarist, bassist and drummer behind them, and when Coombes released his debut, Here Come the Bombs, in 2012, it was mostly overlooked.
"I was just relieved I wasn't totally forgotten about. Back then, my head was still in two places. I'd only been out of the band a few months when I started writing it, and that was hard. I suppose I was still trying to find my voice."
He has found it now. His new album, Matador, is a world away from the supercharged pop of Supergrass. In its place is a darkly furrowed paranoia and much woozy electronica, his voice somehow managing to sound as hirsute as his trademark sideburns. "I'm the storm closing in," he sings, hoarsely, in the opening "Buffalo", while "Detroit" recalls the drug-induced fear of an early Supergrass tour of the US.
"I was 17 years old, and after a good night out, I was in the middle of – well, of a drug paranoia episode," he recalls. The only thing that would calm him down, he was convinced, was his girlfriend's voice, so he found a payphone, and called her. "She spent the next 20 minutes talking me round, recalibrating my brain."
Though it took him two decades to turn the episode into a song, he had long thought it worth documenting. "I just thought it was a really beautiful moment, that two people can have that sort of connection, and that one of those people had the ability to pull the other one into a better place just with some reassuring words."
And then there is "Seven Walls", about the beginning of his relationship with his wife Jools, but even this drips with melancholy. He struggled writing this one, he admits, and so asked his wife, a budding novelist, to contribute. "I gave her the basic idea of the song, and she came up with a few lines that helped glue the rest of it together." He smiles. "I never really thought of asking her help in songwriting before; perhaps I should have."
When I tell him that much of the album's furtive sound is redolent of Radiohead's In Rainbows, he shrugs in a way that makes it impossible to tell whether he considers this is a compliment or criticism. (For the record, the former).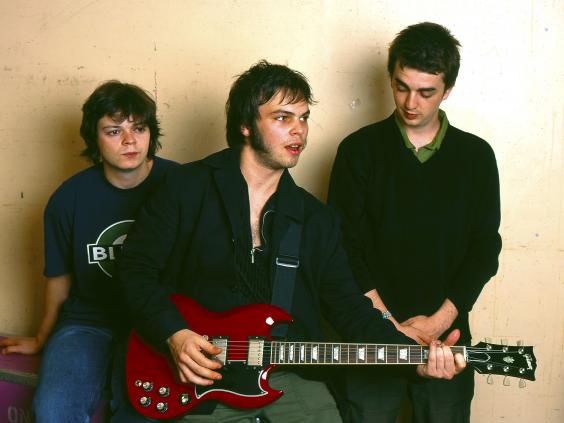 "I suppose it was just important for me not to be repetitive, [not] to do what I've already done before," he says. "And I think I realised that there could be more to a song's structure than verse/chorus/verse/middle eight/double chorus, all of which has to be squeezed into two minutes 45 seconds, you know?"
"I don't really look back, but when I do, I suppose I realise it's been a pretty insane journey. Everything I've been through – the guys in the band; personally… you hit a certain age, and then unfortunately people you love can fall away; you lose friendships; all sorts of emotions come up. And I don't really know what any of it means."
Supergrass ended after 17 years because, in his words, "we weren't really firing anymore. It was heartbreaking, I suppose, but we just lacked direction, inspiration." He recalls meeting a record label that had wanted to sign them, but on hearing their new songs the label boss uttered the very worst thing: "We'll call you." They didn't.
There was no way back. "Well, we could have carried on, I suppose, got bookings at festivals and made loads of cash. Or we could have stopped and tried to do something different. So I did." He claims he had no idea what he would do after the split, and when I suggest that a solo career was surely inevitable, he frowns. "Not necessarily. I just wanted to go home and spend time with my kids, my wife."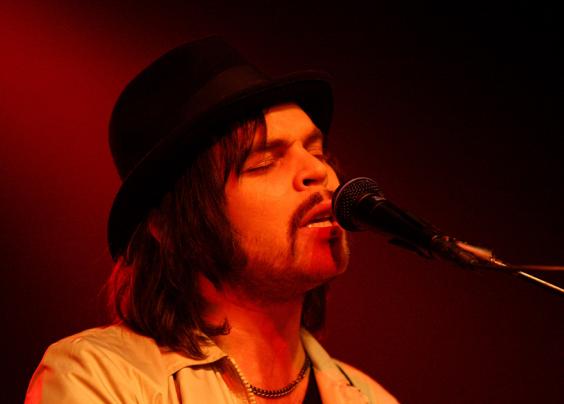 But with Matador, Coombes feels fully revived, and creatively sated once more. He says he's happy, and he seems to be. After almost a decade of living in Brighton, he and his family have moved back to his native Oxford, specifically to the house he grew up in.
"We came back because my mother was ill with cancer and I wanted to be closer to my dad," he says. His father wanted to sell the house after his wife died, but Coombes couldn't bear the idea of anyone else living in it. So he bought it himself.
"I really love my family home. It was a party house, growing up; there were always people in it. It's wonderful to be back." He pauses. "We've completely transformed it. It looks nothing like it used to. That would have been… weird."
His smile trails off. For a while we attempt small talk, but it refuses to go anywhere. As we say goodbye, it's impossible not to spot the relief in his eyes as the sunglasses go back on.
'Matador' is out now. Gaz Coombes tours the UK from this week (www.gazcoombes.com)
Reuse content