Three years on from their fifth studio album, Hot Chip are back and raring to go with their latest LP Why Make Sense?
Joe Goddard, who provides the deeper, grumbling vocals to Alexis Taylor's sweeter high notes, is explaining how the acclaimed electronic band have gone from layering strands of 80s pop, to an album that has been stripped down to those essential parts, all the while maintaining the sense of fun they have brought to their previous work.
"When we were making the last album we had this track 'Look at Where We Are' which was very stripped down in terms of instrumentation," he says. "It was very few layers of things: there was a very simple beat and a simple kind of sub-y hip-hop bassline. I thought that production and sonically that was really amazing, so I wanted to carry it through into this record, and make more tracks that had that feel to them."
There's a "come-full-circle" feel to this latest effort. Recalling the track 'Keep Falling' from their debut Coming On Strong, where Taylor sings "I'm like Stevie Wonder but I can see things", it is impossible not to think of Wonder once the clavinet gets going on Why Make Sense?.
"There are always elements of nostalgia with us, and these specific references to different musical periods. Those sounds are pleasing, aren't they? And if we feel like a song suggests one of those instruments then we'll use it, but we try to steer it away from just being a pastiche of that musical period by mixing references in quite a post-modern way."
While this is clearly down to both Taylor and Goddard's own taste, it also comes across as a stubborn refusal to join in on the computerised production of most mainstream pop.
"It is a little frustrating because when I listen to quite a lot of modern chart music. It sounds very much as though it relies on the computer," Goddard says. "Pretty much all the rhythms are quantised, so rhythmically they're very severe.
"And people do make amazing music like that, modern popular music that I think is incredible for those things, but I also think a lot of the time it squeezes the humanity out of music, which makes it harder to fall in love with those songs. Listening to those tracks, what I really hear, rather than people singing or drumming, is the computer doing a lot of work. That turns me off."
There's a repeated line in 'Huarache Lights' which reflects Goddard's sentiment: "Replace us with the things/That do the job better."
Collaborating with Robert Bell, who requested music from Goddard to go with an audio-visual installation he created last year, resulted in the track and the accompanying video.
It's one of two superb music videos, the second being the one which accompanies 'Need You Now': a shimmering, jittery synthpop jam. Shot in Hastings and near Derek Jarman's garden in Dungeness, footage stars Taylor as a man caught in some kind of bizarre Eternal Sunshine trip, encapsulating an all-too-familiar sense of helplessness.
"Never dreamed we would belong in world that's just gone wrong," Taylor sings, perplexed as everything around him begins to fall apart.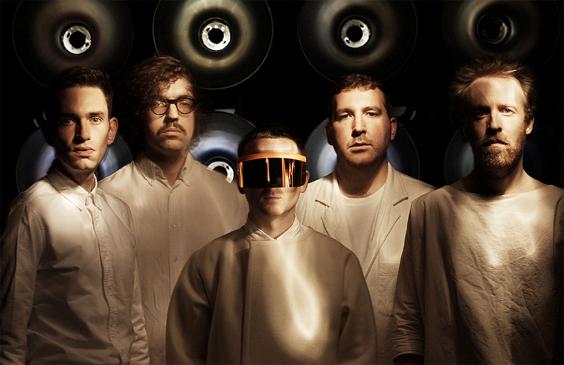 "I had written the music and found the sample we needed for the chorus, and I presented it to Alexis, who I think wrote the lyrics on that day," Goddard says.
"He was feeling kind of melancholy, and the music evoked something he was feeling at that moment. I don't think it was that premeditated. That's where the best Hot Chip music comes from: a kind of immediate, fresh take on the music."
"It's that thing you get when someone suffers with melancholy or depression: you feel like you're trapped in this downward spiral, like there's no escape. I think the video echoes the mood of the music brilliantly."
Goddard feels as though it is a "particularly dark time" for people in the UK. Spending a lot of time working as a DJ, he has a direct view of the "mindless hedonism" of people who find themselves worked into the ground during the week then "losing their minds" every Friday night.
"Often in the lyrics of those tracks there are no lyrics that really say anything that's going on…it's all about escape. But there is still something to be said for pop music being allowed to present people with a chance to enjoy something outside of their lifestyles.
"I would be more overtly political if I could phrase things in a way that I felt was successful," he adds. "Bob Dylan was amazing at writing songs that were political and successful but I just don't know exactly how to do that."
Hot Chip have always been something of an anomaly in the British music scene, and it seems strange that they haven't enjoyed a higher level of success. Even the band themselves aren't quite sure where they stand, and Goddard sounds frustrated when he mentions how it becomes difficult to judge due to the spike in streaming and illegal downloads.
"I'm an ambitious person so I want the band to be as popular as it can be, I want the band have success. I'm less positive about [music streaming]. When I go on Spotify I find it very difficult to find a lot of the music I want – it doesn't have more of the underground, weird electronic and dance music on it.
"And the amount of money people get per play… it's pathetic. It would be good if in our society we valued people making music a bit more – because it's hard for people to focus on making good records when it's so difficult to sell any music… apart from what's very middle-of-the-road and commercially minded.
"But I'm very happy with our career," he concedes. "We have a lot of freedom in what we do, we tour the world and we have an audience. There's very little for me to complain about."
Why Make Sense? is streaming in full. You can pre-order the album here
Reuse content