An artist releasing their debut album in their early forties? In an industry governed by the cult of the young, Eska Mtungwazi is something of an anomaly. But the Zimbabwe-born and London-bred session musician turned solo artist has a good reason for waiting so long: simply, that it's taken her that time to discover what she wanted to say.
"I kept upping the ante with every year that would go by," she explains. "I've been involved in three Mercury-nominated albums, and with every collaboration that you do that's successful, you might get a press mention from being a side player in something. So, people start putting this bizarre pressure on you, saying, 'You should do an album now, you're getting older, the press are talking about you and that's going to go away'.
"No one is saying, 'Have you got anything creative to say? Have you made anything that's worth putting out that you feel proud of?' I'm old enough to know that it was a long time coming and that's OK, I'm fine with that. If anything, it's the music industry that gives you the perception that it's almost impossible after you're 25 to have anything creative to say, which doesn't make any sense."
In any case, it was worth the wait: after years in development, her self-titled debut album was finally released in April to rave reviews. Our own critic Howard Male called it a record "sure to be deemed a classic in years to come". Written, produced and arranged by Eska, with help from the likes of electronica maverick Matthew Herbert and The Invisible's David Okumu, what's in part so extraordinary about it is just how difficult it is to pin down: during the course of 10 tracks it straddles jazz, soul, folk-pop, and electronica, with floaty melodies given grounding by funky bass lines and gospel-like choruses, and she has found herself compared to everyone from Joni Mitchell to Erykah Badu.
However folk is the genre Mtungwazi relates to closest, she says. Meanwhile her lyrics see her balance the personal and the mythological. The result, with Eska playing multiple instruments including piano, violin, and guitar as well as singing, is as beautiful as it is unpredictable. For all her reasons for waiting to take the solo spotlight, it's difficult to believe that her talent has stayed under the radar for so long.
Born in Zimbabwe, Mtungwazi moved to London as a toddler and grew up in Lewisham, where she still lives. Her parents supported her love of music,  and she played violin while at school, as well as singing in the choir, before leading the worship at her Christian church. After school she did a maths degree while getting involved in various music projects.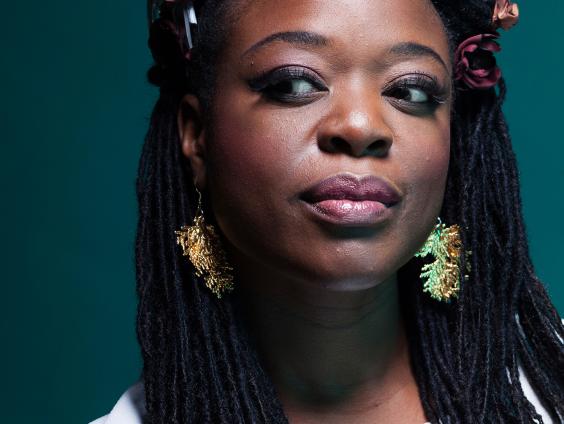 Mtungwazi's first professional band after university was an avant garde hip-hop political outfit called Quite Sane. While she "didn't quite like the music" initially, she liked the fact that it was challenging. However, the pressure she felt to pursue a conventional career led her first to a masters in maths and statistics, and then into teaching maths, before moving into primary schools.
Twenty years of flitting between that and working as a session singer and musician ensued, and Mtungwazi has now contributed to more than 150 releases. Those she's worked with include Zero 7, Nitin Sawhney and Bobby McFerrin. She's also spent stretches in Morocco performing with musicians from the Gnawa tradition. However, as richly diverse as these experiences were, she realised that in lending her talent, she had slowly lost her voice.
"I got to the point where I didn't even know what I sounded like any more and realised that something had gone really wrong with the journey that I'd taken. The choice was either get off this journey and figure out where I was supposed to be going, or, get a full time teaching job," she says.
It took around 18 months to go from being Eska the session musician, to Eska the artist. The process was kick-started by Herbert, a long-time collaborator who she'd sung for, around 2008; he asked Mtungwazi to write music that sounds like what it feels like to be Eska alive today. After reducing teaching to three days a week, she spent a long time learning how to become comfortable in her own skin and identity, a process she describes as "very exciting, but painful".
"This record was about answering the question of, 'Who is Eska?' And part of that was asking myself what music connects with my cultural identity, and trying to own being black and British," says Mtungwazi. "I had to write about my [African] roots but also the love and passion I have for the country that I've been raised in and the fact that I grew up singing English folk songs and classical music. I've got this really interesting culture clash, I had to learn how to not be afraid of drawing from that.
"The first song I made that was the launchpad for all the others was called 'English Sky'. I wrote it and there was a pang somewhere that made me question whether I could sing about the English sky … are people going to think that's a bit weird? Then thinking, 'Why do I have reservations about that, why do I feel challenged about singing about being here?' It was a really liberating feeling to throw away those affectations and understand who I am, my upbringing and my background."
She finished writing the album in 2010 but it took a further four years to complete. First off, Mtungwazi went on tour, writing with Zero 7, working to raise money for mixing the record. And, in 2013, to her surprise, she fell pregnant; her daughter Wonder was born three months premature last year.
All this time she was also struggling to get the attention of record labels: she grew tired of sitting in meetings with execs making assumptions on the kind of artist she was, based on preconceived ideas. "Part of the problem was that I was going in there and people were talking about my back catalogue or previous collaborations and not seeing me as an artist," she says.
"'Oh Eska, you're an artist? Doing your own record? You took your time!' I got all of that, and people can't listen with their ears at that point, they can't hear it." In 2013, still without a manager, she decided to push herself into the spotlight by releasing an EP, Gatekeeper. The strategy worked: it caught the attention of Simon Drake from independent label Naim Edge who signed her up. Her contemporary, Laura Mvula, tipped Mtungwazi to become "the greatest vocalist in the UK" – a moniker that has since stuck. Yet while there's no doubt that her voice is phenomenal – unwavering and with a remarkable range – Mtungwazi isn't about to rest on such plaudits.
"Whilst I can see how that's been helpful in terms of getting some attention, it's not helpful as well, for me, as a songwriter and as a composer. [It] puts me in a box of still feeling like the session singer, the singer, while there is all this other stuff that's going on," she adds.
"People don't talk about me as a producer, and that could be really interesting and exciting for other female artists and creatives to know. Female vocalists come a dime a dozen, there's nothing really exciting about that for me. There is so much more to what I do that I think could be inspiring to people beyond the fact that I sing."
'Eska' is out now. Eska Mtungwazi will play WOMAD festival in Wiltshire next Sunday
Reuse content