Bare feet slapping on the stone floor, holey vest hanging off his shoulders, old-time hat pushed back on his head, laid-back Adam Cohen is giving me a tour of the old man's place.
Given that it only cost $1,500, it's quite a spread. But that was 1961, and back then the Greek island of Hydra didn't even have electricity or telephones. Still, despite his image as a footloose poet, meditative romantic and careworn miner of the emotional shadows, Leonard Cohen clearly knew a property bargain.
Like father like son: Adam, a songwriter too, has refurbished and maintained this simple, comfortable childhood home with un-showy care. "It's my pride and joy," he smiles of a house tucked in a back street up the hill from Hydra's main harbour. "We travelled so much," he adds, referencing an itinerant childhood catalysed by his parents' split in 1979, "and it's one of the only places that remained fixed."
He leads me through his bedroom, which was once where Leonard and Adam's mother Suzanne Elrod slept. Yes, the mosquito nets are necessary, even if, on this hot summer's night, the air is still, calm and empty. He shows me his son Cassius's room, complete with keyboards, copy of a Captain Underpants book, and a picture of Adam in this same room, aged, as his son is now, seven.
Out of his own bedroom window we can discern, in the dark, a mountainous peak on this small, rocky, car-free island two hours' ferry-ride from Athens.
"There's a monastery on top," points out the singer, who lives most of the year in Los Angeles. "The wonderful thing is, this view remains completely unchanged, from the time my old man took possession of the house. And by the time my kids have kids, it'll be the same for my grand-kids."
When, by the way, the electricity and phone lines did eventually come to Hydra, the views and the wires proved inspirational – here is where Leonard began writing "Bird on a Wire".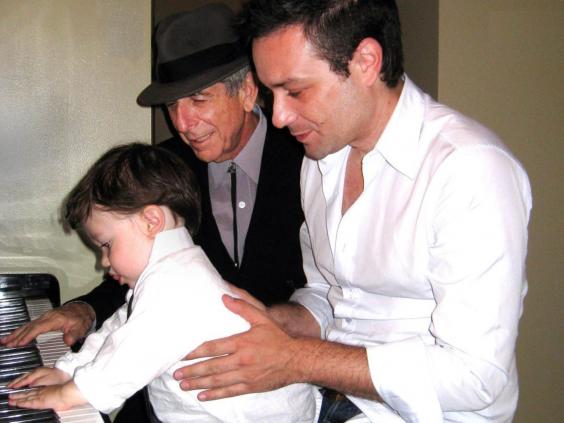 We move downstairs. Here's Leonard's one-time study, as featured on the back cover of his 1969 album Songs From a Room. There, on the wall, his old writing tool: a battered parlour guitar with nylon strings (two missing).
Finally, in the basement of this one-time fisherman's home, where there once were goats, is a spacious guest room with a huge, "Byzantine-esque" fireplace.
"This was where I slept as teenager," says Adam, 42 next week, "when I started coming here alone, 'cause I thought it would be impressive to my visitors. And it's where I recorded the album."
We Go Home is Adam Cohen's fourth album. It was partly made here, and partly at another childhood home in Montreal.
It's brilliant, a warm, rootsy, emotive record that presents the man as singer and songwriter, as father and scion – as, frankly, as a Cohen. It's that good. He's retreated to heart and hearth, and that return-to-the-source odyssey has catalysed a magnificent bunch of songs.
"It was such a remedy," he begins. "A blood remedy. Such an…" Cohen, who speaks with a low, teaky timbre and with much care to every syllable (again, the apple hasn't fallen far from the tree), searches for the right word, "…such an antidote to the problems I was experiencing, which were performance anxiety, basically, about following up my first and only successful record."
Adam's last album, Like a Man (2012), went gold in Canada, the country of he and his father's birth. He wrote a follow-up, but scrapped the whole thing. Leonard, who turns 80 this month and has just released a new album, thought that was madness. "He has a publish-or-perish attitude, which of course is ironic 'cause it takes him 10 years to finish a song," he chuckles.
We're sitting on the terrace, the clock ticking towards midnight. Adam has made us special margaritas, and had prefaced our interview with a family tradition – he hopped onto a wall and peed over the edge. His house, his rules. "My dad and I used to stand up here and piss into the garden," he called back over his shoulder.
On We Go Home he sings affectionately of his father and to his son. But for all the towering status of Leonard, and considering his parents' split, for Adam there is none of the rancour that suffuses the familial songs of Martha and Rufus Wainwright, as directed at their musician father Loudon.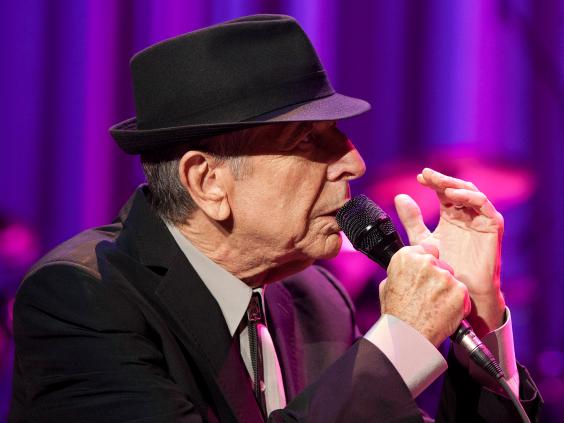 Adam nods, but admits that, "in many respects, I used to wish I did have that – the shadow of this tyrannical figure. In fact I sometimes wish I had more deliberately rebelled against something. It might have given me that extra charge that my early work is completely missing," he says with lacerating honesty.
That said, Adam's repeated and cheerful self-deprecation suggests that he's aware that, of course, his songs will forever be ranked against those of his father. He's especially aware of that during his summer sojourns on Hydra, a place that looms large in Leonard Cohen mythos. "I get people tying notes to rocks and throwing them on the terrace when I'm sunbathing," he sniffs as he sucks on another cigarette.
Has he heard Popular Problems, his dad's new album release?
"Of course," he beams. "It's magnificent. I will say this: I think it's bold, I think it's pertinent. I think compared to most of these living legends, of which there are few, he's standing highest on the heap of his work. And unlike being a living nostalgia act, the guy is still producing phenomenal, vibrant, humorous, acerbic, deeply moving and poignant work. And I'm in complete admiration."
Popular Problems was recorded in collaboration with writer/producer Pat Leonard, a friend of Adam's whom he introduced to his dad. Is he himself featured?
"Not on it, man," he grins. "That's not the kind of family we are. We're not the Wainwrights!" He says it entirely affectionately; after all, his sister Lorca has a daughter with Rufus. Viva is now three and co-parented by Lorca and Wainwright and his husband.
We Go Home is streaked with such familial and generational connections. Many of the lyrics feature references to Leonard Cohen songs – a mention of "Hallelujah" here, a nod to "First We Take Manhattan" there. But it never feels a case of coat-tails-riding. Adam has integrated these ideas and lines to create his own, new and powerful songs – songs that fold back to his father, and twist onwards to his son in a Möbius strip of Cohen-ology.
"A lot of the record is like that," he affirms. "It's borrowing a sort of lexiconography that I have parroted and inherited, and a lot of the songs have a dual purpose. They are a chronicle of conversations that I've had with my old man that I have appropriated, and am now using to have conversations with my boy."
Yet while he acknowledges that music is the Cohen clan's line of work, having had his own struggles in the business he won't be pushing Cass. His son's cousin, Viva, though, "is a natural-born performer. There's no question in anyone's mind that she's going into the family business. But there's still hope yet for my son!"
'We Go Home' is out now on Cooking Vinyl
Reuse content