James Bay might have won the Brits Critics' Choice award, given to him a few weeks in advance of the televised event held at London's O2 Arena last month, but he knows that the Brits show was far from being his party.
Speaking over lunch in Mayfair, the singer-songwriter from Hertfordshire professes ongoing bewilderment after triumphing in the next-big-thing category.
"The people awarded on the Brits, they've done a lot, and put a lot more legwork in than I have. But it's nice to be recognised. It's nice to even be invited. I don't really know what it is or means, or how  to feel, just being plonked in a space with all these other successful people. There seems to be some complex in the media that just enjoys looking at that. Not animals in a zoo… but maybe close to it.
"But I'm hugely appreciative of the recognition. But then I'll go away and work on how great my live set is gonna be. I've got stuff to prove. That's the crazy thing about the Critics' Choice Award," he nods. "You get it before you've really done much."
Brit Awards 2015: The winners
Brit Awards 2015: The winners
1/10 Best British Breakthrough Act

Sam Smith (Getty)

Getty

2/10 Best British male

Ed Sheeran (Getty)

Getty

3/10 Best International Solo Female

Taylor Swift (Getty)

Getty

4/10 Best Female Solo Artist

Paloma Faith (Getty)

Getty

5/10 Best International Group

Foo Fighters (ITV)

ITV

6/10 Global Success award for International Sales

Sam Smith (Getty)

7/10 Best British Single

Mark Ronson (Getty)

Getty

8/10 Album of the Year

Ed Sheeran, again (Getty)

Getty

9/10 Best International Group

Foo Fighters (ITV)

ITV

10/10 Best British Artist Video of the Year

One Direction, with Simon Cowell accepting on their behalf (Getty)

Getty
It might seem that way. And it might seem that winning the award is a munificent anointing of a favoured son (or daughter) by a self-congratulatory UK music-industry cabal – a notion underlined by the view from some quarters that Bay is a middle-of-the-road, boring boy-with-guitar (another one). But, on the one hand, last year's winner was Sam Smith: subsequently a million-selling album artist on both sides of the Atlantic and, earlier this month, the bagger of four Grammys.
And, on the other, this hat-wearing troubadour has both put in the hard work and earned the approval of real people, too. At the age of 11, Bay retrieved his family's battered and forgotten – and only five-stringed – guitar from a cupboard. His parents (his dad a wine merchant, mum a former fashion illustrator who now works in a dress shop) were encouraging, but only mildly so.
He dived into the family record collection – Eric Clapton, The Stones, Motown, Michael Jackson, Bruce Springsteen – and spent his teens either shut in his room every weekend, learning to copy the greats, or playing around Hitchin with his brother. When he was 19 he forswore a place at art school to move to Brighton, to study at music college and cut his teeth on the town's busy singer-songwriter circuit.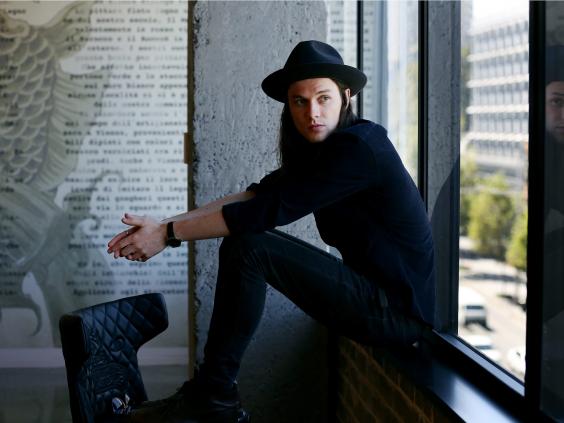 So far, so grafting. Then, a breakthrough. A punter in a north London pub filmed Bay's set, and the resulting YouTube clip of his gentle ballad "Move Together" was spotted by the New York offices of record label Universal Republic.
"It's ridiculous in a way," the tall, lean and thoughtful 24-year-old concedes. "It's a mad story. But it's such a cool set of images as I think back through that journey: me, in the window of a dark pub, London buses going past behind me, that going up on YouTube, then, f**k, I'm in New York City! And six weeks later we'd done the deal. It's mental. It's hard not to make it sound cheesy."
Bay kept putting in the hours and the effort. In 2013 he spent two months as second support to the American singer ZZ Ward in the US. In 2014 he supported Hozier on another American tour. He released two EPs and performed at a Burberry fashion show. Then, on 16 September last year, James Bay was a last-minute stand-in for Lana Del Rey on Fearne Cotton's Live Lounge on Radio 1. The listeners tweeted in a burst of impressed responses to Bay's skeletal and lachrymose blues number "Let It Go". Cotton, true to form, could barely contain herself.
"Somehow in this day and age it's surprising to see that kind of reaction," he acknowledges. "But, at the same time, I can put my hand up and say, 'That's what I set out to do. To get a reaction for those reasons.' So it's nice to see it." Those weren't isolated bursts of knee-jerk enthusiasm. The unknown artist promptly became a top trending topic on Twitter, Number One on the Shazam chart and a three-time Hype Machine chart-topper. The stage was, if not set, then at least given a preparatory sweep for his winning the Critics' Choice two and a half months later.
Now the really hard work: disproving the snarky notion that the emperor's got no fedora. "Hold Back the River", his "Hertfordshire Springsteen" current single, is a solid start; it has sold 200,000 copies and been in the charts for three months. Bay's debut album, Chaos and the Calm, was recorded in Nashville's famous Blackbird Studio with producer Jacquire King (Kings of Leon, Tom Waits). And, thankfully, it's not just soppy songs for softies. "Best Fake Smile" is a stomper worthy of the Otis Redding songs he used to hoover up. "Collide" presents a more throaty, bluesy cast to Bay's sweet-soul voice. "If You Ever Want to be in Love" demonstrates that he has piano chops to match his guitar ones.
Yes, like the ubiquitous George Ezra and Ed Sheeran, he's another middle-class white male with a guitar, one whose music isn't going to frighten anyone's parents (least of all his own).
Bay clearly isn't Kanye-at-Glastonbury exciting, but there is a classicist craft, and a melodic punch, to his writing. "As a singer-songwriter, a solo artist with a guitar, I can only write so many weepie little bedroom songs," he notes with a self-mocking grin. Still, does he fear that the Critics' Choice award could be as much pitfall as bonus? That it either brings the burden of expectation, or encourages the whiff of hype?
"I love that," he replies affably. "It's a brilliantly British way to think. And I've thought like that," he admits. "But I'll take the opportunity in that case to pleasantly surprise people. Otherwise, I've got to say, I'd rather be loved or hated than everybody just say 'he's all right'. "I've got something to show because I've been given this award. And I don't think I suck. So just have a listen before you make your decisions."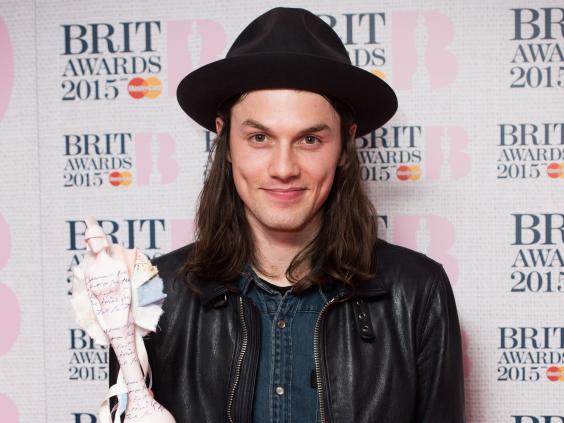 His Critics' Choice predecessor, he recognises, offers a great example. But Bay knows better than most how Sam Smith, too, worked his guts out to drag himself into an environment where critics could even hear about him. Bay first met him in 2012.
"We both did our first London show on the same night, in a pub in Chiswick called The George IV – and George Ezra was on the bill, too," Bay marvels. "We all did three songs each. But even then it was obvious that Sam was insanely good."
He and Smith recently ran into each other again, at a record-label event in Los Angeles the night before the Grammys. They had adjoining bathrooms, and Bay could hear him warming up.
"Singing a cappella – and it was out of this world. Sam deserves everything he's got. And for someone like me, a year or so behind him, that's really something to look up to. And it's so refreshing and empowering to see that he's come from genuine, genuine talent."
If Bay achieves only a fraction of that, he'll be happy. But, more importantly, with all the touring he's doing, he'd better invest in a spare fedora. Has he played a hat-less gig recently?
"Not for about three years. But it's not a totemic, lucky thing – I would never let it be that. I just recognise that I'm recognised by it," he says with a pragmatic shrug. "So I'm gonna hold on to it for a while. But for album two or three, if I even get to make those, I'll probably call it a day with the hat," he adds with a smile. "I don't want to be a prisoner of the hat."
'Chaos and the Calm' (Virgin/EMI) is released on 23 March
Reuse content