In 1972, Led Zeppelin guitarist Jimmy Page came up with a master-plan but failed to execute it. "In those days, when you went to Australia, it wasn't a direct flight. You'd be stopping off in all these cities on the way," recalls the musician. "I saw a way that, maybe, we could go to Cairo with Led Zeppelin. We could record with an orchestra there. And we could then play the cricket ground in Bombay, and also record in India. And then continue on to Australia. It was a great idea. The only thing was there was no infrastructure to do this sort of thing," muses Page, 71, who first travelled down under and then on to India in 1967 after joining The Yardbirds, the British beat group that also gave the world guitar heroes Eric Clapton and Jeff Beck. "Out of all the popular groups that followed us, the first one to play in Egypt and India was The Police in 1980, years after that. But that was just an idea I had, you know, you try things out," he says.
Harmonically, melodically and psychologically, the Middle East and South Asia regions held a special fascination for many musicians who first came to prominence in the Sixties. The Grateful Dead played three concerts near the Sphinx and the Great Pyramid in Giza, Egypt, in September 1978, while a decade earlier The Beatles and Donovan spent several weeks in Rishikesh, northern India, practising Transcendental Meditation at the ashram of Maharishi Mahesh Yogi.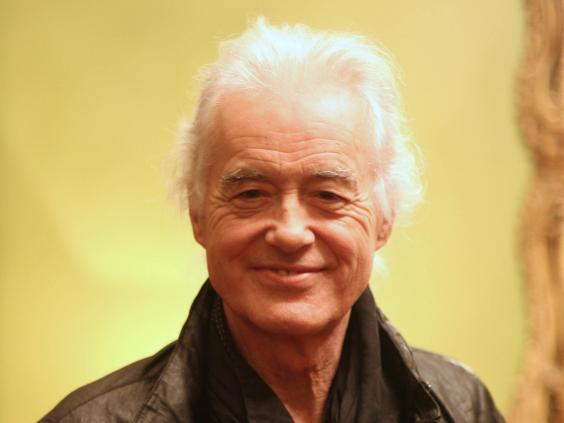 Indeed, George Harrison and Brian Jones of the Rolling Stones introduced the sitar and the tanpura to the pop canon in the mid-Sixties, but Page and his bandmate, the lead vocalist Robert Plant, might just have a bigger claim to fame as pioneers of what would eventually become known as world music. In October 1972, the pair stopped off in Bombay on the way back from Led Zeppelin's second Japanese tour. One thing led to another and, before you knew it, they had left the Taj hotel and were jamming with a bunch of local musicians at a dingy bar, the Slip Disc. Sadly, no one recorded the impromptu hour-long session that followed or Page would have made sure he owned a copy and considered it for inclusion on one of the companion discs he's been curating while bringing the mighty Led Zeppelin catalogue up to 21st-century standards.
However, the guitarist has done the next best thing and unearthed striking new studio versions of the Led Zeppelin classics "Friends" and "Four Sticks" that he and Plant recorded with the Bombay Orchestra in 1972. "They were the musicians who supplied Indian pop music, film music for Bollywood, the equivalent of what I used to be in the Sixties, when I was a session musician," says the veteran whose guitar parts bolstered early hit singles by The Kinks, The Who and Lulu.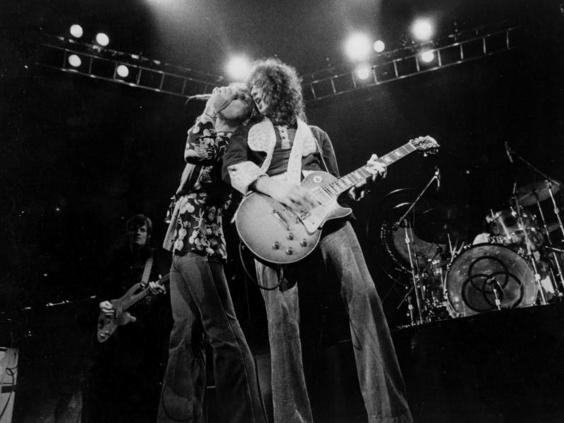 "I thought it would be a really fascinating project to go into a Bombay studio, not have a musical arranger, and request instruments such as the sarangi, the mridangam, the tabla drums and violins. I just knew that it would work and it did work. Robert and I just went over with the acoustic guitar and pulled it together over the course of an evening. Once "Friends" was done, I wasn't going to leave it there," he insists. "The whole thing was really happening. We also had a crack at the equivalent of "Four Sticks" because the percussion was just so thrilling. These were the two things that really came out of the recording that night.
"At the time, it wasn't appropriate to put this into Led Zeppelin. It was 1972 and we were still into the fourth album. Houses of the Holy hadn't come out at that point. Now is a great time to be able to present that stuff," says Page about the brace of tracks that bolster Coda, the 1982 collection of out-takes now generously expanded with two companion discs, a surprising move considering what preceded.
A whole lotta guitarists: Legends photographed by Jimmy Page's daughter
A whole lotta guitarists: Legends photographed by Jimmy Page's daughter
1/12 Steve Jones

In LA, it was all addresses in the Hollywood Hills. Steve Jones had a great Steve Jones-esque pad. We got there a bit early so we were loitering down the road, and we saw him pull up on his motorbike; he rides quite a lot in the hills. We went in and it was a one-level man-pad, there was definitely no strong presence of him sharing it with somebody else, but it was just brilliant – loads of stuff everywhere, a little pool outside, and exactly how you'd imagine his house to be. The shot of him is against his front door from the inside. His email manner was classic, as well. He was very to the point. It's such a larger-than-life full-of-character shot, but he said, "I look like a muppet", which I don't agree with.

2/12 Noel Gallagher

That was at his house in the countryside, Amersham way, Buckinghamshire. His Mrs is an interior decorator and she had lots of 1970s mirrored furniture, the stuff that we might have had in our living room. Probably the worst thing you can do is take a photograph against a mirror, but that's what we did there. Noel is brilliant. He's very good value, entertaining and clever. He was telling me about how Simon Cowell had asked him to be a judge on X Factor and as much as I knew he would never say "yes" to that, I thought he would be amazing because he's so sharp. We had a long chat and took a few snaps. Sometimes when you go to [rock stars'] houses you don't want it to look too much like "at home with Noel Gallagher", so it's still trying to make it look cool and not too relaxed.

3/12 Jimmy Page

It was really weird taking this picture; it felt like a test. Obviously I see my dad as Dad and nothing more really, so I don't want him to look too soft, and I don't want him to put on a front; ultimately I have to make him look like Jimmy Page and not my dad. I was really pleased, because this image was somewhere in between: quite intimate, but not soft. He was patient. He's been so busy recently because they've reissued the old Led Zeppelin albums, and really delved into all the archives of photographs and anything everyone who's interested would be interested in, so it was quite hard to schedule in time. I left him to the end.

4/12 Paul McCartney

This was all self-funded and I don't have lots of money rolling around so I said, "I'd love to go to LA, but only if I get at least four people", and I ended up getting eight in a week – and Paul McCartney was the first. It was all based around the time that Paul McCartney could fit it in. It was sprung on me at the last minute when I was there. Paul was filming a Jimmy Kimmel Live! appearance and playing. It was just a case of grabbing him in his TV make-up. He said, "did you come over especially to do this?" and started strumming on his guitar and singing a song, "all the way from London..." It was all a bit surreal. But I was aware I had to take the pictures quickly. I got less than 10 frames of Paul McCartney and it was just by chance that I got a corker.

5/12 Justin Hawkins

I was on tour with The Darkness the year before they broke up. It started all going crazy in that year leading up to it; they were falling apart a bit. Justin is one of the best people I've ever photographed. He's just the opposite of vain, and very entertaining. It's so refreshing. At the time there was a documentary being made which never came to fruition. It was Spinal Tap at every turn. They knew what they were doing, but it was ridiculous and hilarious. I love that picture, I took it before I started the Resonators project and used it as a reference for how I wanted the pictures to be. I love the colours in it, I love the way he looks, I love everything about it.

6/12 John Frusciante

Where we did the shoot was John Frusciante's house at one point. Now it's more like his studio and workplace. He's the most absorbed by music; he lives and breathes it. The whole space was full of every single vinyl of every single genre of music you could imagine it. It was a house full of music and dedicated to making music and listening to music. He's got a lot of Captain Beefheart artwork all over the walls. He made us listen to his new projects – he's doing R&B hip-hop stuff which is so different to Red Hot Chili Peppers. He told us when we got there that he'd been analysing the binary code of music and sound. He's like a mad professor of music.

7/12 Wilko Johnson

He was brilliant. He was the first one I shot, a year ago in March, and he had recently been diagnosed with cancer. I didn't want to go to him if he was poorly and I knew he was well and doing a lot of stuff. He's had the most amazing year – he was given six months back when I met him and shot him. He struck me as being so intelligent, such a character, mad but just amazing, that you'd want to listen to him all day. He was talking to me about the first guitar he got. I came away thinking that he was the most brilliant man I've ever met in my life, and really inspiring.

8/12 Johnny Marr

I was a huge Smiths fan. Back then I loved The Smiths and Depeche Mode. He was one of the last ones that I shot. When I was taking pictures of Johnny Marr I could have chatted to him for ages, he was so interesting and passionate. We chatted a lot about Smiths things. Some of these people really strike you – you know why they're so brilliant at what they do. They just live and breathe it. I didn't know he called his son Nile because he loves Nile Rodgers. Since knowing that, I thought how I can hear the influences. He was playing that night with Nile Rodgers at the Brits aftershow party.

9/12 Kelly Jones

I started working with the Stereophonics when their first album was out and they were so much fun, really loud sweary Welsh boys; I used to go on the road to do editorials for Kerrang! magazine. I've been to lots of tiny venues, taken tour-bus photographs, all very fly-on-the-wall, and I did the cover for their second album, Performance and Cocktails, which is an image of a couple kissing – it's quite a well-known shot. I haven't worked with them for seven years so it was really nice to see Kelly again. They're a brilliant bunch, very down-to-earth. Kelly has his studio in west London and the shot was taken there.

10/12 Peter Green

The hardest to get in contact with, and the one I felt quite sensitive about, was Peter Green. When I was looking at who would be these top guitarists for Resonators, Peter Green was definitely one of them and it almost became a challenge to try to do my best. But it's not like he has an agent, manager or press office so it was quite challenging. Eventually, when he agreed, because I know it's not something he does willy-nilly and I don't think he plays that much any more either, I did feel honoured and then I was sensitive to not putting him through torture. Because for some people being photographed is a bit like stealing their soul; I hate having my photograph taken. With all the history that he has – he became a recluse and left it all behind – he actually looks quite powerful in the picture.

11/12 Paul Weller

I shot him when he was doing a show for the Teenage Cancer Trust at the Royal Albert Hall and he was a proper gentleman, a silver fox. He was asking questions about my dad, he obviously knows my dad. He was really lovely and later on, after the shot, just before he went on stage his twin toddlers arrived and I thought, "how does he do this and stay so calm?". He's such a legend and he looks great.

12/12 Jeff Beck

He's a very close friend of my dad. In the 1970s, my mum used to have a birthday party every year. People from Free, Bad Company and Jeff Beck would come and I used to be behind the bar aged nine serving drinks. I liked to get involved and there were some that would sit next to the bar most the night, but not Jeff Beck actually. Then they'd all jam. When I got in contact with him I said, "you might remember me". He said, "of course I remember you!". But when I last saw him I was 10, so I didn't want to be too presumptuous. My dad told me Jeff Beck never really smiles in pictures, and that it's nice to see him looking relaxed. I think there was definitely a huge element of trust – that probably did do me some favours, and whether that just made people feel a bit more relaxed I don't know.
Over the last year, with the appearance of each successive tranche of reissues, the guitarist has treated the media to specifically-curated playbacks held at Olympic Cinema, formerly the London recording studio where Led Zeppelin, the Rolling Stones, The Who, the Jimi Hendrix Experience and Queen made some of their classic albums. Each time, the black-clad guitarist kept his cards close to his chest. But unveiling the latest and last batch, including Presence from 1976 and In Through the Out Door, he seems relaxed.
"It's jubilation. You have to understand, I have been working on this for a long time. To visualise a project like this, with all the substantial box-sets and companion discs, there were hundreds of hours of listening to set all this up, it wasn't just another band putting out their material with a few bonus tracks. It was something that addressed all the formats of listening," he explains. "I'm just really thrilled because for the people who like Led Zeppelin, there is now twice as much information as there was before and it's really good quality. As far as I'm concerned, I've done my job here."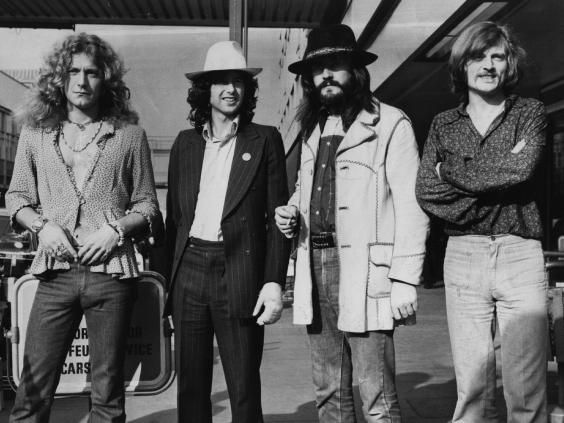 Long-standing fans will be delighted to discover "Pod", a reflective John Paul Jones instrumental piece, included on the Presence companion disc. "It's chalk and cheese to anything else that's going on. Presence had a real intensity and was shaping up as a guitar album with epic tracks like 'Achilles Last Stand'. It's dark," reflects Page about Led Zeppelin's last great gallop and the contrasting atmosphere "Pod" introduces into the narrative.
"John Paul Jones had got a Yamaha GX-1, the Dream Machine, as Stevie Wonder called it, a real state-of-the-art synthesiser keyboard. He was quite inspired by this instrument. "Pod" is really superb. I must say, when the tape turned up, it was such a surprise, [it was] one that the rest of the band didn't really remember so much and it's a real thrill that we can share it now. It's cool. I like that, I like to present surprises."
Similarly, an alternative version of "Bonzo's Montreux", recorded at Mountain Studios in Switzerland, and added to Coda, highlights the invaluable contribution the late drummer John Bonham made to Led Zeppelin's all-conquering sound. "It was just myself and John, we'd spoken about doing something like this, a complete drum orchestra and of course he could do that. The important thing was to have the tunings of the drums so you could hear all the notes and it becomes a very musical piece. It was done on a 24-track. In 1982, I'd approached it in a very tentative way because it wasn't that long after we'd lost John. It still felt like he was with us," says the guitarist about his bandmate, who died in September 1980 after drinking more than a litre of vodka in 24 hours and choking on his own vomit.
The addition of two companion discs has certainly transformed Coda from an afterthought to a pivotal part of the Led Zeppelin catalogue, even if some will cringe when hearing the simplistic, blues-rock wail of "Sugar Mama", shelved at the time. "We did it for the first album right here in this room all those years ago in 1968. We did return here many times of course. Coda is now a real celebration of everything, the group, everybody's playing. On "St Tristan's Sword", we had fun in the studio. It's just bass, drums and guitar. No overdubs. It's just really good to hear how we lock in," argues Page, whose inspired curatorship has introduced the band to new generations of listeners. "It's been apparent for many years, before this, going back decades really, that young musicians come to Led Zeppelin because it's such a rich textbook of music. I know what it means, that the baton is passed on."
Led Zeppelin's 'Presence', 'In Through the Out Door', and 'Coda' Deluxe Editions will be released on Swan Song/Atlantic/Warners on 31 July
Reuse content