Striking in office chic – a pencil skirt, monochrome shirt, sharp black vintage Christian Dior blazer complete with oversized shoulder pads, and a neat bob of peroxide blonde hair – Little Boots's appearance is quite a contrast from the pixie-like pop princess in sparkly dresses of a few years ago. Anointed the next big thing in pop in 2009, she topped the Sound Of poll and was nominated for the Brits' Critics' Choice.
Today, Victoria Hesketh – named Little Boots for her tiny, size three, feet – has requested that we do the interview in an office setting, to bring to life the theme and title of her new EP, Business Pleasure, which marks a clear step from her shiny pop past.
"There's huge pressure to look a certain way," the 30-year-old says, reflecting on her naive earlier years as a pop star moulded by the music industry. "And, let's be honest, it's to look the way that is a man's idealised version of what should be – a perfect singing Barbie. It goes along with the whole thing of the pop stars are the girls who sing the songs and look pretty and then the boys are in the back doing all the brain work."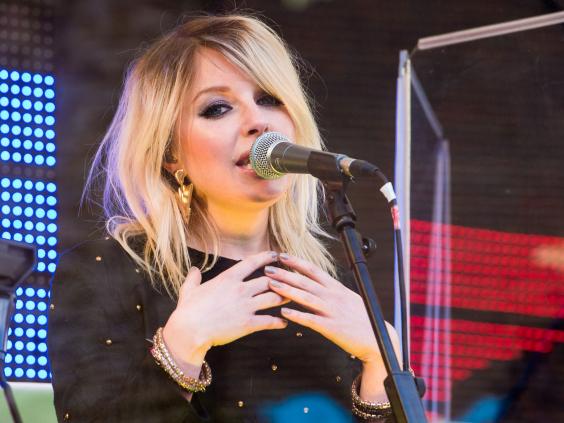 Hesketh didn't start out as a pop star plucked out and moulded by industry bigwigs. Instead, she was carried away by an industry that wanted to make her a chart-topping star. Classically trained from the age of five in piano, flute and singing, she grew up in Blackpool and was writing her own songs by the time she was in her teens. She first drew attention to her music by posting self-penned and recorded songs on Myspace and YouTube. "From the very beginning I tried to defy that with my little YouTube videos, creating all my music on these gadgets," she recalls. "Fast forward a year or two from that and I was in a little silver dress with jelly fillets down my top, three inches of make-up, hair extensions, eye lashes, and God knows what else."
Not that she blames the record label. "It wasn't like I was just a puppet getting pushed around. But if you've grown up singing in the  mirror dreaming of being a pop star and someone says, 'ok, we'll make this come true, but you have to do this…', you're probably going to go,  'oh, ok then'."
And so, very quickly, having moved to London, she was living the dream, experiencing the excesses of pop. She recalls the time she performed a showcase on the top of New York's Trump Tower and was paid in diamond jewellery. "It's in my mum's house – I think she sometimes wears it," she says. "I was in crazy situations where money's getting thrown around – just being disconnected from music. I was sat next to Benny [Andersson] from Abba and Sandra Bullock on Jonathan Ross and I was like, 'this is insane', and then I went back to my crappy flat-share in Hackney and said 'do you mind if I leave my equipment in the front room for the night, I've just been on Jonathan Ross and I'm a bit tired'. It was a very surreal time where on one level you're doing these huge things and on another level you're very normal."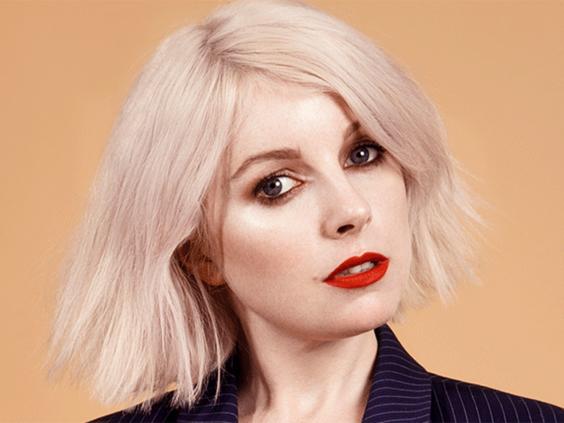 Not that she has any regrets about the experiences. "I had some amazing opportunities and I'm not saying this big bad thing happened to me. It's just quite weird fronting something when you're one cog in a wheel of something much bigger. Now I try to run the whole machine."
And she really does; there are no record label committees assembling to decide on her hair colour, extensions or next single release. During the making of her second album, Nocturnes, Hesketh parted ways with Atlantic and launched her own independent label, On Repeat. It's no vanity project; she talks animatedly about her plans to start releasing music by other artists in the near future. Nocturnes came out on the label but was written for a major label to be a major pop release; nevertheless, keen to bring it back in line with her love of the leftfield side of pop, she had it produced by DFA's Tim Goldsworthy. Business Pleasure and her upcoming third album are the first releases over which she has full creative control.
"With hindsight I love it [Nocturnes], but it was definitely trying to please two things, whereas this time I've started from a completely blank page and felt I could go really wild creatively. I live, breathe and die pop, so I write these big pop melodies but now I find the weirdest beats to work with or the most out-there producers. I marry both worlds – weird electronic music and really sugar-pop melodies. That's my favourite marriage – pushing pop to somewhere new. It's like hardcore pop. The first song I got known for ["Stuck on Repeat"] was me trying to write a Kylie Minogue song, and Joe Goddard from Hot Chip making a Giorgio Moroder beat, and it worked and I believe in that."
Rock and pop highlights of 2015
Rock and pop highlights of 2015
1/5 Mark Lanegan Band - touring from 20 January

The most intriguing performance prospect of a fairly docile January is the arrival of the Mark Lanegan Band for a clutch of shows in support of the recent masterly album Phantom Radio. Expect soul-ravaged blues fatalism as Lanegan confronts dark memories and apocalyptic visions with apparent sangfroid, his baritone croon traversing soundscapes of chugging electropop, spiralling guitars and courtly pop melancholy.

Kevin Nixon/Future Publishing/REX

2/5 Bob Dylan - Shadows in the Night released 2 February

An album on which Dylan sings Sinatra, a performer in whose voice he claimed to hear "death, God, the universe, everything". He's eschewing the usual swaddling orchestrations in favour of relaxed small-combo versions, recorded with his own band. They're not cover versions, he explains: "They've been covered enough. Buried, as a matter of fact. What me and my band are basically doing is uncovering them. Lifting them out of the grave and bringing them into the light of day."

Getty Images

3/5 The War on Drugs - touring from 16 February

2014's breakout US indie band will arrive for a string of British dates. Songwriter/frontman Adam Granduciel's blending of Dylanesque vocals, stadium-pop melodies and guitar drones should appeal to fans of Neil Young and My Bloody Valentine alike, and these shows offer the perfect opportunity to check whether they're as loud and overbearing as Sun Kil Moon's Mark Kozelek claims in his amusing song "War on Drugs: Suck My Cock". Thankfully, music is big enough to accommodate both.

Rex Features

4/5 The Jesus and Mary Chain - touring from 16 February

Having bowed to the demand to perform their debut Psychocandy in its entirety – a move that places them firmly in the rock-heritage classicist ranks, rather than the punk-nihilist cadre of their original 1980s inception – the re-formed Mary Chain take their sweet white whine around the country. Expect: great tunes; loud feedback. Don't expect: a revolution.

5/5 Nicki Minaj - touring from 28 March

Initial reaction to Nicki Minaj's new album The Pinkprint is mixed, but however its more assertively autobiographical songs transfer to the live arena, bangers like "Want Some More" and "Anaconda" suggest that her upcoming shows should pack some punch. And the flamboyant diva can surely be relied on to put on a show. But what will be the colour-scheme? Think pink.

Getty Images
Take the title track off the new EP, which she wrote with American producer Com Truise: "It's bonkers. There's out-of-tune glitchy synths, it sounds like a hyperactive Eighties Eddie Murphy cops-film soundtrack. And then I decided to sing about business over the top. Something about how it all works together blows my mind."
Hesketh has always been known for her sugary pop hooks, and fans will be pleased to hear that they are very much a part of the new material, especially on the EP's "Heroine", which draws from Nineties band Everything But the Girl.
When she's not touring or travelling to LA to work with cutting-edge producers, Hesketh can be found in the attic studio of her East London apartment, working on her tracks or plotting the business affairs of her label from the kitchen.
"I don't really switch off," she says. "I couldn't sleep last night because I was jetlagged so I wrote 10 song titles through the night. That's what Business Pleasure is, and who I am – my work is my pleasure, it's my everything. The whole theme of the album and the EP is creativity and survival; when you do what you love as your job it's reconciling those two things and not letting the business side compromise the pleasure side. Everything I do is that." With her business hat on, what are her aims for the new music?
"So many people tell me 'You're too cool for the pop kids and too pop for the cool kids. Where are you going to fit in – Radio 1 or 6?' For me, success is making music that my fans like, getting new fans and being able to keep doing this."
And with that she turns on her tiny boots.
'Business Pleasure' is out now on On Repeat
Reuse content