From David Bowie and Lou Reed to Blondie and The Sex Pistols, Mick Rock's status as "the man who shot the Seventies" is well-earned. But now the British photographer is adding a contemporary twist to his classic snaps.
The 65-year-old insists he is not stuck in the past, even going so far as to say that  he would photograph serial twerker Miley Cyrus and teen heartbreakers One Direction, so long as it was "going to be fun".
"I'm not going to go out and forage for that kind of thing but I'm fairly liberated," he says.
"I've shot Deadmau5! How about that? I'm not 'If you make this kind of music I won't shoot you' at all. It depends on what side of the bed I get up on and what time of the month it is, if I'm having my period. I'm more like a lady in that sense."
Rock may joke, but his range of subjects include the Yeah Yeah Yeahs (Mick is a big fan), The Killers, Snoop Dogg, Cee Lo Green, Janelle Monae, Robin Thicke and his own beloved cats.
"It's about having fun, projecting energy, which is what musicians do," he says. "You can get a bit of energy out of a model, and I do, but it's a little one-dimensional. With a musician, you're dealing with an artist."
Mick Rock: The Revisit in pictures
Mick Rock: The Revisit in pictures
1/9 Mick Rock: The Revisit

'The Debbie photo was originally shot for a magazine called Viva – a fashion mag trying to be hip back in 1978. But the magazine folded before the photos could be published. About 15 months later the original 'Blue Debbie' photo referenced here surfaced as the cover of Penthouse Magazine. She was clothed in black up to her neck and she was cool and sexy in the most amazing way. It was the first time I'd shot her and it was like controlled delirium. I get a lot of excitement when I shoot.' - Mick Rock

2/9 Mick Rock: The Revisit

Mick Rock recreates his most famous Debbie Harry shot - 'Blue Debbie' - with up-and-coming artist Danielle Parente

3/9 Mick Rock: The Revisit

'When you shoot an album cover it's different because you're looking for that one shot that's got to have broad resonance. It's very focused and the energy is somewhat different. When you do a photo session for a magazine, you have to shoot a load of pages. But you know with an album cover that once that image is out there it will be around for a while. Magazines are disposable, whereas an album cover is often forever.' - Mick Rock

4/9 Mick Rock: The Revisit

Danielle Parente and her three piece band step into the roles of the Queen stars in a revamp of the eponymous Queen II album cover shot by Mick Rock, which was recreated for the Bohemian Rhapsody music video

Mick Rock/The Revisit

5/9 Mick Rock: The Revisit

Mick Rock holds the Nikon Df as he revisits the places that inspired his early work, including the popular music venue in East Village, Niagara where Mick recently shot The Black Keys and Brandon Flowers

6/9 Mick Rock: The Revisit

Mick Rock revisits his iconic photograph of David Bowie, pictured in the Morrison Hotel art gallery, Soho, New York

7/9 Mick Rock: The Revisit

Mick Rock resurrects some of his favourite old lenses, such as the 28mm lens that captured some of his most famous images from the 70s to shoot up and coming singer Danielle Parente in Brooklyn, New York

8/9 Mick Rock: The Revisit

Mick recalls one of his most popular images. David Bowie and Mick Ronson, both then 26, eat lunch in a British Rail dining car between London and Aberdeen. It was 1973 and Bowie was on tour with Ronson, during which time Rock travelled across the UK with them

9/9 Mick Rock: The Revisit

Mick Rock revisits his classic 1969 image of Syd Barrett, pictured in the Morrison Hotel art gallery, Soho, New York
But although Rock is full of praise for the number of rising stars he has photographed in recent years, what he misses most is the shock factor of Iggy and the Stooges, The Ramones, and other acts deemed cutting-edge four decades ago.
Cyrus, Thicke, Lady Gaga and their headline-grabbing antics simply cannot match up because, frankly, we've seen it all before.
"Back then, everything wasn't so accessible, there was more mystique," he says. "Sometimes I was the only photographer around but nowadays, if someone pops up and waves a bit of a flag, people are all over it. The big media machine needs to be fed all the time; it's constant, and completely different to how disposable everything was in the Seventies."
Rock knows that trying to fight changing times is futile and besides, even if he wanted to, his 23-year-old daughter is there to keep him firmly in the 21st century.
"She's into all that electronic music, Skrillex and bloody Swedish House Mafia," he says. "She's been educating me about that stuff for years."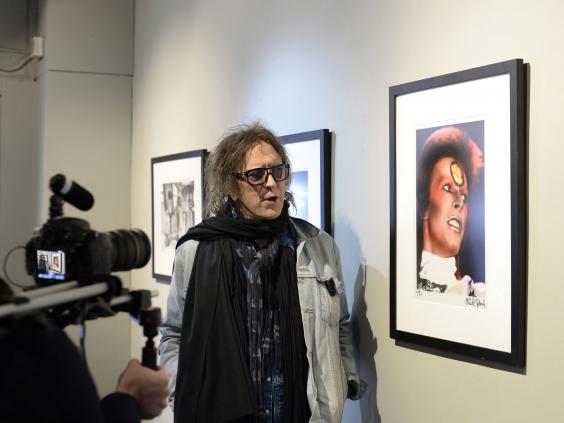 But as the popularity of Instagram and its vintage filters continues to rage in iPhone world, Rock's authentic rock'n'roll vibe is arguably more popular than ever.
Entitled The Revisit, Rock's latest project sees him celebrate some of his most famous images. The iconic Debbie Harry photo "Blue Debbie" (see gallery, above) has been recreated with up-and-coming Brooklyn singer-songwriter Danielle Parente, using Nikon's new retro-styled Df camera.
His original Queen II album sleeve, seen in the band's "Bohemian Rhapsody" music video, has also been revamped in the name of nostalgia.
"At first I used to find the whole "man who shot the Seventies" thing a little irritating because I didn't only shoot in the Seventies," he says.
"I saw it as an impediment and believed people thought I was a relic crawling out of a gutter to peddle old images, a bit like how Bowie gets stuck with Ziggy Stardust. But the past is a treasure trove for modern artists and I've learnt to embrace and accept that."
"You can't fight the times you live in," Rock continues. "I don't have any prejudice against the modern world just because I was spawned back in the Seventies. The main difference is that back then all I did was shoot and chase girls, but nowadays I don't have time and besides, my wife would give me a thick ear if I did!" 
Reuse content