You might not have heard of Cassidy Durango Milton Willy Podell, but Barack Obama has. So have Anna Wintour, Kanye West, Kim Kardashian, Oprah Winfrey, Naomi Campbell, Tommy Hilfiger, Pharrell Williams and Tina Turner. He has worked for them all as DJ Cassidy, spinning the tunes at some of the world's most exclusive parties – including Jay-Z and Beyoncé's wedding and the 50th-birthday celebrations of both Barack and Michelle Obama at the White House. "I gotta tell you, when the President walks into the room and goes, 'What's up, Cassidy?' it's the greatest feeling in the world," he gushes.
More name-dropping will follow shortly – a lot more. It's impossible to tell this story without it. And there will be sloganeering quotes such as this one, repeated several times during our interview like a message from a sponsor: "My vision is to bring back the greatest and most universal dance music of all time – back to nightlife, back to the airwaves and back to the dancefloor."
That universal dance music is what many of us would call disco – a revival already well under way since last year when Daft Punk teamed up with the disco-funk pioneer Nile Rodgers on the ubiquitous single "Get Lucky". Rodgers believes that dance music has had to go "back to go forward". He also thinks the sound's renewed popularity is a reaction to the dismal times. "What do great artists do when you see a world around you that's in turmoil?" he opined in an interview with the online music channel Noisey. "Some of the best artists make music to make you feel good – they look to the future."
Now the baton has been passed to Cassidy, a New York dandy in a straw boater who earns more than $100,000 a night as a DJ (according to Forbes). He is about to release an album, Paradise Royale, that can justifiably be described as a magnum opus. Four years in the making, it has been recorded with the help of 22 legendary disco-era musicians. They include: three members of Earth Wind & Fire, three from Kool & the Gang; Jerry Hey, who arranged horns and strings for Michael Jackson; Ray Parker Jr of "Ghostbusters" fame; and Nile Rodgers himself, who told Cassidy that his vision "contained brilliance and foresight". Indeed, using so many musicians does seem almost groundbreaking in an era in which albums can be made on a laptop and mixed on a mobile phone.
Cassidy deliberately does not call the music disco. He is well aware that many of the original artists disliked the term, partly because it became a shorthand for Saturday Night Fever cheesiness – and partly because of the vitriolic Disco Sucks! campaign in America in the late 1970s, which had unpleasant racist and homophobic undertones, and which many believe subsequently affected record sales. Cassidy wasn't even born then – he is 31 – yet he chooses his words carefully, preferring to call it "uptempo soul of the late 1970s and early 1980s". Which might be a mouthful to say, but it's an instantly recognisable sound: "It's the music I use to move the people we respect as the leaders of culture," he proclaims.
"Young people today still dance to that music, too, but they don't own those songs – they are the same ones their parents danced to. And I started thinking, wouldn't it be amazing if I could capture that feeling in new songs, with young artists singing them?"
He began by making an iTunes playlist at home in his native New York, where I meet him at a recording studio near Times Square. The playlist contained 25 songs, all recorded between 1978 and 1982 (the full list can be seen below right). "I thought, how do I get my songs to feel like these songs?" he says. "Because you can't sound like something without feeling like something." Noting that they were all made in the pre-digital era, "the final hurrah of full live musicianship", Cassidy began to research all the musicians who had played on the songs, and as his list grew, he began to see a pattern: "It became evident that the producers and artists were calling on the same sets of players to create this sound. So I began to reach out to these musicians one at a time."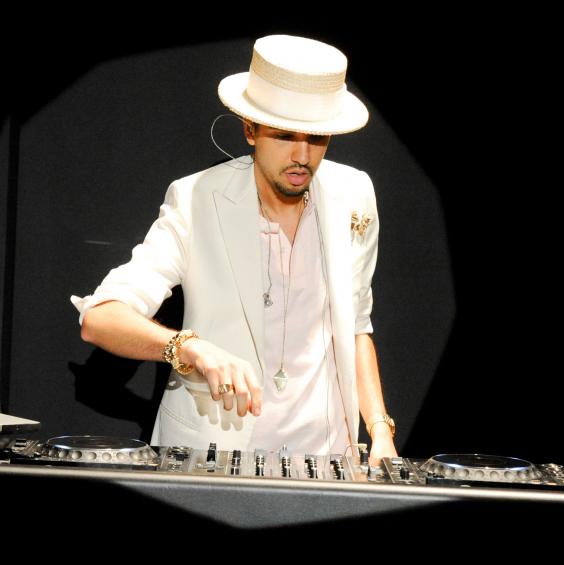 Mostly it was a case of one musician leading to the next – though in Nile Rodgers' case, Cassidy accosted him at a black-tie fundraiser, and pitched him in 30 seconds flat: "My vision is to bring back the greatest and most universal…" We've heard that line already, of course. "I apologise," Cassidy says, catching himself. "I was on my own with this for nearly three years [before signing to Columbia], pitching my vision to managers, singers, sound engineers, musicians and anyone who would listen. It's become a sort of default."
"You know what Cassidy is," says Earth Wind & Fire's bassist Verdine White. "He's an old soul in a young body. He dealt with some of the best musicians – if the records those musicians played on made a billion dollars, then their contribution was probably worth a third of that."
"He's written great songs, too," adds EW&F's frontman Philip Bailey. (Cassidy co-wrote with another New York producer, Greg Cohen; and three songs were written by his former schoolmate, Claude Kelly, who has worked with Britney Spears and Jason Derulo.) "They don't sound dated – they sound of their time and current. This has the potential to turn the whole wheel again – music has been dumbed down for quite some time." Interestingly, Bailey, who is classically trained, doesn't blame the digital revolution, TV talent shows, or the recorded works of Justin Bieber for this dumbing down – but the removal of music from US state-school curricula during the Reagan era.
If most of the musicians on Paradise Royale are the wrong side of 60, the voices on the songs "needed to represent my generation", says Cassidy. They include: Cee-Lo Green, Robin Thicke, Mary J Blige, Usher, R Kelly, Kelly Rowland, John Legend, Chromeo, Ne-Yo, Passion Pit, Melanie Fiona – and the British singers Estelle and Jessie J. "I was captivated by her," Cassidy says of the latter. "She commands the room in this kind of swaggery, brash and sexy way." They met in New York, and after Cassidy had played her the demo of forthcoming single "Calling All Hearts", Jessie insisted on recording the song immediately – and nailed it as convincingly as any big-lunged Studio 54 diva (the song eventually became a duet with Robin Thicke). "I hadn't heard of Cassidy before we met, but I recognised him from photographs with Obama," she says. "It was so much fun – I hope still to be dancing to it at my kids' wedding. And I hope young people realise none of it is sampled and don't take it for granted."
He cuts an eccentric figure, Cassidy, more articulate and charming than many DJs – a model of P&Q-minding politeness – and certainly better dressed, with a penchant for preppy clothes, straw hats and big gold brooches. He grew up in Manhattan, the son of Jewish middle-class parents – his father a booker for rock bands, his mother an estate agent – who divorced when he was young; so Cassidy was partly raised by his grandmother. In conversation, he initially seems to be fighting shyness; he admits he was an insular child who "had very little social life at school" and who remains "a sensitive person and a cryer". He rarely resorts to one-liners: each question elicits long, chronologically ordered monologues, and he's amusingly prone to interviewing himself: "So you might ask me how I fell into [celebrities'] lives? And I would answer that one experience led to the next…"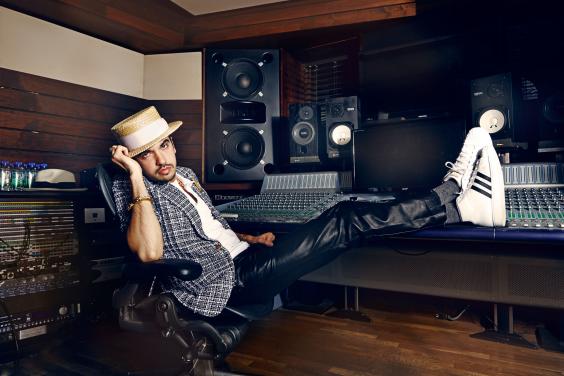 His big break came at the age of 18 after P Diddy heard him DJ in a New York club in 2001 and gave Cassidy his number. Cassidy had been honing his skills since begging his parents for turntables and a mixer for his 10th birthday. He called Diddy back ("God is the greatest – leave a message," went the voicemail greeting), and soon became the mogul's personal party DJ. Through Diddy, he met Jay-Z, Beyoncé and Jennifer Lopez, who all began to hire him, too, and as word spread, he found himself being flown around the world to DJ. If he ever spilt the beans about the things he has seen, he'd probably have a bestseller. But the rewards for discretion are greater still – even when I ask how he handles drunken requests for Abba or Dire Straits. "It happens so seldom, I couldn't even give you one example."
In 2012, he became the first DJ to program the music at a Democratic Party national convention – playing the songs that introduced each speaker, including Michelle Obama (Stevie Wonder's "Signed, Sealed, Delivered") and Bill Clinton (Fleetwood Mac's "Don't Stop"). "I'd also play music during the breaks – I got the whole arena dancing," he says. "It was, at many moments, a party."
Before I leave, Cassidy insists on playing nine of the album's 10 songs all the way through – the final track, with Usher, is still a work in progress. We sit in silence as song after beautifully arranged song cascades from the studio speakers. Each sounds as though it would slot seamlessly into his iTunes playlist. He does not invite comment between songs, but at the end simply turns and asks: "How do you feel now?"
But really, he's just being polite. He already knows the answer.
DJ Cassidy's single 'Calling All Hearts' featuring Robin Thicke and Jessie J is out on 7 April. His debut album, 'Paradise Royale', will follow in the summer
The playlist: DJ Cassidy's inspiration
1. Alicia Myers "I Want to Thank You" (MCA, 1981)
2. Aretha Franklin "Jump to It" (Arista, 1982)
3. Brothers Johnson "Stomp!" (A&M, 1980)
4. Central Line "Walking into Sunshine" (Mercury, 1981)
5. Chaka Khan "Do You Love What You Feel" (ABC, 1979)
6. Change "The Glow of Love" (Warner Bros, 1980)
7. Cheryl Lynn "Got to Be Real" (Columbia, 1978)
8. Diana Ross "I'm Coming Out" (Motown, 1980)
9. Earth Wind and Fire "Let's Groove" (Columbia, 1981)
10. Evelyn Champagne King "I'm in Love" (RCA, 1981)
11. First Choice "Love Thang" (Gold Mind Records, 1979)
12. George Benson "Give Me the Night" (Warner Bros, 1980)
13. GQ "Disco Nights" (Arista, 1979)
14. Kool & the Gang "Too Hot" (De-Lite, 1979)
15. Luther Vandross "Never Too Much" (Epic, 1981)
16. Frankie Beverly and Maze "Before I Let Go" (Capitol, 1981)
17. Michael Jackson "Rock With You" (Epic, 1979)
18. Patrice Rushen "Forget Me Nots" (Elektra, 1982)
19. Rick James "You & I" (Gordy, 1978)
20. Roberta Flack & Donny Hathaway "Back Together Again" (Atlantic, 1979)
21. Shalamar Second "The Second Time Around" (Solar, 1979)
22. Sister Sledge "We are Family" (Atlantic, 1979)
23. Stevie Wonder "Do I Do" (Tamla/Motown, 1982)
24. Teena Marie "Square Biz" (Motown, 1981)
25. Chic "I Want Your Love" (Atlantic, 1978)
Reuse content