Ian Curtis was aged just 23 when he committed suicide on 18 May 1980, on the eve of Joy Division's first American tour, causing the band to dissolve and reform as New Order.
Yet his cultural legacy has proved far from short-lived: the tragic narrative of his brief life has since inspired films and books, and his songs have become a permanent fixture in the story of British music, while his enigmatic persona has encouraged endless poring over his life and career in search of answers. You might wonder, therefore: is there any new light to shed on him?
A new book does just that. Co-edited by his widow, Deborah Curtis, and Joy Division aficionado Jon Savage, So This Is Permanence collects together various Curtis writings including previously unseen musings from his notebooks and facsimiled, handwritten lyric sheets for unreleased and celebrated songs alike. With an appendix including fan letters, fanzines and other memorabilia, it conveys what Deborah describes as Curtis's "complex theatrical personality" from a prismatic range of perspectives, as well as his varied interests, from politics to poetry.
The project was initiated by Lee Brackstone, a commissioning editor at Faber, who called Deborah in early 2013 suggesting a book and wondering if, in fact, there might be any fragments of Ian's original lyric drafts; in fact, there was even more extant material than he had hoped for. It is drawn from several sources, including an A4 ring binder, three notebooks and a large sheaf of A4 paper, as well as miscellaneous scraps. Curtis used to carry his writings around in a plastic bag. "When Ian found his direction, the notebooks, the scraps of paper and the carrier bag became an extension of his body. All he was able to express on a personal level was poured into his writing, and so his lyrics tell much more than a conversation with him ever could," explains Deborah in her foreword to the book. The bag went everywhere with him, and he kept it in "the blue room", the room in the Macclesfield home that he and Deborah bought in 1977 where he wrote and which he had carpeted and painted light blue.
Compiling Curtis's writings was a challenging task, says Savage. "There was one night driving back from Deborah's [in Cheshire to my home in North Wales] when I got totally lost and I never get lost. I have a really good sense of direction. And that was a direct result of dealing with all that." For, despite Curtis's sky-coloured hideaway, the emotional palette of his lyrics was dark. He was diagnosed with epilepsy a year before his death while Deborah was pregnant and she writes of how "feelings of isolation, loss and spectacle" seeped into his work: "His writing didn't so much develop as ripen, so much so that you can hear the bruising in his voice." Yet far from being all bleakness, Joy Division were "perfectly poised between white light and dark despair," says Savage.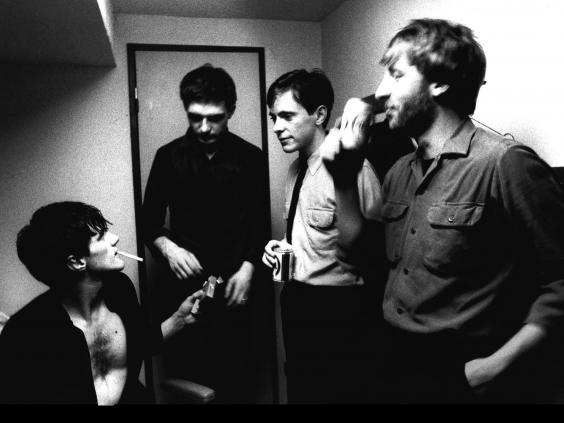 So This is Permanence paints a portrait of the young man growing into an artist. In the lyric sheets, we see evidence of ferocious rewriting. "He was an obsessive writer. He worked very hard, it was a discipline, he wasn't a dilettante," says Savage. Take the drafts of "Love Will Tear Us Apart" which feature multiple variations of lines – in small words hanging at the top of one draft are "FLAWED FEELINGS RUN DRY", while "ambitions run dry" is written on another page, and the final lyric in the central text runs "our respect runs so dry" – as well as abandoned phrases such as  the scribbled-out "turn to dreams of the night" and "tired but can't sleep", perhaps forlorn expressions of his state of mind. In our extensively digitised age, these manic, handwritten words, showing the very loops and trains of thought, the crossings out and late additions, exert a primal power.
The book also highlights Curtis's voracious reading and sweep of cultural influences from Dada to Dostoyevsky, in one section printing the covers of books from Curtis's library. The emphasis here  is on dystopian fiction, from Anthony Burgess's A Clockwork Orange and Aldous Huxley's Brave New World; such was the vision that seeped into his lyrics, in songs such as "Transmission" (1978), for example, which imagines a world in which eyes are "frightened of the sun" and the speaker is "left to blind destruction".
"It's important to note how much these dystopian ideas were available to young people because of paperback publishers and bookshops," says Savage, who details in the introduction how the early- to mid-Seventies was a golden age of paperback publishing. Modernist ideas also echo through his writings, inspired as Curtis was by T S Eliot. A lyric of one unreleased song runs: "Hollow in their meaning, / Hollow in their thinking", a seeming reference to Eliot's "The Hollow Men".
Curtis himself may have made a fine novelist: also abandoned to the back of a cupboard was a fiction Curtis aspired to write which remained "unwritten apart from a few paragraphs full of unspecified despair", as Deborah describes, and a vein of sci-fi, almost apocalyptic, fantasy creeps into some notes as Curtis explores the idea of a "diseased" world, spiralling into destruction.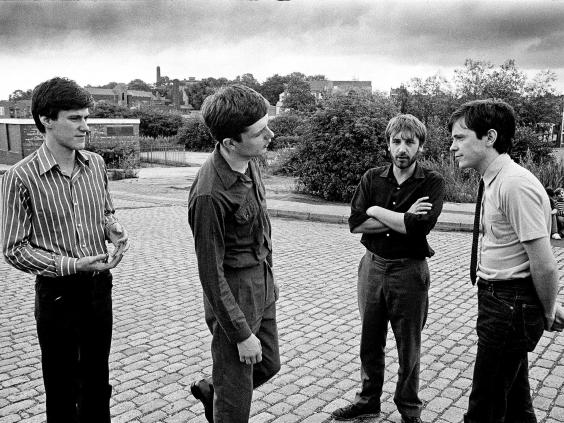 Such imagery was inspired by place, too, and this book paints a vivid portrait not only of a young man as an artist, but of a city, 1970s Manchester, which crucially shaped Curtis. As Savage describes in his introduction: "Both in words and music, Joy Division mapped the depressed city of Manchester, an environment at once degraded and deserted but, in a strange way, futuristic."
In his notebooks, meanwhile, what is captured is Curtis's perpetual search for "a better word to describe our state of mind", one seemingly haunted, in his case, by a sense of life's transience and uncertainty. The notebooks are filled with questions: "WHAT ARE YOUR VALUES?", he asks. "WHERE HAVE YOU BEEN? (a question scribbled over the question "WHERE IS YOUR PAST?") WHERE ARE GOING" (sic). The phrase "used to" recurs, a lament for a lost time: "I used to dream a lot", he writes in one note, but "we grew up too soon and our fears took the place of our dreams".
It's likely that the book will only add to the cult of Curtis that has grown ever stronger over the past 34 years. So why have Joy Division had such longevity? Pop music at the time "allowed people who weren't privileged to say something, make art, that's what Joy Division were doing, they were making art," says Savage. The music was "fantastically  exciting, terrific right the way through" and also offers "emotional authenticity ... Ian was for real – that much-maligned phrase. He's putting every- thing into his performance and he means what he says, which is a tricky road to go down, but in Ian's case it's that intensity which is one of the reasons they've survived."
For all that Curtis's intensity is now rock lore, these writings serve as a visceral and indelible reminder.
'So This is Permanence' is out now, published by Faber & Faber
Reuse content