One of the pleasures of interviewing imminent pop stars rather than already-established ones is that they arrive for promotional duties on time. In the case of Rat Boy, aka 19-year-old Jordan Cardy from Chelmsford, Essex, he shows up a full 15 minutes early.
You can bet that this time next year, when he will likely be comfortably established as the country's freshest new pop star and he will know how to keep everyone waiting.
But not yet. It's 10:45am on a fresh January morning at Shad Thames in London. Cardy has requested we meet at the nearby Design Museum for the simple reason he likes design: the artwork on his 2015 singles "Sign On" and "Fake ID" is his handiwork. As I am walking towards our destination, a taxi passes me and stops.
Cardy tumbles out – skinny jeans, pink Converse –clutching his temporarily redundant skateboard ("never leave home without it"), and sporting bed hair and a bleary expression that, when I make eye contact and wave, turns first to bemusement, then suspicion.
Cardy isn't used to being recognised in the street, and certainly not by men twice his age. He takes a step back, and I half expect him to drop his skateboard to the pavement, and flee. It is only when I introduce myself – I am here to interview him – that he visibly relaxes, and we can make our way, together, to the museum, where we forgo the exhibition in favour of a corner table in its empty café.
After a couple of years in which homegrown male singer-songwriters have tended to be of the rather earnest sort, sporting guitars, lovelorn lyrics and the occasional Panama hat, Rat Boy is nothing less than a minty breath of fresh air.
His new single, "Move", is spectacular stuff, a throwback to Nineties big beat in which he sounds as if Fatboy Slim has plugged him into the mains, which, if nothing else, explains the hair. The song reels with the all the giddy fizz of an Essex wideboy who has just been handed the keys to the sweet shop.
"When you hear the groove that makes your head spin/ When you hear the groove that makes your legs move," he sings repeatedly in a chorus of sublime silliness.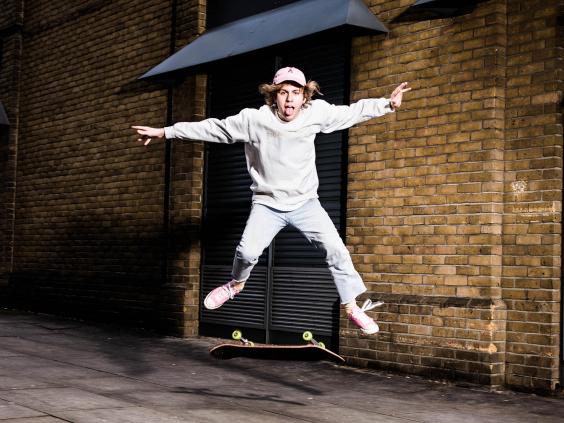 For someone whose lyrics have already been praised for their storytelling qualities, "Move" is deliberately two-dimensional. "I wanted to write something that sounded good on the radio," he admits, grinning, "even if it doesn't actually say very much." Suddenly filled with self-consciousness at the realisation he is talking about his craft, he blushes.
Jordan Cardy is the youngest of four children, and is still so much considered the baby of the family that his 33-year-old brother, who works in road surfacing, bought him a pair of Heelys for Christmas, trainers with wheels on their heels popular with the under-10s. 
"I love 'em," he says, "but I've already hurt myself: flipped on to my back first time I put them on." But then he tends to hurt himself a lot. While touring last year, he thought it a good idea to climb on top of his tour bus, then jump off it. "I don't go out of my way to do myself damage. I'm just trying to have fun.
Musicians and Actors on Growing Old Disgracefully
Musicians and Actors on Growing Old Disgracefully
1/5 Lemmy

The Motorhead frontman recently revealed his excessive lifestyle - rumoured to involve drinking a bottle of whisky a day - had to be scaled back after he started being unable to stand up during a recent show.

Getty Images

2/5 Willie-Nelson

82-year-old Nelson says he started smoking cigarettes when he was just six, and that his love affair with marijuana was the "smoothest" of all his marriages. He even has his own brand of marijuana called 'Willie's Reserve'.

Getty

3/5 Shane-MacGowan

The Pogues singer was kicked out the band in the nineties for his excessive drinking, and was given just six weeks to live, and is still partial to a G&T after a doctor suggested he stick to clear liquids.

Getty

4/5 Keith-Richards

The Rolling Stone guitarist is still a fan of marijuana. ""I smoke regularly, an early morning joint. Strictly Californian," he told Mojo.

Getty Images

5/5 Jack-Nicholson

The legendary actor knows his limits, even if they are extreme. "I've woken up in trees, I've woken up almost hanging off cliffs, but I've always known how to sort myself out."

Getty Images
Severely dyslexic, he has nevertheless been writing songs since the age of 11, born out of snippets and phrases he writes down in the notebook he always carries with him (but will show to nobody). "I can't write a paragraph, and when I try, it doesn't make sense to anyone except me," he says. A skateboard fanatic, his teenage ambition was to fix them for a living. But he was also into his music, Beastie Boys and Green Day initially, The Streets and Jamie T more recently. Every track he completed he put up online, and emailed demos to as many industry names as Google would provide him with.
"I sent out hundreds of mixtapes," he says. "Every now and then, somebody would reply."
Being, as he puts it, "loud and annoying"  may have hindered his progress at school –  he was suspended twice – but served as a boon for his songwriting. They oozed with personality. "I'm young, dumb and living off mum,"  he sings in "Sign On", while on the track "Wasteman", recorded in his bedroom, his father can be heard shouting: "Will you turn that fucking shit down!"
By 17, he was officially Rat Boy, an old nickname from school because, "I looked like a rat". One demo received the attention of Drew McConnell, bassist with Babyshambles. The pair subsequently became friends. "A really lovely bloke, and very healthy – he rides his bike everywhere," Cardy says. McConnell introduced him to industry types and, after Cardy was sacked from his job at Wetherspoon ("I was hopeless") even lent him money. "Which was very good of him, because I was skint."
McConnell's enthusiasm eventually landed Cardy with a manager, and in February 2015 he was signed to Parlophone. He spent much of last year recording his debut album – due in the summer and tentatively entitled Scum, after his father's favourite film – whittling down over 100 tracks into a workable dozen. He also got a passport for the first time in his life, and travelled abroad as a bonafide musician: Paris, New York, LA. "It was sick," he says. 
Back in London, he started recording in Damon Albarn's west London studio. Occasionally, the two have bumped into one another in the studio's corridors, Cardy struck dumb each time. "I wanted to make conversation with him but I couldn't, not really. I was too shy."
For all his cocky bravado on record, he remains an introspective proposition in the flesh. Whenever he makes eye contact, he resembles a rabbit in the headlights, as if still bemused to find himself in the position of Next Big Thing at all. Nervously, he scratches on a tattoo on the palm of his left hand: the number five. I ask its significance. He holds the palm up. "High five," he laughs.
He shows me other tattoos, some self-inflicted, including four tiny dots on the fingers of one hand, by all accounts a Borstal reference to suggest the inherent corruption among all police officers; and the words 'Rat Boy' inked on the inside of his bottom lip. "And I've got one on my toe," he says, "the name of an ex-girlfriend. I did that one myself. Hurt."
At the mention of girlfriends, he blushes again. Yes, he admits, he is currently in a relationship, but, no, burgeoning fame – he already has over 26,000 Twitter followers – has not made him any more popular with the opposite sex just yet.
"When people meet me up close, they just go, 'oh'," he says. And why do they do that, I ask. "Well, I'm pretty grimy, aren't I?"
Rat Boy's new single, 'Move', is out on 12 January on Parlophone, he plays Heaven, London, on 26 January
Reuse content