It's a new year, and in the music industry, that means all eyes are on the newcomers that labels are hoping to break big. But the most exciting January release, at least for me, is also a blast from the past: No Cities to Love, the first new album in 10 years from Sleater-Kinney, a key band in the riot grrrl feminist punk subculture that emerged from the Pacific north-west in the early Nineties. It's exciting because Sleater-Kinney and their peers helped me through my youth and gave me the courage and confidence to embrace feminism. Now I hope they can have the same effect on the teens of 2015.
To explain further, let me return to summer of 1996. Eleven-year-old me is hiding in the library: there is much to hide from when you are 11. I'm avoiding the group of boys who keep shouting something about wanting to grope me, and the ones who yell "Thunderthiiiiighs!" whenever I pass and the girls who say "If you're so clever, spell BITCH!" I'm restless. I'm filled with an emotion I'm struggling to name. The library shelves have to hold some sort of answer. I've worked my way through most of the Mills & Boon, and attempted Martin Amis. Then I see it on the CD rack: a photo of a weeping, tiara-wearing beauty queen, the cover for Hole's Live Through This.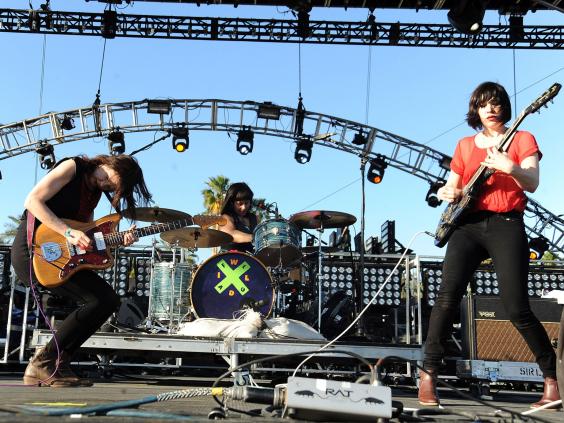 Borrowing the album, before illegally copying the whole thing on a Memorex C90, I'm half expecting something sweet and soft – up until now, I've been listening to a lot of Celine Dion. So, I'm astonished and thrilled to hear guitars, and shouting. And the singer, Courtney Love, is screaming everything I've ever been afraid to wonder about sex, and death, and what it's really like to be a woman. I can't name or formulate these feelings, but I know that my body is engorged with desire for this, and more of this, whatever it is. I'm horny for Hole. This must be, I think, what really brilliant drugs feel like. Later I'll discover that it's better.
And that led me to the music that would change me forever. Using Melody Maker as my roadmap, I travelled from Hole to Sleater-Kinney, Bikini Kill, The Breeders, Elastica, Echobelly and Sonic Youth. My tastes were broad, but all the bands I loved were informed by the spirit of riot grrrl, even if they weren't all technically riot grrrl groups: that spirit being about celebrating your own cleverness, compassion and claiming your body back from people who think they're allowed to have an opinion on it. Riot grrrls created fanzines that cemented their aesthetic – everything had a DIY feel, and, like the music, the look was about being a woman on your own terms and no one else's. For me, riot grrrl was about Bikini Kill singer Kathleen Hanna's Converse, slogan shirts and occasional purple hair – the antithesis of the passive, sleek sexiness that mainstream female artists seemed forced to adopt.
Rock and pop highlights of 2015
Rock and pop highlights of 2015
1/5 Mark Lanegan Band - touring from 20 January

The most intriguing performance prospect of a fairly docile January is the arrival of the Mark Lanegan Band for a clutch of shows in support of the recent masterly album Phantom Radio. Expect soul-ravaged blues fatalism as Lanegan confronts dark memories and apocalyptic visions with apparent sangfroid, his baritone croon traversing soundscapes of chugging electropop, spiralling guitars and courtly pop melancholy.

Kevin Nixon/Future Publishing/REX

2/5 Bob Dylan - Shadows in the Night released 2 February

An album on which Dylan sings Sinatra, a performer in whose voice he claimed to hear "death, God, the universe, everything". He's eschewing the usual swaddling orchestrations in favour of relaxed small-combo versions, recorded with his own band. They're not cover versions, he explains: "They've been covered enough. Buried, as a matter of fact. What me and my band are basically doing is uncovering them. Lifting them out of the grave and bringing them into the light of day."

Getty Images

3/5 The War on Drugs - touring from 16 February

2014's breakout US indie band will arrive for a string of British dates. Songwriter/frontman Adam Granduciel's blending of Dylanesque vocals, stadium-pop melodies and guitar drones should appeal to fans of Neil Young and My Bloody Valentine alike, and these shows offer the perfect opportunity to check whether they're as loud and overbearing as Sun Kil Moon's Mark Kozelek claims in his amusing song "War on Drugs: Suck My Cock". Thankfully, music is big enough to accommodate both.

Rex Features

4/5 The Jesus and Mary Chain - touring from 16 February

Having bowed to the demand to perform their debut Psychocandy in its entirety – a move that places them firmly in the rock-heritage classicist ranks, rather than the punk-nihilist cadre of their original 1980s inception – the re-formed Mary Chain take their sweet white whine around the country. Expect: great tunes; loud feedback. Don't expect: a revolution.

5/5 Nicki Minaj - touring from 28 March

Initial reaction to Nicki Minaj's new album The Pinkprint is mixed, but however its more assertively autobiographical songs transfer to the live arena, bangers like "Want Some More" and "Anaconda" suggest that her upcoming shows should pack some punch. And the flamboyant diva can surely be relied on to put on a show. But what will be the colour-scheme? Think pink.

Getty Images
It was like having a thrilling secret life. I no longer cared how mean anyone at school was, because they were all idiots who liked Boyzone. I stopped feeling scared all the time, and started feeling angry, thanks to these powerful women, whose power came from their politics – a concept which, I realised, wasn't just about men in suits making decisions. From then on, I wasn't immune to terrible teenage feelings, but I felt a lot less lonely.
When I started working for the teen mag Bliss in 2008, I learnt that not much had changed since 1997 – the young women who were our readership were as passionate, mercurial, friendly and lonely as we had been. Musically, some of them loved Justin Bieber, some of them David Bowie. Some of them wanted to be Miley Cyrus, and some of them wrote impassioned letters rejecting all that she stands for.
But I was troubled by the lack of alternative for them. It was hard to name one mainstream female artist who didn't look flawless: everyone was a gorgeous, Identikit superhuman.  I fell in love with trash pop-punk duo the Veronicas, then my heart sank when we were sent pictures to run with their feature. They looked as if they were made for catwalks, not guitars. Even Beth Ditto, the super-cool, thrilling, roaring queer poster girl, was promoted and pictured as a woman with a fashion line and perfect skin.
I wanted all of our readers to feel beautiful – but more than that, I wanted them to know that beauty is not an obligation. Wouldn't our readers feel a little less alone if there were more publicly cool, successful women who wore DMs and cut their own hair?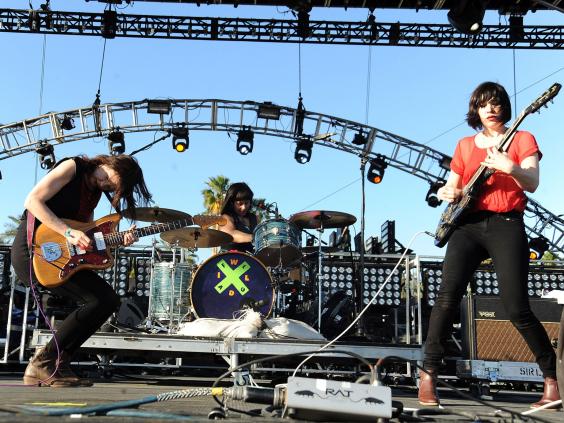 Arguably, the aesthetic demands made on women in the music industry are now heavier than ever. So thinks Molly Neuman, a member of riot grrrl band Bratmobile. "Women artists are analysed on criteria [unrelated] to their music with such frequency that I'm actually depressed about it. [Yet] there are more and more successful women artists who write and produce their own work: Beyoncé, Sia, Taylor. Those are the achievements that should be applauded!"
Since leaving Bliss, I've seen some awesome women emerge on the music scene, and I think that the artists Neuman mentions, as well as Kate Tempest, Angel Haze and Charli XCX, are changing the game musically, even if many of them are restricted aesthetically. But I still think the Sleater-Kinney comeback needs to be experienced by young women staring down the barrel of puberty. I'm desperate for No Cities to Love to be a call to arms.
Not that Sleater-Kinney haven't evolved since we last heard them; over all, No Cities to Love is a softer, poppier record than its predecessors. But the raw, angry edge that captured my attention as a pre-teen is still happily apparent, right from the joyfully discordant opening track, "Price Tag", which sounds like a furious challenge to the Jessie J single of the same title. Elsewhere, there's a moment when Corin and co sing "No outline will ever hold us" and I'm 11 again, full of the sort of energy that makes me want to crack my own exoskeleton.
When I go to the Roundhouse to watch Sleater-Kinney in March, I know I'll be surrounded by riot grrrls (and boys) from first time around. But I'm hoping there will be a sizeable portion of angry teenage girls in the audience too. Ultimately, I hope Sleater-Kinney and co give today's young women the courage and confidence to do what I always dreamed about but never dared do. May they all pick up guitars and start bands of their own.
'No Cities to Love' is released on 19 Jan. Sleater-Kinney tour the UK in March
Reuse content