Ludovic Navarre is the forgotten genius of French dance music. Recording as St Germain, he was one of a loosely affiliated group of trailblazing acts that emerged in the second half of the 1990s and were collectively labelled the "French Touch" movement. Among them were Cassius, Etienne de Crécy and, most famously, Daft Punk and they reinvented house music with electro-disco stylings and lashings of Gallic flair.
However, St Germain's sound was the most sophisticated and elegant of them all – an intricate fusion of jazz, dub, hip hop, blues and textured deep house that reached an apogee in 2000 on his seminal album, Tourist, which sold more than three million copies. The accompanying 280-date tour featured guest musicians such as Herbie Hancock and the acclaimed French jazz singer Claude Nougaro, and took in the Royal Albert Hall, Glastonbury and Coachella.
And then – pffft! – Navarre disappeared in a cloud of smoke, no doubt that of a filterless Gitanes. We heard nothing at all from St Germain for more than a decade until his low-key re-emergence last year, remixing jazz man-of-the-moment Gregory Porter's "Musical Genocide". Then, in June, came a new  St Germain single, "Real Blues", his first since 2002. It proved that the extended hiatus hasn't blunted Navarre's cutting edge. On one hand, it is vintage  St Germain, an oh-so-tasteful blend of dexterous musicianship, vocal samples from bluesman Lightnin' Hopkins, and smooth, syncopated beats. On the other hand, it sees him extending his reach, adding a new African, and specifically Malian, flavour, courtesy of guest kora (a West African harp-lute) player Mamadou Cherif Soumano, and fast-fingered guitarist Guimba Kouyate – rated by Brian Eno as one of the best he has seen. The Malian-fusion theme pervades on the new, eponymously titled album, St Germain, his first in 15 years and well worth the wait.
We meet at the plush west London offices of his label, Parlophone. My first question, inevitably, is, where on earth have you been? An enigmatic smile plays on his lips. "That's a fair question. For two-and-a-half years I played live shows, the same tracks almost every day … I had to stop completely. I just had to take a break from music. After a couple of years, I realised that I didn't want to do something like Tourist again – I needed to do something new. And so I began this long, long journey of research …."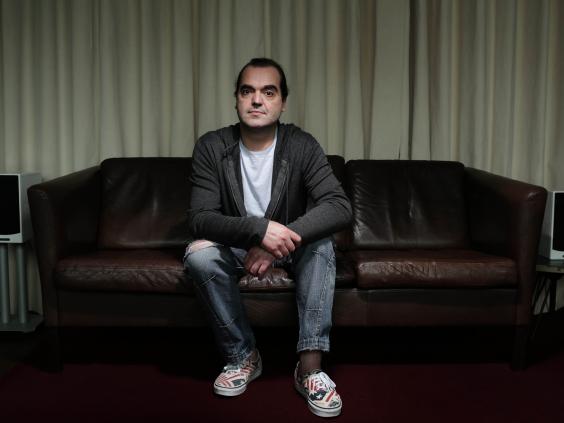 Navarre isn't one for instant gratification. He is more than happy to spend years tinkering, if that's what a project demands. He has the slow, considered approach of an artisan – it's no surprise to learn that his father was an interior designer (Navarre grew up in the chic Parisian suburb of St Germain-en-Laye, hence the alias). He researches and records each musician he works with separately: the new album took a painstaking six years to complete. "I try to do justice to each musician," he says. "I don't just take a bit of this, a bit of that, and then throw something out there. No! I cut, I rearrange everything structurally, and then I wake up the next day and start all over again. I'm never satisfied. It's a constant pressure."
His interest in the music of Africa took him on a sonic journey from Nigeria to Ghana before eventually he settled on Mali. Serendipitously, Paris has a large Malian community – so Navarre didn't have to travel far. "In some parts of Paris it's like going into Mali itself, apart from the decor. They live in a traditional way. When you go to their homes, they only listen to traditional music." What's the appeal of Maliian music? "They sing things that have been lived, but in a way that has become very natural."
Navarre has a poet's turn of phrase, and a deadpan-serious mien that sets him apart in the world of dance music, a genre not often noted for its gravitas. He has been this way, he says, since he suffered a horrific leg injury in a moped crash in Paris at the age of 16, which left him bedridden for two years – he still walks with a limp. The crash was a Sliding Doors moment for  Navarre, previously an outdoorsy, if solitary teen with little interest in music. During his long convalescence, he taught himself the computer-programming skills he would later utilise as St Germain.
"It wasn't the recovery that changed me," he says, "it was the accident itself. It was so powerful that, at 16, I became like I am now." Which is, to judge by today's interview, a thoroughly self-assured soul.
Much of what I had read about Navarre portrays him as taciturn and a little churlish – one British newspaper christened him "Monsieur Morrissey" – but today he exudes an aura of cerebral calm, with flashes of deadpan humour. His whole career happened "completely by chance", he says, after he gave a cassette of his early demos to a guy behind the counter in a Belgian record shop. Why was he in Belgium? "The early French rave scene was so small, it had about 15 people in it – so I had to travel to find people to share the music with." The counter guy hooked Navarre up with the small independent labels on which he cut his teeth. He says he only plucked up the courage to play his tape that day because a DJ came in and played his own track first, and it was "shit – unbearable! But he seemed really pleased with himself". So, Navarre figured he had nothing to lose. "I guess I still wanted to be like that guy!"
Fast-forward to now, and Navarre has mastered his craft many times over, and is preparing for a new tour, showcasing the Malian singers and musicians on his new album. His onstage role is somewhere between composer and conductor, helping the  musicians adapt to an electronic framework. "It's dance music – not world music," he clarifies. Playing live is a challenge he enjoys "eventually". Hopefully it won't drain him too much this time, I say. "I hope so too," he smiles, before bidding me farewell and heading downstairs for a cigarette in the sunshine.
The album 'St Germain' is out on 9 Oct on Parlophone Records. St Germain's European tour begins on 2 Nov and includes a date at Troxy, London on 17 Nov (stgermain-music.com)
Monsieur Morrissey Ludovic Navarre (aka St Germain, top) does not believe in hurrying; fellow 'French Touch' act Daft Punk (above)
Justin Sutcliffe; REX FEATURES
Reuse content