On a baking hot Saturday afternoon in a Las Vegas rehearsal facility, Brandon Flowers seems to have forgotten why we're here. While the rest of The Killers and their crew loiter in the cavernous space beyond a curtain, and I sit patiently next to him on a sofa, the band's frontman is eagerly leafing through a book I've brought him.
"It's gotta be pretty good, huh?" he says distractedly as he paws through Morrissey's Autobiography. "So it's from his mouth… must have been working on it for a long time… sh*t," says the 32-year-old with something like awe. "It's big. Damn. It's cool… Trying to see if there's any pictures I've never seen… His mom was pretty…"
Of all the British artists who impacted on the young Anglophile American, it's Morrissey who looms largest. Yes, schoolboy Brandon, the youngest of six in a blue-collar family, was mad for New Order, The Cure, Oasis and the Psychedelic Furs – likes that probably marked him out from his peers in small-town Nevada and Utah, presumably set him apart from other members of the Mormon faith, and indubitably helped form the sonic bedrock of the band he founded with guitarist Dave Keuning in Las Vegas in 2001. But it was Morrissey who most shaped Flowers. When a teenage Brandon, then a busboy in Caesar's Palace, once cleared his hero's table, it was like touching the hem of the master's robe.
Now, a decade since The Killers released debut single "Mr Brightside", Flowers – happily married father of three young sons – is his own kind of rock idol: the devout, family-friendly, clean-cut, ambition-hungry singer with a band who have sold 20 million albums. And now it's "Best of…" time. With characteristic bravado, it's called Direct Hits.
"The initial idea," says Flowers, finally looking up from Moz's prose, "which maybe was better, was Cream." Come again?
"It was my idea," he smiles before emitting a burst of his "yuk-yuk", gasping laugh. "It was a play on the fact that we put out a B-sides compilation called Sawdust. And so it made sense to call the ones that were our best Cream."
Flowers is a man with a canny sense of image – he fastidiously checks and approves all the photographs released of him. For his band's 15-track career highlights package (which includes two new songs) he had an album sleeve in mind, one involving the Hoover Dam and a reservoir of cream. But no graphic designer could come up with a visual that met with his approval. Then he was shown an image of a target. It fitted in with his idea of direct hits – a concept congruous with how Flowers writes his big, rousing songs: he wants to target his audience, hard.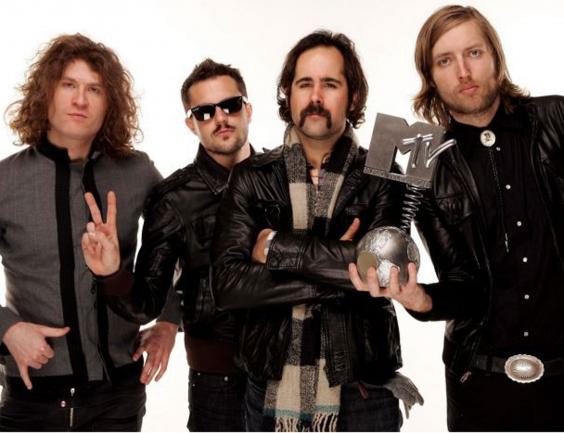 "Yeah, we try," he grins, his blinding white teeth amplifying that matinee-idol swagger. "We've never been shy about that. I'm just cut from the cloth that I'm cut from. And I'm getting better at accepting that. Because sometimes I'll get frustrated with myself, 'cause I know I could take more time, and I maybe could write better songs – and I maybe could write more avant garde or arty songs," he says, acutely aware of those critics who deride what they perceive as bombast within his band. "And I just tend not to do that!" he adds, laughing again.
"But that's definitely what we do – we shoot for bullseyes when we get together."
There's no room on Direct Hits for "Wembley Song", the bespoke homage Flowers wrote before The Killers played the English national stadium this past summer.
Aside from the novelty of a song that name-checks the unglamorous London borough of Brent, the witty, heartfelt song was notable for both its roll-call of previous Wembley headliners (Queen, Madonna, Elton John, and so on) and for its pithy summation of The Killers' UK-fomented success. "'Mr Brightside' had you scratching your head/ When you heard we were from Vegas and you were positive we were from Sheffield or Camden…" Flowers sang on it.
"Oh yeah, that was definitely what people in England thought," he tells me now, saying that early British listeners were sure his singing accent originated close to home. "All the reviews [of the first singles] mentioned that I was maybe hitting some of those 'r's a little softer than I really do when I speak. But that's just because I was so used to singing along to British music as a kid – so when I sang, that's the way it came out."
"Wembley Song"'s lyrics continue to detail the love affair: "The seed was planted, you took us in like your own, we were bound by tradition, my how we've grown" – acknowledgement of the faith shown by the UK when "every" US label had rejected the band. That bedrock support, he admits, was mindblowing to the Las Vegas foursome, that was formed after Flowers responded to Iowan transplant Keuning's "musicians wanted" ad in a local newspaper.
"The reactions...!" he begins, recalling The Killers' opening quartet of UK shows, in September 2003, a year after bass player Mark Stoermer and drummer Ronnie Vannucci Jr had been hired from other Vegas bands, completing the four-piece's line-up. "Man, we were scared to death," he whispers of their first gig, at Camden, London's Dublin Castle pub.
"There are gigs of ours you could ask me about, and I would have no clue about them. But I remember that gig – I remember everything about it. I was wearing a blazer I bought in Berkeley, California – we saw The Strokes had come out, and they looked perfect. And I was thinking: 'What have I got going on? The least I can do is go and try buy one of these blazers!' So I found one for a quarter, and I still have it. And it fits great," this eager gym-bunny notes with evident pride.
Still, it wasn't an entirely auspicious debut. "I fell during "Jenny Was a Friend of Mine" – I just slipped! It was such a small stage, there wasn't room for anything. And it thought that was gonna be it," he says with a rueful chuckle. "But we got a positive review in the NME, and I really attribute almost everything that we have now to that review. Every label in America that had turned us down was flying to Vegas after that."
And, Flowers adds, the passion didn't abate as The Killers repeatedly toured the UK in support of debut album Hot Fuss (2004). "We had never been reacted to so physically and so emotionally – and so musically. It's part of your tradition over there. Mark would play 'Jenny Was a Friend of Mine', and in Scotland people would sing the bass line! We just don't do that over here! So it really boosted our confidence, and really helped us go everywhere else in the world."
The weekend of our meeting marks the final show – a Las Vegas festival appearance – of the year-plus tour in support of the band's fourth studio album, Battle Born. But true to ambitious form they're barely pausing. British producer Steve Lillywhite (U2, The Rolling Stones) is flying in a few hours hence to record this year's Killers Christmas single (their eighth; all proceeds from it go to Bono's [Red] charity).
"It's a celebration of this decade for us," Flowers says of their European trip. "Some people maybe wouldn't do so much for a 'Best of...' But I was introduced to a lot of music from bands' 'Best of's, from Elton John to The Cars to Otis Redding, Johnny Cash… So I want to promote it! I'm happy to have one."
Over that decade, did he ever have a proper meeting with Morrissey?
"I met him one time, and we don't really talk about it!" he replies, hurriedly. "I happened to meet him when [Flowers's 2010 solo album] Flamingo was coming out, at [Los Angeles hotel] the Sunset Marquis, and we talked for a few hours." He pauses. "How come we're talking about this? I've not talked about this!" he gasps, exasperated. "No! I'm not gonna talk about it!"
"You have to," I say. "I gave you his book."
"All I'll say is… ah… He knew Flamingo was gonna be No 1 in the UK – he's up on that stuff. I didn't even know it was gonna be No 1."
We've established that he thinks Morrissey walks on water – but is Flowers really saying that he thinks Bigmouth is clairvoyant too?
"No, he's obviously looking at midweek charts and stuff. And I said, 'well, but I'll be lucky if I'm Top 20 in America.' And he said, 'but isn't England the only place that matters?' I think he understands that side, our beginnings..."
Did Moz impart any sage advice?
"Um, not necessarily… I'm divulging too much, I think… OK, he asked me why I did it. Why do I do this? And no journalist has ever asked me that. And I just fumbled over myself. I had no good answer. And 10 minutes later he would ask me again – 'why do you do this?'" Flowers laughs again. "That's probably the most philosophical, deep question. So now I find myself thinking about it more than I ever would have."
And does he have an answer yet?
"No, I don't have an answer. And it's been three years…"
Did Flowers ask Morrissey why he did it?
"No!" he blusters with an "as if…" look. "He was in charge!"
'Direct Hits' is released on Monday
Reuse content