"Everything started when I was doing the DJ-Kicks, and we started these tracks with my favourite people in the world. And Axel was on that list."
Spanish producer John Talabot is explaining his upcoming album The Night Land with Swedish artist Axel Boman, released under their moniker "Talaboman''.
The pair met at a festival years ago and became friends after performing a back-to-back DJ set (10 hours long). Remixing one another's work led to their first proper track together.
"Axel came here for some days in Barcelona and we thought we should do another EP, and that turned into two EPs, and that became an album..." Talabot explains. 
It took two years to get to the point where they felt ready to release the full album, partly because they travelled between Stockholm and Barcelona to record, rather than sending one another music over the internet.
Listening to the new record, you can tell that they were in the same room while they were working, The Night Land has a warm, coherent sound that is full of colour, and with a sense of fun that shines through.
"We have a similar sense of humour, we laugh a lot, we can be completely silly," Boman says.
"Even the name, 'Talaboman' sounds a bit stupid," Talabot adds. "We were really having fun in the studio together. It was so easy, I really enjoy working with him and not on my own… it felt like a proper thing we wanted to do, not for any particular reason."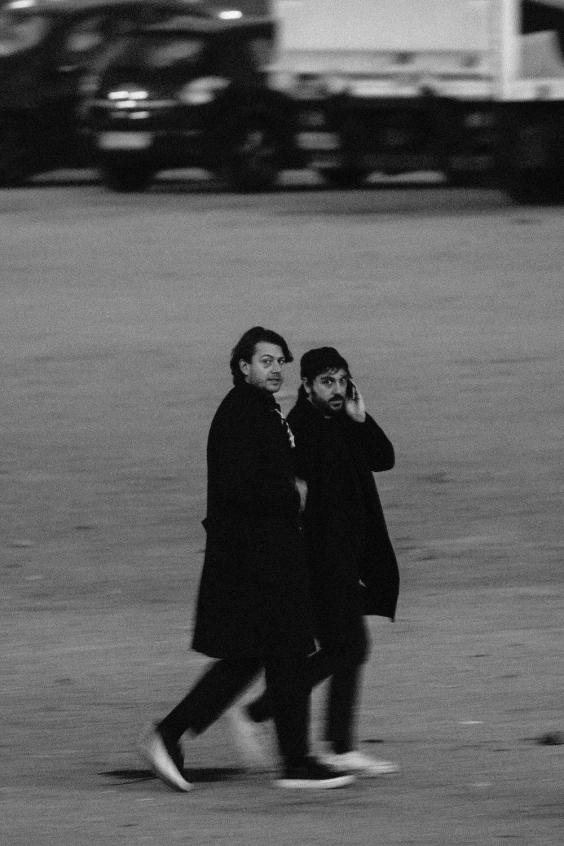 "Scheisse." Boman utters the Swedish expletive before his end of the Skype conversation cuts out.
"I think we lost him," Talabot says mournfully, then continues. "It's always that funny, with us. It's cool to travel with him. At least it's more exciting than just going on your own, this pair of geeks.
"It was a really important part of the process also. We have fun playing together and we wanted to continue doing that. It's a way to escape from the routine. And things get more relaxed when you're not on your own because not everything is under your control. You can't have everything your way... you have to find the place where both are comfortable."
Boman returns to the conversation. "Well, that wasn't frustrating at all. What did I miss?"
"The interview's finished," Talabot jokes, and they both laugh.
"Usually when you're in a band situation there's a hierarchy," Boman picks up. "'You take care of the drums, you're on the synths', etc.
"But with us it's always been a very floating process. We have good and bad qualities on everything, and we can switch roles as soon as someone gets a little bit bored of it. The more barriers there are to break in the studio, the better music it makes."
Both of them sound pretty devoid of ego – Talabot says they learned how to trust one another's instinct so there were few, if any, tantrums in the studio.
The 20 most ridiculous things superstar musicians have demanded at their concerts
The 20 most ridiculous things superstar musicians have demanded at their concerts
1/20 Beyonce

The Demands: 1 Large table for catering dressed with white tablecloths. Dressing room should be 78 degrees 4 Brand New White Towels in bathroom (2 face & 2 body) Hot Food: Juicy Baked Chicken: Legs, Wings & Breast only (Please season with fresh garlic, season salt, black pepper, and Cayenne pepper HEAVILY SEASONED!!) Steamed Garlic Broccoli Lightly Seasoned Green Beans Lightly Seasoned Steamed Spinach Beyoncé can only have Pepsi products. 1 Case of Aquafina water (half cold, half room temperature) 1 Hot Tea Set up (Please have NEW Coffee Pot) Sliced Lemons Wedges Rose scented candles Lighter for candles CD player

Getty

2/20 Adele

The Demands: 12 Small bottles still (non-carbonated) spring water (at room temperature) 1 Electric kettle for BOILING water 6 Large mugs for tea. All mugs should be new, washed and dried. 6 metal teaspoons 2 "Squeezy" bottles clear honey (not organic) 1 Bottle very best quality red wine (Italian, French or Spanish) 1 Assortment of chewing gum 1 Pack Marlboro Light plus 1 disposable cigarette lighter 1 Small selection fresh fruit, to include bananas, apples, grapes, fresh berries NO CITRUS FRUIT! 1 Small plate of assorted freshly made, individually wrapped sandwiches, to include chicken salad. Sandwiches must NOT contain tomatoes, vinegar, chili or citrus fruit

PA

3/20 Kanye West

The Demands: 1 Tub Plain Yogurt for dipping 4 small Yoplait Yogurt 1 Bowl of assorted nuts 1 Bowl of Sunkist Salted Pistachio Nuts (No Red Coloring) 2 Packs of Extra Chewing Gum 1 Bottle of Hot Sauce (Tabasco, Caribbean Type) 1 Box of Toothpicks 1 750 ml bottle of Hennessey Liquor 1 750 ml bottle of SKY or Absolut Vodka 1 Bottle of Patron Silver Tequila 4 Six Packs of Heineken Beer

Dimitrios Kambouris/Getty, David Parsons/iStock

4/20 Rihanna

The Demands: 5 AC power outlets Adequate lighting for a "relaxed atmosphere" White drapes to cover lockers and/or brick 1 Humidifier 1 Large throw rug — plush and animal print (Cheetah, Leopard) … must be CLEAN, as she will walk on it barefoot. Pipe and Drape the room in Dark Blue or Black drapes with Icy Blue Chiffon draped nicely on top 6 Candles — Archipelago Black Forest (if you can't get these, please let me know ASAP as we have a 2nd choice of candle for Ri). 4 Small, clear, square vases with White Tulips, no foliage (2nd choice: White Casablanca Lilies no foliage, 3rd choice: White Freesia, no foliage)

5/20 Katy Perry

The Demands: Arrangement of pink fresh flowers. White and purple hydrangeas, pink & white roses and peonies. If not available, seasonal white flowers to include white orchids–ABSOLUTELY NO CARNATIONS. A box of Huggies baby nature care wipes 6 Vitamin waters zero, assorted flavors Bowl of whole fresh organic grown fruit (apples, bananas, oranges and grapes) Plate of fresh-cut Crudités (to include cucumber, broccoli, cauliflower, carrots, snap peas, celery) w/ ranch dip Snyder's of Hanover Honey Mustard & Onion Pretzel Jar of Salsa Baked (blue corn if possible) Tortilla Chips Freeze dried strawberries 2 bottles of Santa Margarita Pinot Grigio Throat coat, Twinnings Chamomile PG tips and Mint medley tea. Fuze slenderize assorted flavors A jar of quality honey Plastic drinking straws

AFP/Getty Images

6/20 Paul McCartney

The Demands: All lamps must be halogen floor lamps with dimmer switch. Only animal free materials (cottons, denims, velour, etc.) Do not provide furniture made of any animal skin or print. Do not provide artificial versions of animal skin or print either. No leather seating is allowed in the black stretch limousine either. Arrange for a dry cleaner before arrival. 6 Full and leafy floor plants, but no trees. We want plants that are just as full on the bottom as the top such as palm, bamboo, peace lilies, etc. No tree trunks! $50.00 - One large arrangement of white Casablanca lilies with lots of foliage. $40.00 - One long stemmed arrangement of pale pink and white roses with lots of foliage. $35 One arrangement of freesia. It comes in various colors so please mix them up. Freesia is a favorite. 20 dozen clean towels outside of the production office

AP

7/20 Mariah Carey

The Demands: Each room must be draped. Black drapes are fine. The entry door should open into the living room space, not the dressing room. Temperature should be about 75 degrees. 1 Three Seat Couch — Plain Color, no busy patterns; black, dark grey, cream, dark pink are fine 12 1 Liters of Fiji Water 3 Bottles Chardonnay — Chilled 12 Coke 12 Diet Coke 12 Vanilla Protein Drinks 6 Sparkling Water (Pellegrino) 12 Melon Flavor Gatorade 6 Red Wine Glasses 6 White Wine Glasses 4 Joe Malone Vanilla Candles 2 Vases White Roses Fried Chicken (warm) 12 Small Bottles water (room temperature) 3 Whole lemons and honey Sugarless gum

Getty

8/20 Eminem

The Demands: 25 pound dumbbells 24-Diet Coke 16oz plastic bottles 12 Diet Coke 12oz cans 6 Verner ginger ale soda (or Schweppes) 48 Daisani, Poland Spring 12oz bottles "NO Evian" 1 Loaf white bread 1 Loaf wheat bread 6 Lunchables snacks (3 turkeys & 3 ham with cheese) 6 Cans Red Bull 16 Cans Sugar-Free Red Bull Large fresh jumbo shrimps with cocktail sauce and plenty of lemons 1 Jar of banana pepper rings

Getty Images

9/20 Grace Jones​

The Demands: 6 Bottles of Louis Roederer Cristal Champagne 3 Bottles of French Vintage red wine (e.g. St Emilion, Medoc, Bordeaux) 3 Bottles of French Vintage white wine (e.g. Sancerre, Pouilly Fuisse) 2 Dozen Findeclare or Colchester Oysters on ice (unopened)—(Grace does her own shucking.) 2 Sashimi and Sushi platters for 8 people 6 Fresh lemons 1 Bottle of Tabasco sauce 1 Fresh fruit platter for 8 people 6 Bottles of Coca Cola 12 Bottles of still and sparkling water 12 Bottles of fresh fruit juices Wine glasses, champagne flutes, tumblers (all glass, no plastic) Cutlery and sharp knife 1 Oyster knife 1 Make up mirror (no neon strip lighting, only opaque white bulbs) Fresh towels, clothes hangers, clothes rail 3-4 Bunches of flowers—prefer lilys and orchids Sofa and arm chairs

Andy Sturmey

10/20 Drake

The Demands: Four dozen natural-scented incense sticks Dr. Bronner's peppermint soap Pork-free food E-Z Wider rolling papers and a pack of Dutch Master President cigars Pinot Grigio Heineken Bottles of Jack Daniel's Patron Silver tequila Nivea chapstick A bottle of Hennesey or Courvoisier Grey Goose Andis T-Outliner trimmers Extra sets of speakers

champagnepapi/Instagram

11/20 Jack White

The Demands: 1 dozen chicken wings (buffalo, teryaki, suprise us) 1 bowl of FRESH HOME-MADE GUACAMOLE 8 champagne flutes (real glass) 8 wine glasses (real glass) 8 highball glasses (real glass) 1 hummus & pita chips iPod player with sufficient volume control NO fluorescent lighting PLEASE NOTE: This is a NO BANANA TOUR. (Seriously)

Getty

12/20 Madonna

The Demands: 200-person entourage 2o international phone lines Her backstage room must look exactly like her own home (that means she ships around her furniture) Special flower-scented fabric Actual flowers Personal chef who prepares only vegan foods Her own dry-cleaning service

AP

13/20 Alicia Keys

Alicia Keys performs at the UEFA Champions League Final

Getty

14/20 Jay Z

The Demands: 7 sets of metal silverware 1 Lighter 3 Glade Candles (French Vanilla, Rain shower, Wild Berry, Tangerine Ginger) 3 Cans of Chunk White Tuna 10 Nutri-Grain Bars (Blueberry, Cherry, Apple, Strawberry) 6 Individual Packets of Quaker Oats Instant Oatmeal (Brown Sugar and Apple Cinnamon) 1 Assorted Fruit Platter with strawberries, seedless red grapes, bananas, mango, blueberries, cantaloupe and raspberries 2 Cases of beer (one imported and one domestic; brands preferred: Amstel Light, Corona, Bud, Bud Light or local beer) 3 menus for local seafood and Italian restaurants to order meals for Alicia

Getty

15/20 Mary J. Blige​

The Demands: 2 Humidifiers 10 medium prewashed bath sized towels NO DAIRY OR PORK OF ANY KIND!! 10 1.5 liter bottles of FIJI water (absolutely, positively must be FIJI) 6 cans of Diet Dr. Pepper 6 cans of Schweeps Ginger Ale 2 packs of Mentos — cinnamon fresh only 6 cans of Red Bull energy drink 6 bottles of Black Cherry Propells in sports bottle 8 sets of silverware 24 napkins 1 tub of clean ice

Getty Images

16/20 Lady Gaga

The Demands: 2 Bottles of white wine with wine opener — Kendall Jackson or Robert Mondavi preferred 1 Pack of Straws 1 Cushioned office style chair TV with cable and a DVD player 1 Rolling clothing rack 4 Unscented candles Cool-mist humidifier 3 fans Tea kettle, organic ginger and lemongrass tea and honey are very important. 1 4 pack of Red Bull Light (on ice) 2 Bottles of Green Tea 1 Container of Guacamole Hot dogs (Yves veggie dogs eaten with toothpicks) A smoothie station (with frozen berries, fuze and whey protein or non-fat Greek yogurt) Blender needed 1 Plate of cheese (non-smelly, non-sweaty on ice) with whole wheat/healthy crackers A mix of assorted fresh fruit (cut and must have edible skin OR edible seeds OR citrus)

Getty

17/20 Cher

The Demands: 1 Wig Room 1 Room for Dr. Stacey 1 bottle of fine red wine (No Kendall Jackson) 1 bottle of fine white wine (No Kendall Jackson) 4 Cokes 4 Diet Cokes 1 coffee table 1 end table for the phone to be placed on TV with VCR with a cable Hook up. Please make sure we can get the following channels: Turner Classic Movies or AMC

18/20 Taylor Swift

The Demands: If arriving before 11 a.m., the following from Starbucks: 1 Grande ICED Caramel Latte w/ 2 sweet-n-lows 1 Grande ICED Americano w/ 2 sweet-n-lows with soy milk 1 slice pumpkin loaf 1 Stick Butter 3 Boxes Kraft Macaroni/Cheese 2 Four Packs of Red Bull 1 12 Pack Corona Beer 1 12 Pack New Castle Beer 1 Bottle Welch's Grape Juice 1 Avocado 1 Bag of Twizzlers red licorice 1 Case of Smart Water 1 Pint Ben & Jerry's Chocolate Chip Cookie Dough Ice Cream 1 Pint Ben & Jerry's Chocolate Brownie Frozen Yogurt

19/20 Iggy Pop

The Demands: A copy of USA Today that's got a story about morbidly obese people in it 6 bottles of Grolsch or decent local beer F——— loads of good red wines 6 large bottles of good quality sparkling water 3 cases x 12 oz bottles of still mineral water 6 bottles of alcohol free beer 1 case of big bottles of good, premium beer A bottle of vodka Cauliflower/broccoli, cut into individual florets and thrown immediately into the garbage. I f——— hate that

Getty Images

20/20 Van Halen

The Demands: Nuts Pretzels M&MS (WARNING: ABSOLUTELY NO BROWN ONES) 1 large tube of KY jelly 3 packs of Marlboro cigarettes (box) Herring in sour cream 2 gallons non-carbonated, bottled spring water 3 fifths Jack Daniels Black Label bourbon 2 fifths Stolichnaya vodka 1 pint Southern Comfort 2 bottles Blue Nun white wine

Getty Images
"It's like an exercise for us, sort of therapy," Talabot says. "It's really funny because you get to places you wouldn't get to on your own."
While some of each artist's solo work brings in a lo-fi, "outdoors" kind of sound – Boman's in particular uses noises from nature – The Night Land is more introspective, exploring a universe that still maintains these multiple layers and tempos, but somehow that has more of an "indoors" feel.
"I think Axel is really good with the samples he picked for his tracks," Talabot says. "We both like this emotional side to sampling, things that remind you of a tiny moment, where you can totally tell in Axel's album [Family Vacation], the way he samples is super emotional.
"The way we use this material on Talaboman, we didn't sample so much as when we work on our own, we recorded way more. It was a really exciting process for our nerdy side, having all the gear to play with."
"I like that some music can sound 'outdoors' and 'indoors'," Boman adds. "I can understand how someone could feel that. John has always worked in a more introspective way. A lot of music you can close your eyes and drift away..."
"I like to cry," Talabot chips in.
"You can cry to pop songs also though," Axel says laughing. "The tears are accessed both ways. This record was more inwards-turned than most of the music that I usually do."
"You define the sound palate of the project quite early," Talabot says. "So somehow it was easier. 'Taloboman' is this world of bleeping things, delays, synths, crazy samples… it was fun.
"The cool thing is that everything was recorded audio. Every time I was travelling to Axel's studio I didn't want to travel with plug-ins and stuff. So at the end, using this process made every track different, but it has some workflow that unifies it. If you take everything it sounds coherent. It's strange, it just happened."
Boman reminds Talabot that not all of the recording process was smooth-sailing.
"Trying to get a Scandinavian work ethic with a Catalan work ethic..." He breathes out dramatically. "There's a big difference.
"I want to get to the studio at 10 in the morning and work until 8pm, then have a beer and get drunk until midnight. John wants to sleep until 10, check his mail until midday, have a sandwich, check his mail again. Then at 2 o'clock he'll have a Catalan lunch, and that lasts for around two hours..."
"That's totally exaggerated," Talabot interrupts in protest.
"It's not," Boman says. "Then he'll come to the studio around 5. Then he wants to sit until 3 or 4 in the morning. It f**ks up my beer routine."
This is where all the tension and unspoken grudges from the great working relationship come out, then?
"I think Axel loved these nice breakfasts that we were having, he was pushing me to go," Talabot insists.
"I did... but I also enjoy those days where you get up early, do a full day in the studio, and then look back and watch a movie and not feel guilty about anything," Boman says playfully.
"That's some Christian morality, it doesn't work here in Barcelona."
 "I love it," Boman reassures him. "I loved that freedom of not having schedules."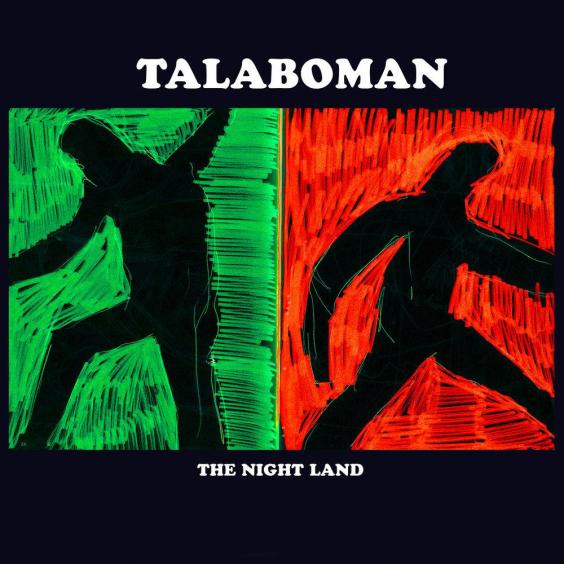 Both artists have done well to get their music heard outside of their respective countries, perhaps more so for Talabot, who still feels that Spain has a problem with getting artists to find international success.
"Maybe because we're not so good with English," he muses, then: "But we have Julio Iglesias, so it's not so bad."
"Not as good as Enrique [Iglesias], my friend," Axel says.
"Sometimes where you try to bring things up from Spain, people don't pay attention... sometimes you need people from outside countries," Talabot says.
He's speaking from experience. "Sunshine", a sort of space-disco track that effortlessly fused house, Krautrock, and Spiritualized influences, was picked up by the likes of The Guardian and Pitchfork, the latter of whom rather famously named it among their "Top 100 Tracks" in 2009. 
"That was a really weird situation," Talabot says. "It was just a sample thing, and then it went big, and I thought… maybe it shouldn't have been so big. But you don't get to choose that kind of thing. If I'd have planned it, it wouldn't have happened. And I'm pretty sure my album was some kind of response to 'Sunshine', to show that my music was more than that one track."
"I really hope that this album can create the same expectation musically as what the recording represents," Talabot says. "So we could play even weirder and slower and trippier music to what you'd expect in a club night. It could be a nice gateway to experience something different."
"I kind of hate myself for agreeing to be called Talaboman," Boman says suddenly. "Because some bands can be called 'Godspeed You! Black Emperor'… and we're called 'Talaboman'. But I think anything you say a thousand times will stick. It's fine."
'The Night Land', the album by Talaboman (John Talabot and Axel Boman) is released on 3 March 2017 via R&S Records – pre-order here