"Someone asked me the other day, 'How do you make money?' because unless you're Adele you don't make much from record sales these days. But every year something comes up that's totally unexpected and I always rely on it." 
Imogen Heap is in one of the living rooms of her beautiful 18th-century round house in Havering-atte-Bower in Essex, where assorted helpers are decorating her garden shed in preparation for her daughter Scout's first birthday. Heap bought the house she grew up in in 2007 when her father, who owns a construction business, suggested that she buy it from him ("he is a businessman after all," she smiles). The round walls in this room are painted red, overlaid with a gold bird and tree motif; it has two pianos and various mismatched antique furniture. At our feet is a play mat and lots of cardboard children's books. Heap, tall and elegant in leggings and a black wool dress, is explaining how serendipity provides her with an income. 
This year she worked with Taylor Swift, who mentioned that she was a fan of Heap in an interview Heap's manager saw. After their people spoke to each other, Swift flew to Heap's home and recorded a demo of her hit "Clean" in Heap's pink-walled basement studio, with Heap incorporating the interesting sounds of her mbira (thumb piano) and Boomwhackers (percussion tubes) on to the track. Next year, Heap is composing the musical score for a new play written by JK Rowling and the playwright Jack Thorne, called Harry Potter and the Cursed Child. That should keep her in pocket money for a while, then. But her enduring labour of love, one yet to turn a profit, is her "musical gloves".
The mi.mu gloves have been a work in progress for the past six years. They enable Heap to control her music through gestures, either for a live show, or for recording tracks in her studio. We go down to the basement and she logs on to her computer, displaying her music software. When she lifts her palm, the corresponding volume switch on her computer display raises simultaneously and the volume increases. She moves her hand back down and it goes quiet. Instead of typing on a keypad or clicking a mouse, the gloves contain sensors that recognise her hand movements.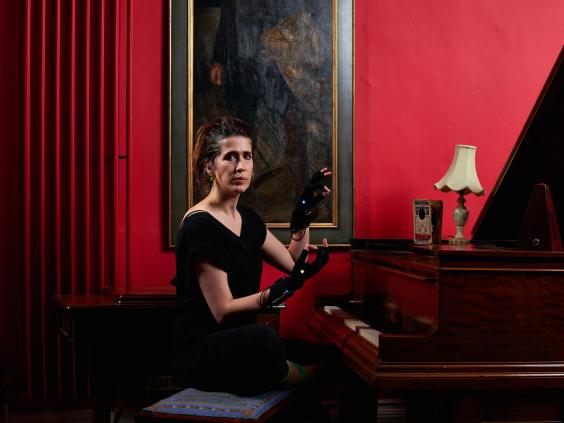 Used alongside her "Box of Tricks", a piece of software that replicates the sounds of all the instruments in her basement, the gloves enable her to produce and record her music. She can also use them in performance, whereby the different hand gestures are programmed to play different sounds. "It started to feel like a second skin when I was using them, and that's when I realised this is amazing, this is not just for me … but it's a big decision to make them user friendly enough for anyone to use," she says. 
Two of the people milling about the house today work on research and development for the gloves, which are currently available for £5,000. "Eventually we can drop the price, but at the moment we're all slogging away and working on the gloves in our spare time," says Heap. Only about 25 people own a pair, and they are all finding new applications for them. 
Last year, the gloves team started bringing in other collaborators. One of them, whose life has been changed by the gloves, is Kris Halpin, who works with the music technology organisation Drake Music, which helps musicians with disabilities. He thinks the gloves may be the most important breakthrough in accessible music technology so far. A year ago, he visited Heap's house to experiment with the gloves and immediately saw the implications. 
"I have cerebral palsy and my right hand is a bit shaky," he says. His condition was affecting his career as a musician and he was considering a future where he wouldn't be able to play live. "I was a very skilled guitarist at one point, but I found songs I was used to playing were having to be cut from the live set because they were too complicated. It was very frustrating, especially when you remember what it is supposed to be like and suddenly you can't do it. Then, at the height of that frustration, I found the gloves.
"They are a massive leap forward in music technology, far ahead of anything else that currently exists. The first time I tried them, I was just air drumming with them and it felt really emotional. The beauty of it for me is that even though my dexterity isn't great, the gloves can still map to my movements."
The gloves can adapt when his condition changes. "I can just take a snapshot of my hand that day," explains Halpin. "I don't know what I would be doing if they hadn't come along. It has invigorated my career."
In July this year, he played the gloves on National Paralympic Day. "I developed an invisible guitar effect so that I could strike a power chord out of thin air." 
So what groundbreaking project will Heap work on next? "Everything I work on, it is always because I see a gap I want to fill. So whether that's a musical gap or I want to be able to not be tethered to a computer, it's all really about the same thing. It's breaking down barriers and getting closer to human connections." 
drakemusic.org; imogenheap.co.uk
Reuse content