"Y'all got 'til April the 7th to get y'all shit together" Kendrick Lamar closed recent single 'The Heart Part 4', a line tantamount to a release date for his new album.
But April the 7th is here and it doesn't look like we'll be getting the To Pimp a Butterfly follow-up.
The album, which we still don't know the title of, has been made available for pre-order on iTunes with an 'expected release' date of 16 April 2017.
A credit list comes with it, which, curiously, includes the names "C. Hansen, A. Sowinski, M Tavares & L. Whitty" aka U2.
Has Kendrick really collaborated with U2, or is it just a sample? James Blake, Mike Will Made It, BADBADNOTGOOD, The Alchemist and 9th Wonder are also credited.
Kendrick has yet to comment on the delay, but it's possible he has something else in store for 7 April.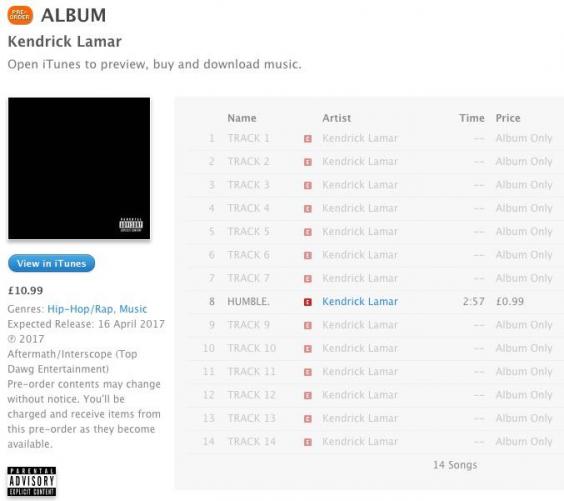 Full composer list on 'ALBUM', which consists of 14 tracks:
Track 1: K. Duckworth, D. Tannenbaum & Anthony Tiffith (Top Dawg)
Track 2: K. Duckworth & M. Williams II (Mike Will Made It)
Track 3: K. Duckworth, M. Spears (Sounwave), D. Natche (DJ Dahi) & Anthony Tiffith
Track 4: K. Duckworth, M. Spears, J. Blake (James Blake) & R Riera
Track 5: K. Duckworth & M. Spears
Track 6: K. Duckworth, D. Natche, M. Spears, Anthony Tiffith & T. Martin
Track 7: K. Duckworth, S. Lacy, A. Wise & Anthony Tiffith
Humble: K. Duckworth & M. Williams II
Track 9: K. Duckworth, D. Natche, M. Spears, C. Hansen, A. Sowinski, M Tavares & L. Whitty (BADBADNOTGOOD)
Track 10: K. Duckworth, Z. Pacaldo, T. Walton, M. Spears, G. Kurstin & Anthony Tiffith
Track 11: K. Duckworth, M. Williams II, D. Natche, M. Spears, Anthony Tiffith, P. Hewson, D. Evans, A. Clayton & L. Mullen (U2)
Track 12: K. Duckworth & D. Maman (The Alchemist)
Track 13: K. Duckworth, R Riera, M. Spears, D. Natche, D. Tannenbaum, Anthony Tiffith & R. LaTour (Cardo)
Track 14: K. Duckworth & P. Douthit (9th Wonder)
Reuse content