Miley Cyrus has teamed up with psychedelic rock band The Flaming Lips to make a trippy video with the bizarre title, "Blonde SuperFreak Steals the Magic Brain".
Warning: Video contains explicit language and nudity
The "Wrecking Ball" singer, 21, shot the five-and-a-half-minute video while recovering from the allergic reaction that hospitalised her, forcing Bangerz tour dates to be postponed.
Cyrus has shared a long-time mutual admiration with frontman Wayne Coyne, who was "lucky enough to get a couple of hours with a bedridden Miley".
"This is the video we originally intended to be for a song that has reference to the drug LSD," Coyne said. "Even though (Miley) was still quite ill, she was full of laughs and great absurd suggestions."
The eccentric musician went on to explain the concept of the clip, which sees electro singer-songwriter Moby star as an "evil, power-hungry cult leader".
In brief, this megalomaniac wants John F Kennedy's brain, which contains the original formula for LSD.
The problem is that this magic brain belongs to Miley, so a "nympho Manson girl-type blonde superfreak" is hired to steal it. 
This mission is completed while Cyrus is unconscious in bed, but on waking she is "mega-p****ed" and enlists a burned-faced Santa and a lesbian Bigfoot from a nearby spaceship to get her brain back.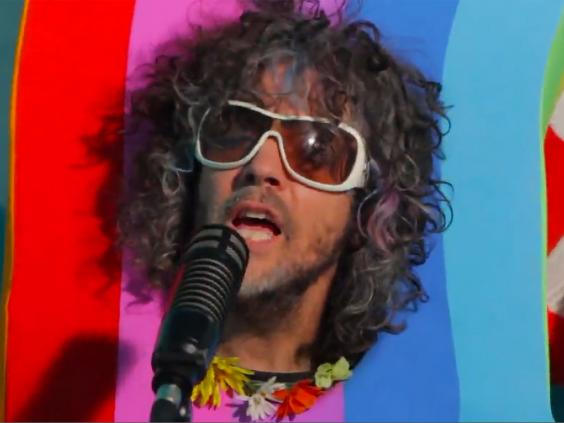 Moby has gained "powerful rainbows from hell" which see the superfreak kill Santa and Bigfoot, leaving a baby rodent with the brain.
All the while, The Flaming Lips are "disguised as rainbows, mushrooms and flowers watching from the sky room where a giant diamond explosion happens".
Miley Cyrus Bangerz tour in pictures
Miley Cyrus Bangerz tour in pictures
1/12 Miley Cyrus on tour

Miley wore white boots with dollar signs on as she cavorted around on a gold car

2/12 Miley Cyrus on tour

In her usual fashion, Miley spanked two dancers who joined her in red spandex

3/12 Miley Cyrus on tour

The 21-year-old was joined on-stage by colourful animals

4/12 Miley Cyrus on tour

Miley gives her fans the finger which is, you know, nice of her

5/12 Miley Cyrus on tour

Miley gives an energetic performance backed up by cowboy-clad dancers

6/12 Miley Cyrus on tour

Miley wore a leotard with a cannabis leaf print in a nod to her love of smoking weed

7/12 Miley Cyrus on tour

Cyrus twerked, and twerked, and twerked some more throughout the first Bangerz show

8/12 Miley Cyrus on tour

Cyrus singing on top of a car in a spangly cannbis print leotard

9/12 Miley Cyrus on tour

Miley whipped her hair back and forth during her first Bangerz tour show

10/12 Miley Cyrus on tour

Miley performed on-stage with a dwarf wearing a Britney Spears mask

11/12 Miley Cyrus on tour

Miley Cyrus kicks off her 'Bangerz' tour in anticipated controversial form in Vancouver, US

12/12 Miley Cyrus on tour

Miley wore this sparkly red costume complete with Chanel bag and feathers
It remains to be seen where this crazy collaboration will go next, but Cyrus and Coyne performed together at the Billboard Music Awards and both got matching tattoos of the pop star's late dog Floyd, suggesting this friendship looks set to stick around.
Reuse content