George Osborne can expect a bombardment from One Direction fans after the boyband urged its army of followers to lobby the Chancellor to maintain the UK's international aid budget and crack down on corporate tax avoidance.
In an unlikely entry into the political sphere, Harry Styles and his band are offering free concert tickets to fans who join Global Citizen, an international network promoting social activism as a means to end extreme poverty.
The chart-topping One Direction have 18 million followers on Twitter. They are urging fans to email a letter to the Chancellor, before next week's Budget, urging him to maintain the UK's commitment to devote 0.7% of gross national income to the international development budget.
The commitment, which will be met for the first time this year, has come under fire from some Tory backbenchers who want the development budget curbed and funds redirected to British projects.
Global Citizens earn 3 "points" for sending a letter written by the charity, addressed to the Chancellor, the Prime Minister and Justine Greening, Secretary of State for International Development, from the site.
But they earn two extra points for composing their own personalised letter. When they have amassed 20 points, by actions such as watching a video about Polio eradication (1 point) or singing a petition (2 points), they qualify for free tickets to UK concerts by One Direction, Katy Perry or Beyoncé.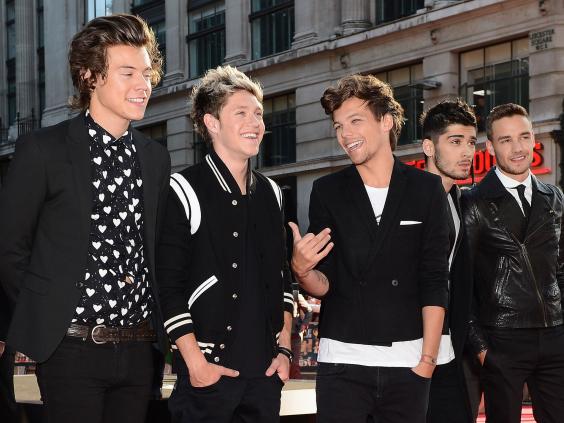 A spokesman for Global Citizen said: "With public opinion on development mixed, the email will urge the government not to cut funding, which would risk millions of lives around the world.
"The letter will also encourage the government to crack down on company tax avoidance by British companies in the developing world, which hampers progress in those states."
Points can also be earned by volunteering with the initiative's NGO partners, which include the Global Poverty Project, Save the Children UK and the One Campaign.
Since demand is likely to outstrip supply, the free Global Citizens tickets will be allocated via lottery. One Direction have committed initially to handing out 32 pairs of tickets.
There are 500 sets to tickets to be claimed to see participating performers including Ed Sheeran, Jessie J, Bastille, Chvrches and the Monty Python comedy troupe.
In a message to their fans, One Direction said: "We are absolutely proud to join so many amazing artists to inspire people to take action to end extreme poverty. Please visit globalcitizen.org/tickets and take action, love One Direction."
1D: Crazy things Directioners say
1D: Crazy things Directioners say
1/20 One Direction

'I'm so jealous of everyone that meets One Direction. Then again if I met Harry I would hyperventilate, suffocate and die so...' - @m_a_g_z_i_e

2/20 One Direction

'If I ever received a tweet from anyone in One Direction I'd literally die on the spot and I want my obituary and tombstone to blame them.' - @aurosan

3/20 One Direction

'When I die, I want the One Direction 'Talk Dirty to Me' video displayed at my funeral, on a screen projected over my casket, playing non stop, thank you.' - @zaynlikespayne

4/20 One Direction

'I cannot speak I want to write the word 'love' everywhere and tell everyone I love One Direction more than anything ever.' - @sneezeharrys

5/20 One Direction

'I'm in the 'I'm gonna die alone with 8 cats and my posters of One Direction don't breath near me or I'll punch you' mood.' - @nouisteenagers

6/20 One Direction

'HARRY. YOU ARE NOT A GOD DAMN MAN WHORE. YOU ARE A CUPCAKE. JESUS.' - @daddyslittlelou

7/20 One Direction

When 1D were on the cover of GQ magazine: 'The GQ pictures make me want to stab myself in the uterus!' - @ziallsafari

8/20 One Direction

'I hope that I die before any of the boys in One Direction does cause I will not be able to even move if they go before I do.' - @pokeniall

9/20 One Direction

Another GQ response read: 'Holy. C**p. The boys on the cover of GQ magazine. Someone shoot me. Push me off a cliff. Stab me!' - @wafaastalks

10/20 One Direction

'Person: Why do you love One Direction? Me: Why do you breathe? Person: If I didn't I'd die. Me: Exactly.' - @idrugsharry

11/20 One Direction

'Don't hate on Louis you f**king a******s or I will shove bleach into your a******s and pull out your eyes with a spork.' - @fxkinlouis

12/20 One Direction

'When are you in public and a One Direction song comes on and your kidneys rupture and then you die.' - @harryhasbooty

13/20 One Direction

'If One Direction were falling off a cliff and I could only save one then I'd shoot myself so we could all die and meet in heaven' - @austinrahone

14/20 One Direction

''One Direction is goin' to be the next to break up'. If you don't shut up I will break your neck and pray for you to die.' - @bubblegumniall

15/20 One Direction

'My friend doesn't like One Direction and I told her that if she said something rude on Twitter she would die.' - @flashing1D

16/20 One Direction

'Do you ever feel like you want to scream and cry and laugh and smile and die because of One Direction. Because same.' - @chenloves1d

17/20 One Direction

'When Niall cuddles someone or something and his cheeks do the thing I die.' - @daintyiero

18/20 One Direction

'My parents always say 'They're gonna die down' and 'You'll grow out of them'. No f**k you I'm getting One Direction tattooed across my face.' - @calumshoran

19/20 One Direction

'Dear One Direction, you stole my heart but that's okay. I like my boys like I like my tea - hot and British with some Irish creme.' - @torii_rakusx

20/20 One Direction

'Imagine Niall barging into the church and saying 'I OBJECT' to your marriage because he loves you.' - @niamhabitat
The Global Citizen tickets initiative has already proved a success in the US, following its 2012 launch. Backed by Arcade Fire, Neil Young and Bruce Springsteen, the body claims that thousands of emails sent to US Senators helped secure an increase in polio eradication funding of $54 million last year.
There have been 1.7m "actions" to help end extreme poverty, including 75,000 emails sent to leading US companies who, in response, pledged more than $1m for community health workers in sub-Saharan Africa.
The points system also reveals the estimated value of the 100 participating artists in the pop hierarchy. A maximum of 20 points gains entry into the One Direction and Beyoncé lottery but just 15 qualifies entrants for free tickets for new UK soul singer John Newman and McBusted. Emerging "break out bands" can be seen for 10 points.
The brainchild of Kelly Curtis, manager of Pearl Jam, Global Citizen will focus its efforts on issues relating to polio, malaria, women's empowerment and education.
Emma Banks, Talent Agent at Creative Artists Agency and Chair of the UK Global Citizen Tickets Initiative Committee said: "I have no doubt that we will match the successes that this initiative has already enjoyed in the USA, something that could only have been achieved by our industry uniting for this very worthwhile cause.
"Music brings people together from all over the world and has so often in the past been the catalyst for change. We will continue to talk with artists and their managers to rally their further support for Global Citizen Tickets in the UK."
One Direction have taken advantage of Ireland's corporate structure to manage their earnings.
Members Zayn Malik and Liam Payne, are listed as directors of 1D Media and give registered addresses in Limerick.
The address is home to Live Wire Business Management, a specialist sports and entertainment accountancy firm, which helps clients become more tax efficient.
In 2012, Styles, Louis Tomlinson, Payne and Malik set up the ODOT limited partnership, using the same Limerick offices as Live Wire.
Basing subsidiary companies in Ireland has helped musicians including Cheryl Cole and Olly Murs reduce tax on their worldwide earnings, taking advantage of the country's attractive corporation tax rate of 12.5%.
Music fans can register and become a Global Citizen at http://www.globalcitizen.org/tickets
Reuse content