It was the song of last summer for not altogether good reasons and now, Robin Thicke's "Blurred Lines" has been named the UK's most downloaded track of all-time.
The controversial chart-topper has sold a record-breaking 1.54 million copies since its release in May 2013, according to the Official Charts Company's new countdown.
"I'm so honoured, the success of "Blurred Lines" is a dream come true," said Thicke in response to the news.
But while the US singer's hit has, quite clearly, proved popular, it sparked outrage from women's rights groups for its derogatory lyrics and was banned in universities up and down the country.
With its unfortunately catchy refrain of "I know you want it" and lines including "I'll give you something big enough to tear your a** in two", cries of "Sexism!" echoed loud and clear from the moment it dropped on YouTube.
Top 10 most-downloaded songs
Top 10 most-downloaded songs
1/4 'Blurred Lines' - Robin Thicke

Robin Thicke pre-empted all the internet buzz with #THICKE written over the action in the controversial music video for 'Blurred Lines'. Also featuring T.I and Pharrell Williams, the 2013 chart-topper has sold 1.54 million downloads since its May release.

2/4 'Get Lucky' - Daft Punk

This track has scooped numerous awards for the French dance duo including Record of the Year at the 56th Grammy Awards in January. 'Get Lucky' was co-written by Pharrell Williams and Nile Rodgers.

3/4 'Wake Me Up' - Avicii

'Wake Me Up' features US soul singer Aloe Blacc on uncredited vocals and Incubus' Mike Einziger on acoustic guitar. It was released in June last summer as the first single from Avicii's full-lenth debut album True.

4/4 'Sex On Fire' - Kings of Leon

The US rock band's 2008 hit 'Sex On Fire' has become a dancefloor anthem. It was the first single released from their fourth album Only By The Night and won a Grammy Award for Best Rock Vocal Performance.

Getty Images
"Certain lyrics are explicitly sexually violent and appear to reinforce victim-blaming rape myths," said Katie Russell, a spokeswoman for Rape Crisis.
But I'm a "happily married" man, pleaded Thicke to deaf ears, after telling men's magazine GQ that it was a "pleasure to degrade a woman" as he had "never gotten to do that before". Thicke and his wife of nine years, Paula Patton, later separated in February.
The video for "Blurred Lines", featuring topless girls and a fully-clothed Thicke, Pharrell Williams and T.I, did little to help the song's moral case, inspiring an online petition calling for age ratings on all music videos.
Then of course there was that performance with a twerking Miley Cyrus at the MTV Video Music Awards.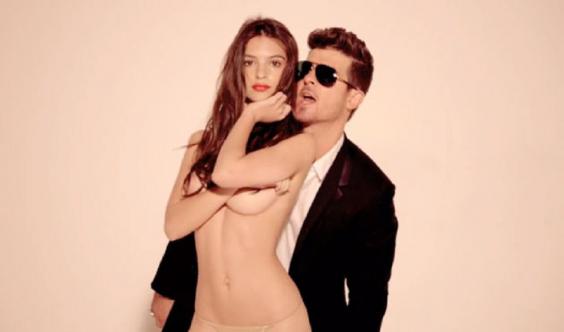 Despite all this negative publicity, "Blurred Lines" went straight in at number one and spent five non-consecutive weeks there. The song inspired a National Theatre play and, since the start of 2014 alone, has sold 70,000 copies.
"Blurred Lines" has now beaten Adele's previous download record for "Someone Like You", which has shifted 1.53 million copies to date. Tracks by Maroon 5, Gotye and the Black Eyed Peas complete the top five (see here for the top 100).
The Official Chart's Company's announcement marks almost a decade of downloading history, during which more than 2.7 billion track downloads have been bought – around 108 per UK household.