Sinead O'Connor has unveiled the album cover for her new record I'm Not Bossy, I'm the Boss, which sees the singer dressed in black PVC with a sharp black bob.
O'Connor revealed she changed the album name from its original title The Vishnu Room to reflect her support of Sheryl Sandberg's "terribly important" Ban Bossy campaign.
On her official website, O'Connor wrote to confirm that the album title backs the campaign, which urges the public to stop branding assertive young girls "bossy".
"Originally I had a different title, The Vishnu Room, but a few months back when I saw the phrase 'I'm not bossy, I'm the boss' and became aware of the Ban Bossy campaign, I wished I could re-name the album, since indeed it can be tricky being a female boss and I think Sheryl's campaign is a terribly important one," O'Connor wrote.
"At the stage I became aware of the Ban Bossy campaign it was too late to change the album title because the sleeve was already in print.
"But last week when the record company received the promo shots, which included the cover shot you now see, they asked could they change the planned cover to the current one, and that allowed me the opportunity of changing the title," she said.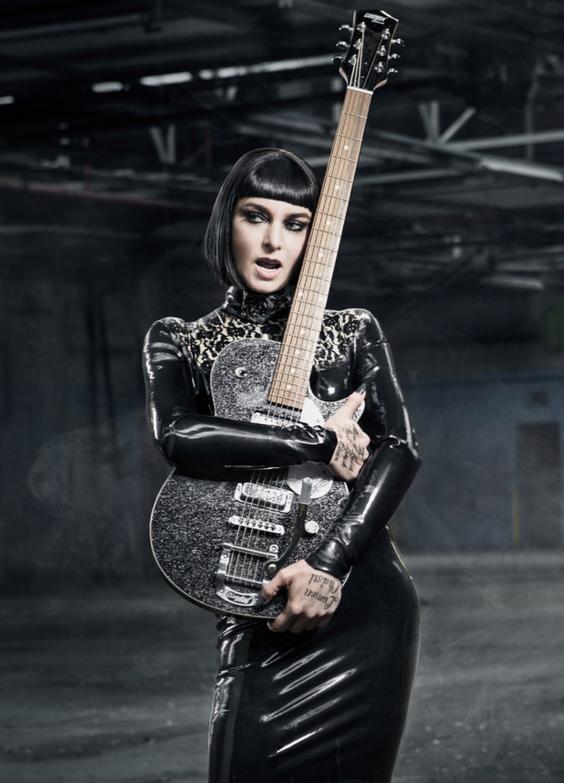 The album cover reveals a stark image change for the "Nothing Compares 2U" singer.
I'm Not Bossy, I'm the Boss marks O'Connor's first album in three years, following a turbulent time for the singer.
In October last year, O'Connor wrote an open letter to Miley Cyrus, criticising the singer's 'sexually liberated' image, calling her "irresponsible", "dangerous" and "anti-female".
Miley Cyrus' 2013 shockers
Miley Cyrus' 2013 shockers
1/15 Miley's tongue becomes an icon in itself

Think of Miley Cyrus and her tongue will likely be sticking out. The pop star told journalist Barbara Walters that her trademark pose came about because she 'gets embarrassed', which is interesting considering the rest of the images in this gallery. 'I don't know how to smile, and just be awkward, so I stick my tongue out, because I don't know what else to do,' she said. Twerk?

2/15 Miley dresses as a teddy bear and is anything but cute

A long way from her Hannah Montana Disney days, Miley Cyrus performed at the MTV Video Music Awards in August dressed in a teddy bear onesie. She described the outfit to Rolling Stone as her 'creepy sexy baby' look. Because 'baby' and 'sexy' aren't oxymorons at all Miley...

3/15 Miley twerks with Robin Thicke

It was the performance of the year, whichever way you look at it. Thicke invited Miley to duet with him on his 'rapey' hit 'Blurred Lines' and she accepted his invitation with relish. Cue nude latex bikini, simulated sex actions and of course, that now notorious twerk.

4/15 Miley gets 'sexy' all wrong

When confronted by the sight of Miley Cyrus's gyrating backside at the MTV awards, many of us felt a deep confusion. Was this just terrible dancing? An example of racist appropriation? Or a major setback for feminism? Or could it have been...all three?

5/15 Miley splits from Chris Hemsworth

The 'We Can't Stop' singer broke up with actor Hemsworth shortly after that VMAs debaucle. He wasn't impressed with her recent antics, apparently. Strange.

6/15 Miley gets hated on by David Cameron

David Cameron wasn't best pleased with Miley Cyrus after her twerking performance. The prime minister called her a 'bad example' and a 'bad role model'. 'I haven't discussed twerking with Nancy [his daughter] yet, because I don't think she has seen the video,' he told The Sun.

7/15 Miley declares herself 'one of the biggest feminists in the world'

The 21-year-old told Cosmopolitan: I'm a feminist in the way that I'm really empowering to women. I'm loud and funny, and not typically beautiful. I don't actually walk around all day twerking with my tongue out dressed as a teddy bear.' She doesn't? Oh.

8/15 Miley feuds with Sinead O'Connor

All the 'Nothing Compares 2 U' singer was doing was looking out for Miley, warning her that the music industry will make a 'prostitute' of her, but the young'un took exception. Angered by the criticism of her media presentation, Miley posted a series of Sinead's old tweets about needing to find a psychiatrist. Mocking mental health? Really not cool.

@MileyCyrus

9/15 Miley licks a sledgehammer

In her 'Wrecking Ball' video, Miley opted to appear naked, swinging on said ball, while licking a sledgehammer provocatively in another memorable scene. Unsurprisingly, the video rapidly went viral.

10/15 Miley's 'Wrecking Ball' swing is parodied

A bearded, nude, slightly overweight man threatened to out-viral the singer with an alarming parody of her video. Steve Kardynal used Chatroulette, the forum that randomly connects users with live webcams, to horrify viewers with his naked take on Miley's salacious original. The clip scored nine million hits in one day.

11/15 Miley twerks with a dwarf

During her performance at the MTV Europe Music Awards 2013, Miley traded Robin Thicke for a black latex-clad dwarf named 'Little Britney'. The dancer spanked Miley, who groped her breasts in return. Different.

12/15 Miley smokes a joint on-stage

While accepting her Best Video award for 'Wrecking Ball' at the same awards, Miley dug out a joint from her handbag and said, 'I couldn't fit this award in my purse but I did find this, before flicking a lighter and smoking it.

13/15 Miley twerks with Santa Claus

The singer twerked with a Santa Claus and pulled a candy cane microphone from between his legs at KIIS FM's Jingle Ball in Los Angeles in early December. Then, just before Christmas, Miley tweeted a picture to her fans showing her wearing a Rudolph nose. The caption read "merry christmas #hoehoehoe".

14/15 Miley Cyrus writhes in bed sheets and simulates masturbation

The pop star's latest music video for 'Adore You' shows her writhing around in skimpy underwear, rubbing her body, squeezing her breasts and biting her lips suggestively, before slipping her hand into her knickers - all while filming herself. So not quite naked again then, but close.

15/15 Miley successfully sheds her Hannah Montana image

This is Miley Cyrus? Yes. Are you kidding? Nope. The pop star has been desperately trying to shed her squeaky-clean Disney image all year. But have her efforts gone too far now?

Getty Images
The letter sparked an open row between the two performers, with Cyrus mocking O'Connor's previous mental health problems.
The 47-year-old previously made a desperate plea for psychiatric help on Twitter following two suicide attempts in 2012.
O'Connor's new album will be released on 11 August on Nettwerk Records.