Adele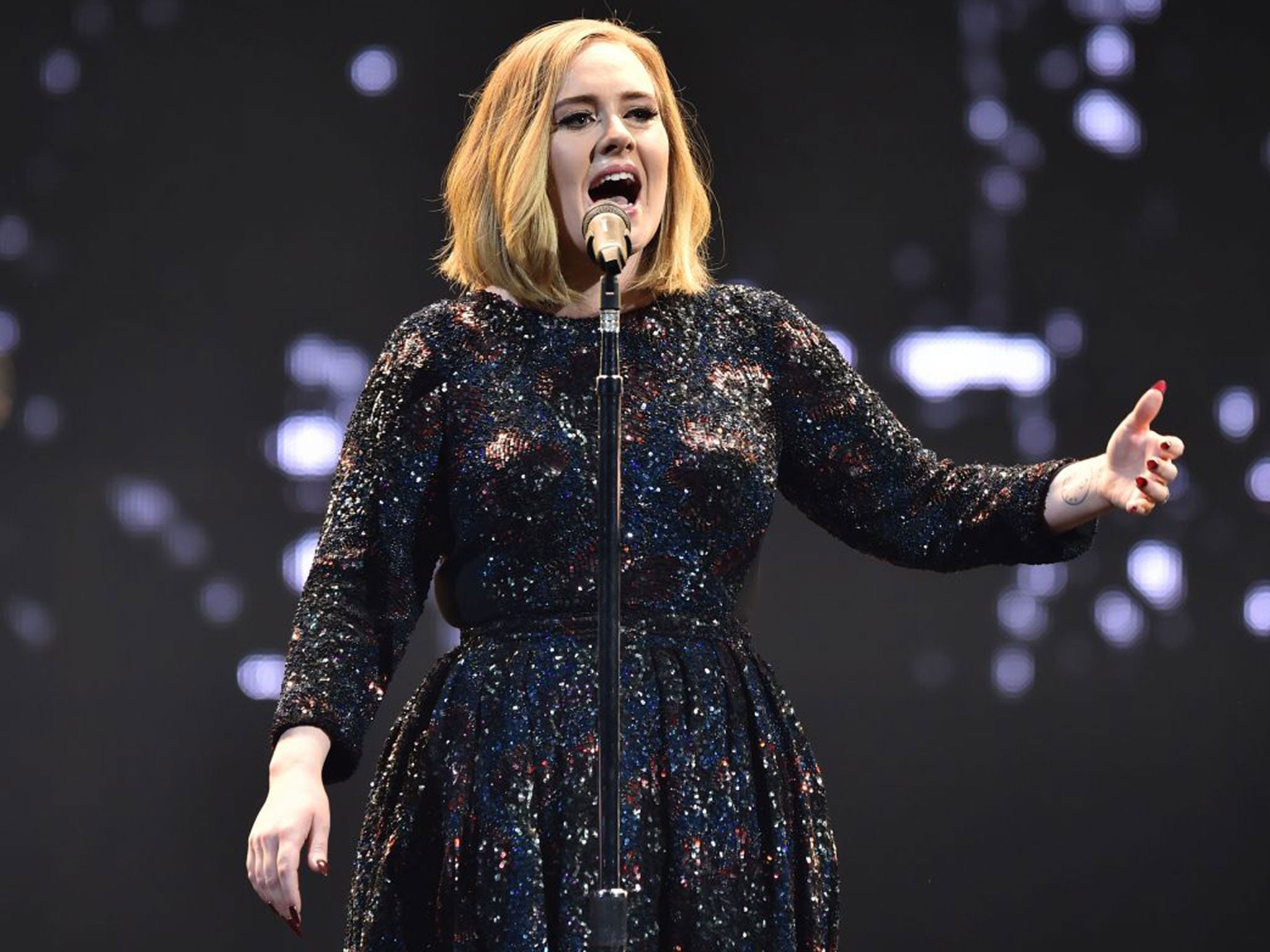 Adele, SSE Arena, Belfast, review: Grateful music industry's remaining Force is with British singer
She tries soul moves over gospel piano, but owes more to Shirley Bassey then Aretha
3
Click to follow
The Independent Culture
Adele's giant eyes take a while to waken. Their false eyelashes fill a screen masking a stage shaped like a battleship's prow, in a ship-making town awaiting pop's figurehead. 
Then the real Adele rises from the arena's bowels, right in the midst of the first arena audience of her life. Hundreds of worshipful mobile phones light her way as she processes through her people to the main stage, and starts to sing "Hello", the opener of her latest album 25, with its careless, cheesy echoes of Lionel Richie. On the way, she looks around, and throws her head back with perhaps nervous laughter. 
How did it come to this? Adele Adkins in 2015 has become a symbol of safety; a blockbuster brand. The fact that 25 is a third straight, more anodyne, account of heartbreak is barely relevant. Adele sells like Star Wars. All of the music industry's remaining Force is with her, and has been since 2007, throwing Brits, Grammys, Oscars and MBEs at her feet. The pop mainstream has become so bland, the edges of acceptable personalities so sanded down, that a working-class Londoner who has remained a recognisable human being, normal enough to cry and swear – yet craftswoman enough to write some solid ballads – can conquer a grateful world.
The vaguely African beats and chants of "I Miss You" are typical of a body of work which does not begin to match the natural woman who regales us with the details of her morning's dodgy bowel-movements, and making herself up "literally like a drag queen", as she prepared for a 140-date arena tour of which last night's gig was the nervous, successful start. She tries soul moves over gospel piano, but owes more to Shirley Bassey then Aretha.
Maybe that's just as well, as her Bond theme, "Skyfall", is the most majestic music of her career. It is made even better tonight by backstage gossip, as if she snuck undercover into the Academy Awards in 2012 on behalf of us all, instead of being a star herself. There, she lets us know, she found herself "pumping" next to fellow new, nursing mother Jennifer Garner in the Hollywood loos. 
The song that brought her to such a pass is built on her voice's low, smoky swoop, and the brass's rasping rise. It is an anthem for something beyond her heartbreaks, a song as big as her career, imagining something more than romantic travails in her old West Norwood home.
Adele has covered Bob Dylan, collaborated with Jack White, and absorbed country music while touring America. Her Brit School background was far from the end of a searching self-education. But the four-year wait for 25, the multiple studios and high-end producers it took to painstakingly chisel it together, suggest the quiet paralysis of a monolithic career. 
Most memorable Adele quotes
Most memorable Adele quotes
1/20

'I'm ballsy. I have guts. I'm not afraid of anyone. The only person I'm afraid of is myself.'

2/20

'I am never writing a breakup record again. I'm done with being a bitter witch.'

3/20

'I am quite loud and bolshy. I'm a big personality. I walk into a room, big and tall and loud.'

2013 Getty Images

4/20

'My management post my tweets for me because when Twitter came out I was drunk tweeting and nearly put my foot in it quite a few times.'

5/20

'You can't complain about your dressing room or you'll look like Celine Dion!'

6/20

'I make music to be a musician, not to be on the cover of Playboy.'

7/20

'I don't date celebrities? I ain't f**king Taylor Swift, do you know what I mean?'

8/20

'I like eating fine food and drinking nice wine. Even if I had a really good figure, I don't think I'd get my t**ts and a** out for no-one.'

9/20

'I represent the majority of women and I'm very proud of that.'

2013 Getty Images

10/20

'If a man whistles at you, do not respond. You are a lady, not a dog.'

2012 Getty Images

11/20

'I love seeing Lady Gaga's boobs and bum. I love seeing Katy Perry's boobs and bum. Love it. But that's not what my music is about. I don't make music for eyes, I make music for ears.'

12/20

'I love a card. You know, cards? At birthdays? I collect them.'

13/20

'I get so nervous on stage I can't help but talk. I try telling my brain: stop sending words to the mouth. But I get nervous and turn into my grandma.'

14/20

'Even when I was signing a contract, most of the industry knew if anyone dared say 'Lose weight!' to me, they wouldn't be working with me.'

2013 Getty Images

15/20

'I'm like Johnny Cash. I only wear black.'

16/20

'I have insecurities, of course, but I don't hang out with anyone who points them out to me.'

17/20

'I love hearing my audience breathe.'

18/20

'I was so in love with Mike Skinner I wrote him a letter and when I told my friend about it she cussed me so I went and pretended to do the washing up and cried.'

19/20

'I like looking nice, but I always put comfort over fashion. I don't find thin girls attractive; be happy and healthy. I've never had a problem with the way I look. I'd rather have lunch with my friends than go to a gym.'

20/20

'I don't care about clothes. I'd rather spend my money on cigarettes and booze.'
Adele needs the nerve to make a defining leap, to become the bawdy, ballsy person she is on stage when she writes. Pop is dying for it.
Reuse content
Comments