Album reviews: Allen Toussaint, Augustines, Garbage and more
Nick Hasted reviews the week's new releases
Click to follow
The Independent Culture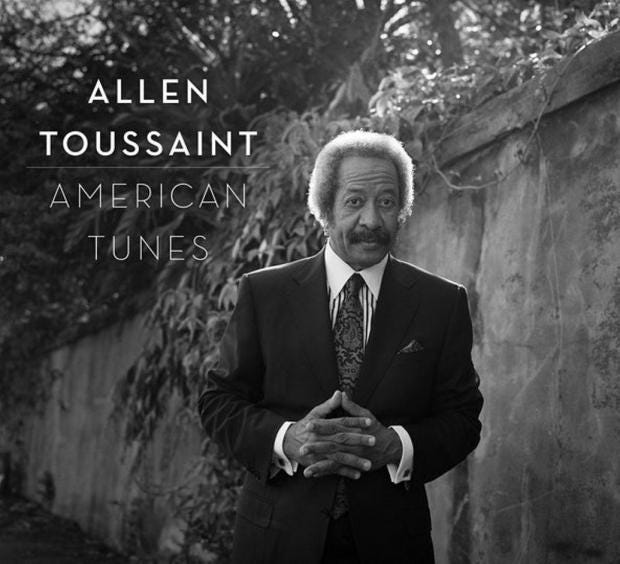 Allen Toussaint
American Tunes
Nonesuch
★★★☆☆
Download this: American Tune, Lotus Blossom, Southern Nights
"And I dreamed that I was dying," Allen Toussaint sings on his final album. "I dreamed that my soul rose unexpectedly." And so it happened, weeks after this record's October 2015 completion, as one of New Orleans' master musicians died aged 77 after a Madrid gig. If any recently lost great American neared Muhammad Ali for a life lived with holy grace under pressure, it was Toussaint. He wrote hits from "Working in a Coal Mine" to "Here Come the Girls", and was a brilliant piano stylist, producer and arranger. He later became, alongside Dr. John, America's nagging conscience about the government neglect which let Hurricane Katrina devastate his city, and wash away his own famous studio. The Paul Simon song in which he envisions his death here, "American Tune", doubles as a lament for a bruised, failing national dream. Toussaint's long-time friend and producer Joe Henry lets us hear him catch his breath between phrases, as his light, fragile voice valiantly rises over the dismaying scenes and declares, with a final ripple of piano: "It'll be alright."
Toussaint never much wanted to sing, recording little of his own before late-blooming fame with the Elvis Costello collaboration The River In Reverse (2006) – which distilled Toussaint's quiet dismay at American racism, iniquity and Katrina into devastating versions of "Who's Gonna Help Brother Get Further", and other implicit Civil Rights songs. "American Tune" is his lone, hugely poignant vocal on this accidental farewell, and sole sideswipe at his nation's broken promises. He instead focuses on piano, and honouring America's musical genius, covering his New Orleans mentor Professor Longhair, Duke Ellington, Fats Waller and the like, with Van Dyke Parks among the guests.
Among the solo piano tunes, "Hey Hey Little Girl" has a deep lightness, and graceful strength. Toussaint's joined on his signature tune "Southern Nights" by Parks on second piano, the two master backroom men (Parks most famously as Brian Wilson's collaborator) happily conjuring together. The tap-dancing drumsticks on Earl "Fatha" Hines' "Rosetta", lush Western fantasia of Louis Gottschalk's classical "Danza", and deeply romantic, limpid Hollywood dream of Billy Strayhorn's "Lotus Blossom", in which Toussaint's jazz contemporary Charles Lloyd's sax swoons, show his virtuoso arranging and rhythmic skills. A country-gospel stab at Ellington's "Come Sunday" badly misses the mark, and Toussaint's innate funkiness is only lightly felt, sometimes sacrificed for too much tastefulness. There are still many American treasures here.
Augustines
This Is Your Life
Caroline
★★★☆☆
Download this: The Forgotten Way, Landmine, This Is Your Life
The gentrification of pop's mainstream has given us a surfeit of singer-songwriters with nothing to sing about. Augustines' Billy McCarthy will never have that problem. As his one-man shows earlier this year demonstrated, the Californian has led a vagabond life Jack Kerouac would envy. Augustines have clawed their way to UK success with gigs and songs exorcising this painful history. Their stadium-ready style, all booming, tumbling drums and desperate, throat-shredding vocals, was poignant in the clubs they played then. This third album wrestles with actual success, and making big music designed to heal without moving next-door to Coldplay. Tunes and lyrics are sometimes frustratingly vague. "Running in Place" has more nuanced melancholy, while "This Is Your Life" genuinely soars, as McCarthy repeatedly offers: "Knock me down, my friend. I'll just get back up again." That beating heart needs closer examination here.     
Garbage
Strange Little Birds
Stunvolume
★★★☆☆
Download this: Night Drive Loneliness, Even Though Our Love Is Doomed, We Never Tell
Butch Vig stepped out of the control room where he produced Nevermind to play in Garbage. The slick techno-rock they perfected in the Nineties was still just a backdrop to singer Shirley Manson's star persona. This second album since returning from an absence caused by lack of interest offers nothing new musically, but Manson at full-strength. "Sometimes I'd rather take a beating," she begins on "Sometimes", a mix of pleasure and pain, fragility and toughness recalibrated track by track. "Even Though Our Love Is Doomed" turns up the heat on a concept album she's called her "romance novel". "We Never Tell", complete with rare guitar feedback, recalls the streamlined electro glide and punch of Garbage's chart glory days. It's Manson, though, digging beneath femme fatale clichés to her own, rough feminine truth, who still has more to say. 
Rival Sons
Hollow Bones
Earache
★★★☆☆
Download this: Baby Boy, Fadeout, Black Coffee
As the obit columns suggest, classic rock is literally dying on its feet. Led Zeppelin's planet-conquering excess has been replaced by a niche sub-genre, but there are still younger bands picking up the torch. Rival Sons' singer Jay Buchanan has a touch of Sixties psychedelic earnestness, and Scott Holiday's guitar boasts a big, warm tone. Like their Southern rock contemporaries Black Stone Cherry, though, defiance of stereotypes makes these Californians stand out. Baby Boy is a head-shaking lament at US gun laws. "Black Coffee" then hints at "Nutbush City Limits"' strut, before toying with the non-heroin elements of the Stones' "Brown Sugar", and Lou Reed's minstrel parody "I Wanna Be Black". The blues and soul power are real, even as racial lines are leered and sneered at, the sort of ballsiness that could make rock breathe freely again.    
The Invisible
Patience
Ninja Tune
★★☆☆☆
Download this: K Town Sunset, Love Me Again
Mercury-nominated for their eponymous 2009 debut, this trio play on the edge of pop, jazz and dance music, with collaborations ranging from spiritual semi-jazzers Polar Bear to Adele. After singer-guitarist Dave Okumu was almost fatally electrocuted onstage, the intended mood on this third album is, understandably, blissful gratitude at being alive. Okumu was influenced by time in LA, where a sprawling bohemian scene including Flying Lotus and fiery saxophonist Kamasi Washington have forged a jazz-hip-hop nexus. Jessie Ware and Anna Calvi are among guests on the resulting Mercury All-Stars affair. Rhythmic detail is applied with a soft touch, and Tom Herbert's bass bubbles attractively. All well and good, but it's relentlessly dull, the sort of feyly English, unfunctional dance music Hot Chip pioneered to declining effect. Okumu's airy voice barely brushes the listener's sleeve, never mind mending their soul.
Weird Dreams
Luxury Alone
Tough Love
★★★☆☆
Download this: Digital Water, Fantasy Building, Chalk Scrawls
Now Paris-based east Londoner Doran Edwards named his band after his own waking dreams, and a love of David Lynch's eerie nightmares. He mentions his long-term affliction with "derealisation, anxiety and depression" influencing this second album, where that first term – the horrific feeling that your surroundings aren't real – becomes a positive, permitting a new identity. Glistening synths and fuzzed guitar track "my stilted movement by the kitchen sink" on "Heaven's Hounds", aptly mixing bedsit glumness with hopeful sounds. "Fantasy Building" grows over a trancey, static hum, Edwards' voice floating into focus from a sort of synth ether. It's woozy and pretty, referencing the altered states of psychedelia and early synthesised, artificial music. On "Digital Water", Edwards' singing is layered and strengthened, to fight his depression. Though not wholly succeeding, he offers music as a sanctuary, and world of its own.
Reuse content
Comments