Alter Bridge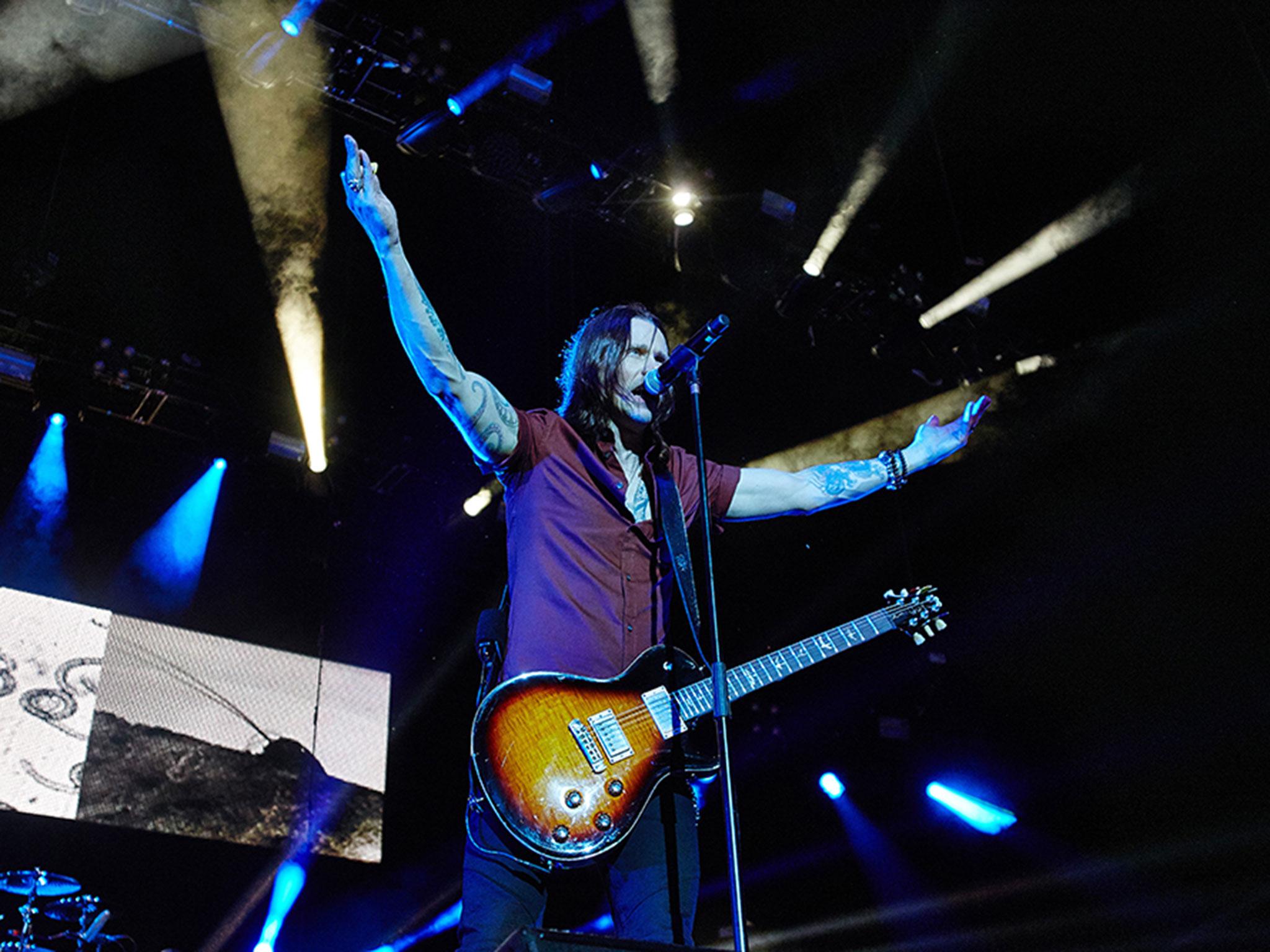 Sunday, November 27, 2016 - 13:00
Alter Bridge, O2 Arena, London, gig review: Proficient hard rock quartet possess professional flair but lack thrills
The Floridian hard rock band continues their ascent by playing their biggest show in the UK to date but they're eclipsed by their awe-inspiring support
3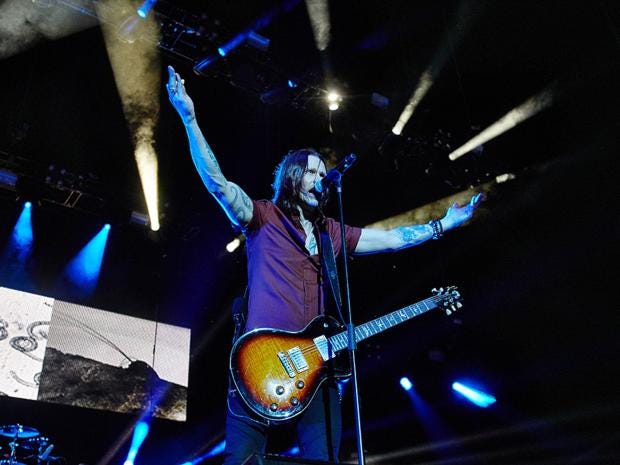 Alter Bridge have been on a steady meteoric rise since their inception; in just 12 years, they've managed to scale the heady heights of headlining the world's busiest music arena. That's a pretty astonishing feat for a band that formed in 2004, just as the music industry woke up to the fact that piracy was a very real threat to their business and album sales really began to decline. The band are well versed in playing large venues in the capital, having already headlined Wembley Arena twice and that's to say nothing of the instrumental members once being a part of 40-million album selling McRockers Creed and vocalist / guitarist Myles Kennedy's stint fronting Slash's band, The Conspirators. So despite this being the first time the band have played this arena, tonight should be an absolute breeze for them.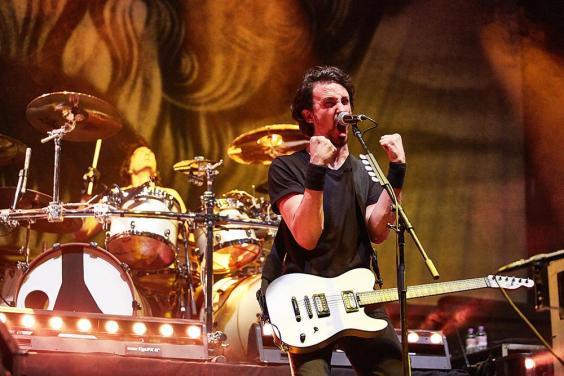 Gojira may seem an odd choice of support for Alter Bridge; their precise, syncopated, poly-rhythmic riffing is several leagues away from the more straight-forward, butt n' boogie grooves of the headliners. Tonight though, Gojira prove to be absolutely transcendent. It would've been all too easy for them to take the easy, condescending route by playing material exclusively from their brilliant, yet undoubtedly more commercially viable sixth album Magma. Instead they open with the savage, brain-fryingly intricate riff to Toxic Garbage Island and proceed to drop jaws across the arena for 40 minutes. Given an incredible sound, the cerebral L'Enfant Sauvage sounds absolutely colossal whilst the whammy-inflected riff of Stranded is so ferociously mind-melting, it's enough to make brains dribble out through nostrils.
On paper, a combination of Pantera's groove and Sepultura's brutality, with a smidgen of Tool's down-the-spiral flights of fancy sounds like a recipe for one of the best metal bands of all time; tonight, Gojira prove the reality is an even more thrilling prospect. The French tech-death-metal mavericks will no doubt be back on our shores next year for a headline run in support of Magma; if you have any interest what-so-ever in seeing one of the best live bands on the planet, it is absolutely essential that you are there.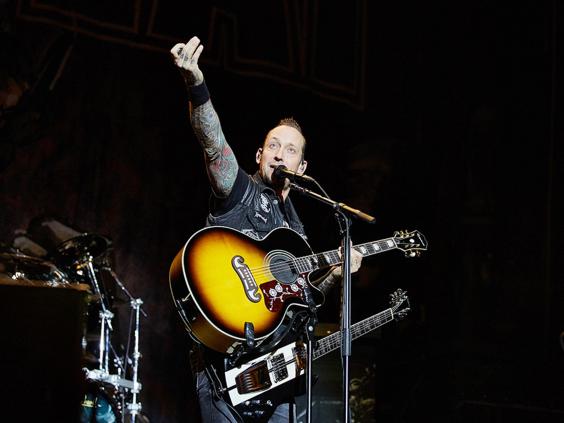 It would be an unenviable task for any band to follow that and unfortunately Volbeat suffer. At their best, the world's biggest (and possibly only) rockabilly metal crossover band sound like a heady mix of Elvis Presley, Metallica and The Misfits, an amalgamation that any self-respecting music fan should embrace with relish. Unfortunately tonight, the band rely too heavily on material from their latest record, the plodding Seal the Deal & Boogie, whilst their propensity to litter their set with other people's riffs (Ring of Fire, Back in Black) does, at times, give them all the charisma of a jukebox. If a band want to play Johnny Cash and AC/DC covers rather than relying on their own material, that's fine, but maybe they'd be better suited to playing the back room of a pub than the O2 Arena.
The set is undeniably played with gusto though and Michael Poulsen has a commanding stage presence, even if he does rely on telling a crowd what to do rather than making them do it of their own free will. On Evelyn, Barney Greenway of grind-core pioneers Napalm Death guests in possibly one of the most bizarre pairings since Lou Reed warbled some nonsense about 'a coloured man's dick' over sub-standard Metallica riffs, but it does at least inject an air of WTF-intrigue into a set that has mostly consisted of toe-tapping drudgery.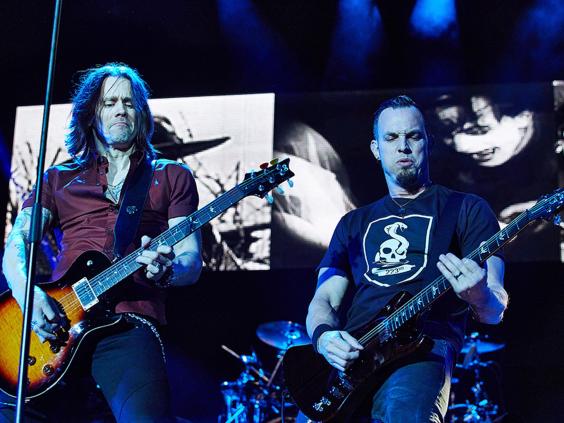 In a climate where it's uncertain exactly where the next giants of rock music will emerge, we have to look to contemporary bands who have managed to rise to the ranks of playing arena shows; the Bring Me the Horizon's, the Enter Shikari's, the Avenged Sevenfold's of this world. Truthfully, Alter Bridge are probably the least exciting of the lot, certainly in terms of charisma and danger, but they are adept at writing arena-ready choruses. Mark Tremonti's riffs, whilst maybe not particularly iconic or instantly recognisable as being uniquely 'Tremonti-esque', certainly pack heft and punch and in Myles Kennedy, Alter Bridge have one of the most talented, note-perfect singers in rock; this is a man, after all, who was seen as worthy to audition to replace Robert Plant in Led Zeppelin. At their absolute best tonight, Alter Bridge do manage to pull off the rather neat trick of being an extremely accomplished rock band with fire in their bellies and a handful of fantastic songs such as Ghost of Days Gone By, Farther Than the Sun and the gloriously epic Blackbird. At their worst however, they just about sit on the right side of tolerable, such as on the mawkish, overly-sentimental Watch Over You or the plodding stomp of Waters Rising.
It's this straddling of the middle-of-the-road that is Alter Bridge's biggest problem; they're a band that it's difficult to believe anyone could ever be truly passionate about or blown away by. They may not be the most thrilling band but maybe in a 21st century world where it's far more hip to get a six pack at the gym than at the off license, maybe Alter Bridge is exactly what this generation of rock fan craves; if that's truly the case however, then it's a sad indictment of just how homogenised the average rock fan's tastes have become. If all you demand from music is a decent melodic hook and an infectious groove, then by all means feel free to add another star to the score; Alter Bridge will undeniably deliver for you in spades. If, however, you demand something challenging, visceral, spectacular, life-affirming and unique, well, I hear rumours that Gojira are touring next year.
Reuse content
Comments