It took her a while, but as Charlotte Church stands before us tonight, boiler-suited, pensive face smeared in rave-child UV facepaint as a voiceover about quantum mechanics plays, you have to admit she's shaken off the shackles of youthful divadom.
She's eschewed commerciality for Serious Artistry with impressive zeal over the past two years, releasing a series of rich, dark, rocky EPs of which the science-themed 'Four', launched at tonight's show, is the latest.
And if, on moments such as 'Three''s sprawlingly, self-consciously epic 'Like A Fool', which she performs backed by a choir inside an glowing jellyfish, LED tentacles extending through the crowd, she may as well have stitched 'I HEART BJORK' in cowrie shells on the bust of her seaweed-like dress, there's plenty else going on.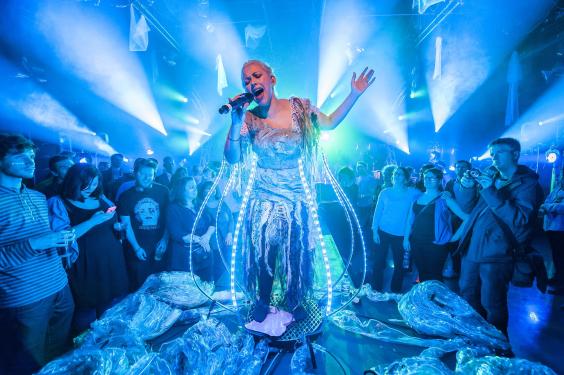 From the haunting, apocalyptic  'Lasts, Or Eschaton' via ' Love Alone', a hipster-R&B kissing cousin to Solange's 'Losing You' to a sombre cover of Elliot Smith's 'Waltz No 1' (wonder what he'd have thought of the bubble machine), she ranges hungrily through styles with a proggy omnivorousness.
It's kind of a mess, but the sort of wonderfully exhilarating mess that comes from someone genuinely exploring their own thing - or as Charlotte might put it, embracing their uncertainty principle.
Reuse content