Empire of the Sun, Roundhouse, London, review: 'Exactly how serious they are is difficult to ascertain'
The Australian electro-pop duo Empire of the Sun perform a flamboyant set complete with futuristic special effects
4
Click to follow
The Independent Culture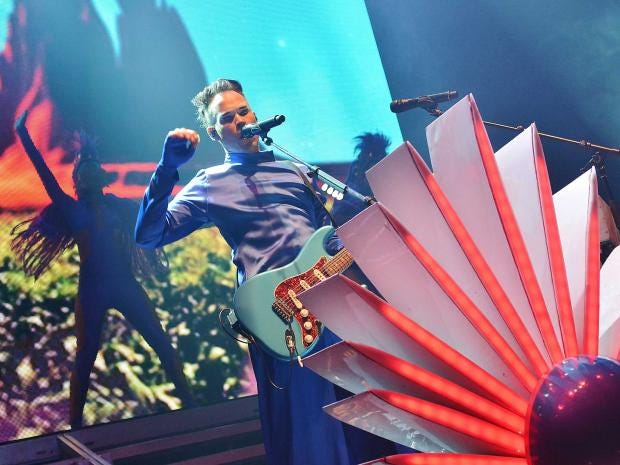 With their outlandish costumes, love of fantastical concepts and penchant for calling fans Empyreans, Australian electro-pop duo Empire of the Sun – Luke Steele of alt-psychers The Sleepy Jackson and Pnau's Elton John-endorsed Nick Littlemore – have become a byword for absurdity.
Exactly how serious they are is difficult to ascertain, but at this rare UK gig their "post-apocalyptic psychedelic adventure" is something to behold. The show opens in ostentatious fashion – four dancing swordfish girls dressed as castle knights ceremoniously welcoming  the blue head-dressed and robed Emperor Steele (to give him his full title) onstage with luminous sabre lights – and somehow ups the ante from there. Among the choreographed swordfish's numerous costume changes – the riot gear helmet and fairy wings was a personal favourite - there are futuristic special effects and fantasy film narration from a man claiming to be the Emperor's father. 
Having been co-opted by the American EDM market largely responsible for the three-million-plus sales of their albums, sleek and synthy 2009 debut Walking on a Dream and its brash 2013 follow-up Ice on the Dune, Empire of the Sun are now genuine stars. In the introverted Littlemore's absence (Ian Ball of Southport slackers Gomez is on guitar), Steele is left to carry the torch. It might come as a shock to those who saw the temperamental Steele's early performances with The Sleepy Jackson, where he thought nothing of sitting on the floor for 10 minutes at a time playing guitar with a knife and fork, but here he is in unashamed pop God mode, like Adam Ant raised on a diet of JRR Tolkien. 
There is some music, too, and much of it is mightily good, the pair's way with pop melody undoubted. If some of Ice on the Dune's more obviously EDM tracks suffer from a lack of subtlety, forthcoming album Two Vines, about "a modern city overtaken by jungle" (of course), redresses the balance: the mid-tempo title track in particular has welcome blissed-out warmth.  
In fact, Empire of the Sun are at their most affecting when they exhibit restraint. The breezy "Half Mast" is light on its feet; a reworked "We Are The People" slowly entices before the outpouring of its chorus, while the Timbaland robo-funk of "Swordfish Hotkiss Night" offers a diverting change of tact. Best of all is "Walking on a Dream", which gives just that effect with its airy euphoria that not even Steele angrily smashing his guitar at the set's conclusion could dampen.
Reuse content
Comments