"This is a serious party!" bragged Secret Garden Party, a statement it then verified with a weekend of creative and chaotic hedonism.
Goodbye Yellow Brick Road was this year's theme. A floating emerald city took centre-stage on the lake around which danced numerous pig-tailed Dorothys. The majority were men in drag with hairy calves poking beneath blue gingham dresses.
At a festival where there is one crew to every two paying guests there are things to see and do around each corner and up each tree. Gold statues floated on umbrellas in the copse and an absinthe bar hid beneath an entwined branch canopy. Behind one tent door lurked a Sweaty Lingerie Party - lingerie mandatory and sweat unavoidable.
Music takes a back-burner and slots are given to lesser known acts and bands of times gone by. The eclectic line-up included Dub Pistol's rowdy big beats, rising scandi-dub star MØ and Martha and the Vandella's Sixties Motown.
The latter's rendition of Heatwave had particular poignancy as temperatures teased 30 degrees, though it was their soulful classic Dancing in the Street that had every sun-kissed face singing in unison.
Saturday evening's Big Burn was a guaranteed highlight. A fireworks show dazzled while the lake's centrepiece went up in flames. Public Enemy then took to the stage with their genre defining hip hop and New York attitude.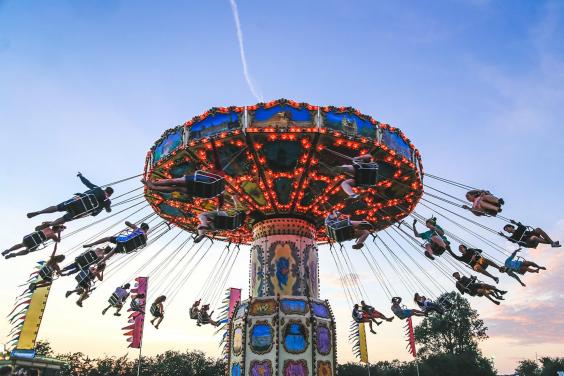 At Temple of Boom, UK garage DJ EZ proved a crowd pleaser with the marquee mobbed. In his trademark choppy mixing style he hammered through the classics in a fun singalong set ranging from underground speed to the bizarrely commercial –Sisqo's Thong Song was a low point.
Sunday's Dance Off finale saw a man doing backflips in kangaroo jump shoes compete in a boxing ring against some sexy, sassy men who strutted in perfect unison. A democratic decision made by crowd volume gave the bouncing fellow the trophy.  
At dusk, illuminated spitfires weaved across the sky in an aerobatic display ended by marking a heart in the sky, causing the biggest cheer of the weekend.  Finally, Fat Freddy's Drop closed the Great Stage with perfect Sunday evening blues and reggae and smiles all round.
Here at Secret Garden Party, silliness is key. A playground for adults is created that left bemused 'gardeners' returning to reality with bizarre memories and a sprinkling of glitter.
Reuse content