Spoon, 100 Club, London, review: A blistering showcase for their nimble new album, Hot Thoughts
The Texan Indie band, Spoon, performed new songs from their album, which is released later this month, as well as some older hits including, 'I Turn Your Camera On'
5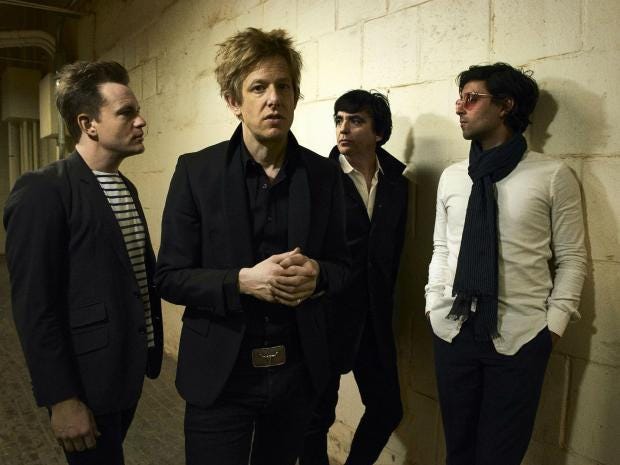 "My favourite band in the world," is how Bug funnyman Adam Buxton, the warm-up act here, describes Spoon before the quartet deliver a blistering showcase for their nimble new album, Hot Thoughts (released on 17 March).
Gary Lineker recently claimed it was "inexplicable" that Leicester City manager sacked their manager Claudio Ranieri; it's far more inexplicable that Spoon, a spiky indie band formed in 1993 and named after a Can track, haven't garnered the success and record sales of, say, contemporaries Wilco or the National. 
The Texans, however, are extremely revered (even Louis Theroux is here to appreciate them) and in 2010 they had the honour of being the most acclaimed band of the decade on Metacritic. It's easy to see why. Their scuffed-up, post-punk sound recalls a host of English Eighties acts, from Squeeze to Depeche Mode and The Cure, but they're biggest influences tonight appear to be Elvis Costello, David Bowie (they reference him on closing number "Rainy Taxi" with the line "And if you say run, I may run with you") and the Clash. They're quite possibly the most English-sounding American band and frontman Britt Daniel's snarl is redolent of Elvis Costello on scrunchy gems "Don't You Evah" (from 2007's Ga Ga Ga Ga Ga), 2005's "I Turn Your Camera On" (one of their bigger hits) and the magnificent "Rent I Pay", from 2014's They Want My Soul.
The new tracks, such as "Hot Thoughts", "Can I Sit Next to U" and "Do I Have to Talk You Into It" not only blend in seamlessly but also add a sprinkle of dance-rock, drum'n'bass and disco to the mix; they're not unlike the Stones's "Emotional Rescue" period or Franz Ferdinand. It's a shame there isn't an outing for the excellent "First Caress" from the new record, but catchy anthems "Inside Out" and "Don't You" more than make up for it. It's high time that Buxton's "favourite band" received their due.
Reuse content
Comments