Stormzy: 'Gang Signs & Prayer' album review
There's more to Michael Omari's debut album than catchy songs
5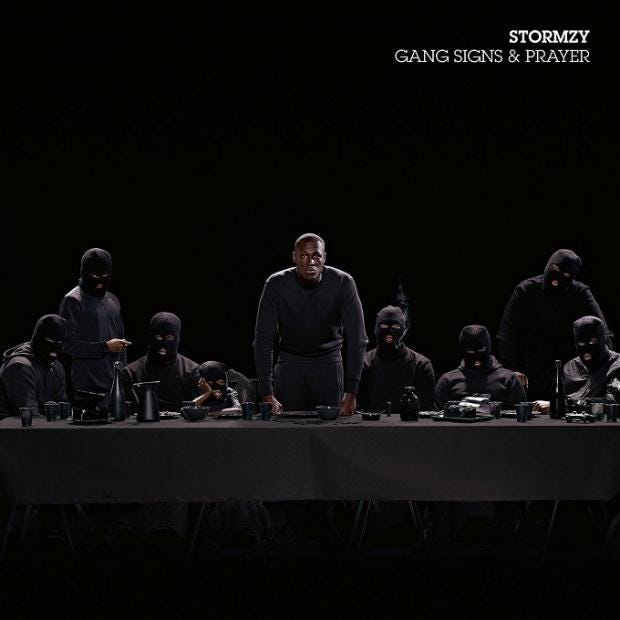 The highly-anticipated debut album from Stormzy has finally landed and done so with a bang. The 23-year-old Croydon MC garnered mainstream attention with strategic use of social media and infectious grime bangers that made an impact on the charts. Tracks such as "Know Me From" and the freestyle "Shut Up" helped establish Stormzy as a force in the music world, employing a similar formula of addressing his rivals with withering putdowns. But it appears that with his debut album Gang Signs & Prayer, there is more to Michael Omari than catchy songs that will have you frantically reciting his lyrics.
Right from the artwork, it's clear that Gang Signs & Prayer is going to explore a different side of Stormzy. The dark album art blatantly references the religious image of The Last Supper.  If you follow Stormzy on social media, you'll know he's never been secretive about his Christian faith. And in the record, he confronts and celebrates his beliefs.
Introductory track "First Things First," is an unapologetic starter that helps to set the tone of the album. As the first song, it covers many aspects of Stormzy's character in a truly compelling way. Stormzy raps "We were doing road and doing church." It's a lyric that shows the complex nature of Stormzy, and a relatable double life for some black British young men. The importance of religion in black British communities can never be understated.  Although Stormzy is churchgoing, he still finds himself seduced by a life of crime.
Stormzy again shows another layer to his personality as he boldly states "You was fighting with your girl, I was fighting my depression." At 6 foot 5, Stormzy is a towering figure and his boastful lyrics have him appearing confident. So for someone who is the embodiment of cool to speak so frankly about dealing with mental illness, helps to change our perceptions of the rapidly rising star.  Stormzy continues to show his layered personality with a socially aware jab. He raps "F**k DSTRKT, f**k all these nightclubs and f**k giving money to people that don't like us." The club in question has been at the centre of controversy, due to its door policy that discriminates against black women.
Stormzy then touches familiar territory with "Cold." Produced by Swifta Beater, the instrumental makes it undeniably grime and infectious. Our protagonist laments on his unlikely success of the freestyle "Shut Up." "Just went to the park with my friends and I charted."  Even in a track that's catered to radio and the clubs, Stormzy delivers an empowering message to his listeners. "All my young black kings rise up/ Man this is our year/ And my young black queens right there." 
He keeps the grime coming with the nostalgic "Bad Boys," teaming up with East Londoners J Hus and Ghetts. The beat is menacing and perfectly tailored towards Ghetts' flow. With Stormzy's ascension to the spotlight, he has managed to introduce a whole new generation to grime. With Bad Boys he references a classic moment in grime history, when Ghetts tells fellow MC Bashy to "ask Carlos" when questioned about his time in jail.  J Hus is smooth on the hook, as he sings "You're not bad, I'm bad, ask Carlos". Stormzy uses his status as grime's golden child to pay homage to the genre he proudly represents.
In the fourth track, Gang Signs & Prayers takes a completely different shift and focuses on the last word of the album title. After the past three swaggering tracks, it's time for Stormzy to get spiritual and softer on "Blinded by Your Grace Pt 1." Stormzy tenderly sings, "I'm blinded by your grace/ Every night, every day, And I was lost, yeah, But ever since you found me, I'm blinded by your grace/Through the darkness you came." Although Stormzy is brimming with energy when he raps, he's no vocal powerhouse when he sings. The imperfect vocals that help beautifully illustrate his vulnerability when he becomes Stormzy the worshipper.
On "Blinded by Your Grace Pt 2," Stormzy seeks assistance from singer and songwriter MNEK. Stormzy starts off with soft singing but gets back into rapping for the song's first verse. "Yeah I'm Abigail's yout', but I'm God's son." MNEK supplies the visceral vocals and it's an all-out salvation sing-along.
The prayerfulness continues with "100 Bags" in which Stromzy's mother prays for him. This song is dedicated to his mother, as he details the hardships they went through and her unconditional love for him.
In the final track, Stormzy addresses another relationship with a family member that is not so positive. "Lay Me Bare" lives up to the title, as Stormzy opens up about his fractured relationship with his father. Stormzy shares an encounter his cab driver father, who asks him for a car after years of estrangement. 
Overall, Gang Signs & Prayer is a daring debut. Stormzy could have played it safe with this album, but rather challenged himself with gospel. A key factor about this album is the complexities to Stormzy's character—displaying a multi-dimensional black British man who goes against a simplified image that's usually portrayed. Balance makes this album beautiful, as Stormzy worships on "Blinded by Your Grace Pt 1 & 2," falls in love on "Velvet" and raps his socks off on "Cold." Gang Signs & Prayer is a multi-faceted masterpiece and a testament to Stormzy's talent that warrants his phenomenal rise to the top. 
Reuse content