Stormzy at O2 Brixton Academy, review: Not even Ed Sheeran jumping on stage could distract from such a performance
Chart-topping grime artist Stormzy comes home to south London, and delivers a flawlessly professional set
5
Click to follow
The Independent Culture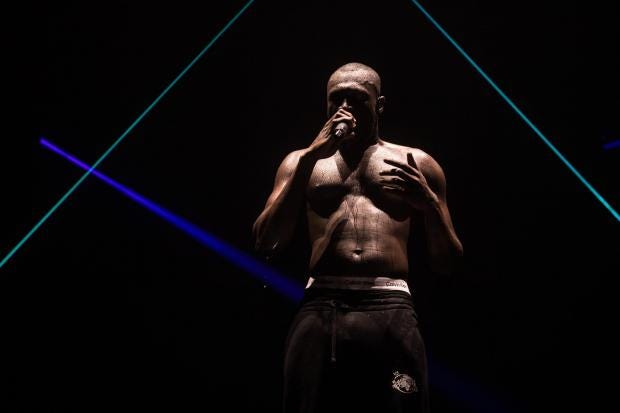 Stormzy famously said in an interview with The Guardian: "Respect me like you would Frank Ocean or Adele."
Captivated by grime's golden boy at the O2 Brixton Academy, with that rare mix of raw talent, stage presence and humble competence, it's impossible not to.
On the last night of his sellout tour, Stormzy (Michael Omari) expertly navigated the line between meticulous control and emotional energy, visibly delighted to be back in his hometown.
Old-school grime purists who say he lacks the commercial genius of Dizzee Rascal, the self-deprecating wit of Wiley or the improvised aggression of Dot Rotten are missing Stormzy's unique appeal to the current music market. 
His debut album Gangs Signs & Prayer, the first grime album to ever reach number one in the UK charts, pays nostalgic homage to its roots in garage and gospel, but updates it for the digital age. 
Not even the mesmerising light show behind him, set against the backdrop of the venue's classical majesty, could detract from the lone figure dominating the stage.
Stormzy sang, jumped, danced, handed his best lines to the audience, spat each lyric as if it was the first time he'd delivered it, with not a single dip in energy or weakness in his frame. 
But there was also no impenetrable veneer of ego or arrogance: he asked the crowd whether they were "too gangster to shake a leg" and dance with him.
His interactions with the audience who he claimed as his own people were as honest as they were humble. "I'm a very sh*t singer but I'll give it a go," he joked.
Shouts of surprise greeted the sudden appearance of Ed Sheeran, who hopped onto the stage to perform the "Shape of You" remix that dominated this year's Brit Awards, and hopped straight back off with a cheery wave.
But the high point of the performance had to be his closing encore of "Know Me From", one of his most unashamedly emotional singles.
When a crowd of Nineties kids put down their phones to put up their hands, you know you're seeing a true professional work the crowd.
This is a man who repackaged MC freestyling into a slick, chart-topping movement for a millennial audience to sing along to, without ever failing to acknowledge the giants of grime that paved the way for him. You might not like it, but you must respect it.
In an interview with BBC Radio 1Xtra, Stormzy said of his album: "I should be able to give them this CD and say, 'You should know me after this.'" 
But it feels like only now, watching this ardent professional dominate the stage, that we all really do know him.
Stormzy will perform at Wild Life Festival 2017 at Brighton City airport, 9-10 June, along with Clean Bandit, FatBoy Silm and Chaka Kahn.
Reuse content
Comments