The xx, Brixton Academy, London, review: Carefully curated homecoming run was worth the wait
A bold and powerful disco-lit show provides an electric night filled with the trio's new sound
4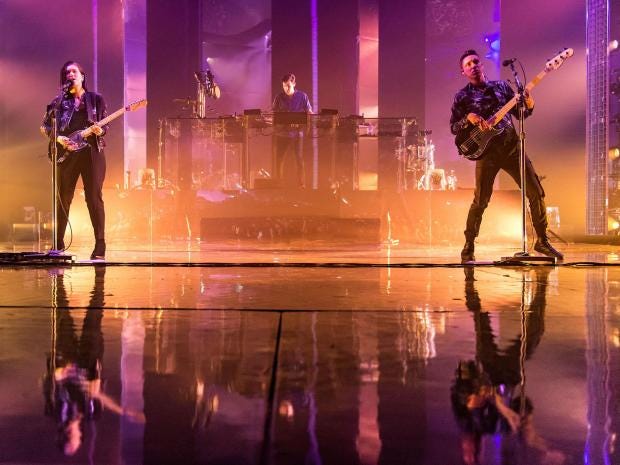 The fact that The xx – who hadn't released an album in nearly five years – sold out seven consecutive nights in London alone is almost unfathomable.
But January's I See You has led to this week-long residency titled Night + Day, supported by club nights, cinema-screenings and a radio show.
This shy and retiring trio of south Londoners have carefully curated a vast homecoming show that took a year to plan.
With a stage composed of ethereal pink clouds and huge silver-cladded spinning columns with an angled mirror above (emulating their album cover), the backdrop is formed for an electric show of rainbow projected lights. 
DJ Jamie Smith is elevated on his own stage surrounded by a plethora of keyboards and drums, from which he powerfully fills the room with his electronic beats while still enthusiastically bopping around as if he's doing it for the first time.
Singer-guitarist Romy Madley Croft and singer-bassist Oliver Sim front the show – joined briefly by friend Jehnny Beth from Savages who provides some real movement on the stage.
Opening with "Say Something Loving", Sim's velvety deep tones sing "I just don't remember the thrill of affection" as if giving the reason for their week-long residency at the venue – where all three went to their first gigs.
Their intensity has grown up; it's powerful and convincing, removed of their insular moody angst and melancholic tones.
Instead they've found a matured futuristic and soulful version of their own pop – without losing their love of black clothing or introverted awkwardness.
But still, Romy claims, they're still as nervous on day five as they were on their first night here – hard to believe considering the crowd reaction and electric feel throughout.
She takes centre stage to sing solo, her voice is timid, almost as if she's whispering. But stealing the show is Smith – mashing up Shanks & Bigfoot's "Sweet Like Chocolate" with "Dangerous" by The xx, moving on to "Chained" and followed by his own "Loud Places".
An encore sees the eagerly awaited "On Hold" and "Intro", finishing with a beautifully heartfelt rendition of "Angles". With these Brixton shows, The xx have finally stepped out of the shadow of their first album.
Reuse content
Comments