Imagine spending months rehearsing arguably the most iconic of all theatre roles, only to begin your 'To be or not to be' soliloquy and be put off by a load of flashing red lights in the front row.
This is what happened to Benedict Cumberbatch in Hamlet last week, and he was so "mortified" by the whole thing that he stepped outside to beg fans to help him wage war on camera phones.
But Cumberbatch is far from the only actor to have a go at audiences for their poor etiquette and many others have been much less polite in their ticking offs.
From the late Richard Griffiths personally evicting a man from the National after his phone went off six times to Dame Helen Mirren giving a group of street drummers what for while dressed as The Queen, it seems an apt time to look back on some of the most memorable angry actor moments.
Hugh Jackman and Daniel Craig get riled up over ringing phone
One luckless viewer managed to incur the wrath of nice guy Hugh Jackman during a 2009 performance of Keith Huff's A Steady Rain on Broadway. Jackman broke the fourth wall in his Broadway show when the audience member's phone rang not once, but twice during the show.
In a scene with James Bond actor Daniel Craig, Jackman said: "You want to get it? Grab it – I don't care" as the phone went off. When the phone's owner failed to switch it off, Craig joined in, saying menacingly: "Can you get that? We can wait, just get the phone." Both managed to stay in character and maintain their American accents during the incident.
Kevin Spacey threatens to answer an audience member's phone
Renowned actor Kevin Spacey snapped at an audience member in 2014, after a mobile phone went off on the opening night of Clarence Darrow at the Old Vic in London.
Spacey received a standing ovation for his performance, but also got a few cheers for growling in character: "If you don't answer that, I will!"
Artists who have lost it on stage
Artists who have lost it on stage
1/11 Kevin Spacey

The House of Cards star told off an audience member when their phone rang during the opening night of his one-man show Clarence Darrow at The Old Vic theatre in London.

He told the audience member: "If you don't answer that, I will!" after their phone interrupted a scene in which his character makes a passionate please for his innocence.

The audience then gave him a round of applause.

Steve Jennings

2/11 Rihanna

Rihanna was caught on film lashing out at a fan in Birmingham during her Diamonds tour in 2013.

The singer appeared to hit an audience member with her golden microphone after the fan held onto the singer's hand for too long.

She later defended her actions on Twitter, writing: "Purpose!!! That bitch won't let me go (sic)."

Getty Images

3/11 Billy Connolly

The Scottish comedian was reportedly heckled off stage twice in a week during his 2012 tour.

Fans at the Blackpool show were left sorely disappointed.

Getty Images

4/11 Courtney Love

In 2004 the Hole singer and former girlfriend of Kurt Cobain reportedly hit a fan around the head with her microphone stand during a gig in New York.

The singer had be dragged off the premises by security.

She ended up in court over the incident, pleading guilty and landing up with the fan's $2,000 medical bill.

Getty

5/11 Plan B

The rapper was supporting Eminem at Slane Castle in Ireland a year ago when, after failing to ignite the crowd's interest by reportedly shouting "Slane, are you with me?" and "Come on you c***s!", he cut his set short by 10 minutes with the words: "We're only going to play one more song because we don't want to be herd".

He had previously described the 80,000-strong audience as the "tames ****ing crowd of my life".

6/11 Thom Yorke

The Radiohead frontman was singing a rather slow rendition of "Exit Music" when he didn't take kindly to a Dallas heckler calling for him to hurry up and get it over with.

He can be seen in footage published on YouTube shouting back: "You're a funny guy, aren't you? You won't be funny later. I'll show you what funny is."

Getty Images

7/11 Axl Rose

The Guns N' Roses frontman is reported to have once got rather upset that a fan was videotaping a 1991 gig.

After security failed to remove the frontman, the guitarist took matters into his own hands, reportedly diving headfirst toward the fan before wrestling the camera off him.

He then stormed off stage blaming "lame ass security" for the gig's premature ending.

8/11 Justin Bieber

The wild child popstar walked off stage in Brazil after a fan threw a bottle at him.

The bottle knocked the microphone out of the singer's hand while he was performing his song "Boyfriend," provoking him to cut short his concert in Sao Paulo in November

.

He did not return to sing his usual encore song "Baby," which fans were expecting to hear.

9/11 Eric Clapton

The guitarist apologised to fans after he stormed off stage during a concert in Glasgow.

Clapton was performing the penultimate song of his set when technical problems occurred.

He returned for the last number.

Getty Images

10/11 Selena Gomez

The former Disney star was reportedly lip-syncing at the Kiss FM Jingle Ball in December when she suffered audio issues.

Footage on YouTube shows her saying "What the f***" into her microphone at the end of her set.

Getty

11/11 Cher Lloyd

The former X Factor contestant was booed and reportedly had bottles thrown at her during her V Festival set in 2012.

Getty Images
Helen Mirren launches tirade at street drummers
Her Majesty was not best impressed when street drummers decided to start playing outside the West End's Gielgud Theatre while she was performing in The Audience. Mirren stormed outside in full regal get-up and "effed and blinded" at the group, who stopped immediately. She later turned up wearing a self-customised T-shirt supporting the As One in the Park LGBT festival the musicians had been promoting. Oh Dame Helen.
Patti LuPone snatches phone out of audience member's hand...
The great Patti LuPone taught an audience member a lesson after she spotted them texting during a performance of Shows for Days earlier this year. Frustrated by their poor manners, she walked off stage and snatched the phone out of their hands, all the while staying in character.
...after ranting at another for taking pictures in 2008
This wasn't the first time LuPone lost her temper over rudeness. She halted a performance of Gypsy in 2008 to launch a furious tirade at an audience member who had been taking pictures of her despite being asked not to before the show started.
Michael McIntyre storms off stage after woman uses phone
Being a comedian he really should have used this as material but a raging McIntyre decided to leave security to "sort out" a woman who kept using her phone in the front row of his Darlington stand-up show last year. He returned several minutes later to resume his act but got quite the ribbing on Twitter for being "unnatural" and "boring".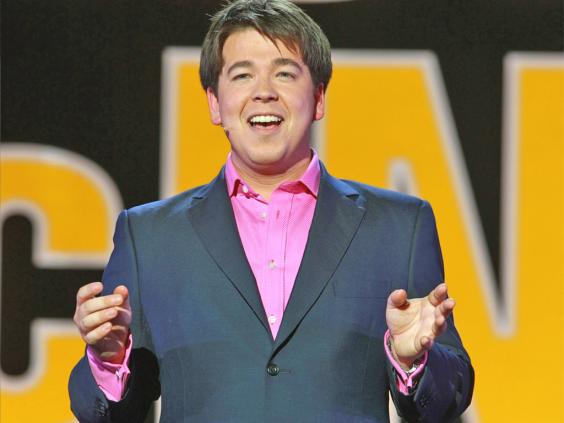 Richard Griffiths orders man out of play after phone rings
These pesky phones really are an actor's worst nightmare. Griffiths ordered a man out of the National in 2004 when his phone went off six times during The History Boys and did the same with a woman during Heroes in 2005. "Is that is or will it be ringing some more?" he snapped at her after the third time. "The 750 people here would be fully justified in suing you for ruining their afternoon."
James McAvoy shouts at man filming him in Macbeth
What is it with these tragic Shakespeare heroes that makes everyone whip their cameras out? McAvoy did a Cumberbatch in 2013 when he stopped his performance of Macbeth to order an audience member to put his phone away, leaving the man looking "very embarrassed".
Reuse content