At first you hear the sound of humming, a warped Gregorian chant, then dancers leap into a circle, dancing frantically round and round, while two large men whip a young, topless man, bowed over in the centre, the sinews of his back exposed, flinching yet defiant. The whips hit flesh in time with the beat of a drum. When the young man falls to the ground in pain the others lift him up in exaltation, celebrating as the drums and strings build to a climax.
This is the "Reservation" scene from a new production of Brave New World, adapted by Dawn King and directed by James Dacre. The music is thrilling; the drums sound ancient and tribal; a perfect fit for a scene that shows the supposedly primitive "savages" who live outside the conditioned confines and comfort of the World State, where most of the  action is set.
"That scene uses percussion, from Taiko [Japanese] drums, some humming, chains and stringed harmonics, so it's really frayed," says Jack Barnett, the frontman and driving force behind experimental art-rock band These New Puritans, who has been brought in as the composer.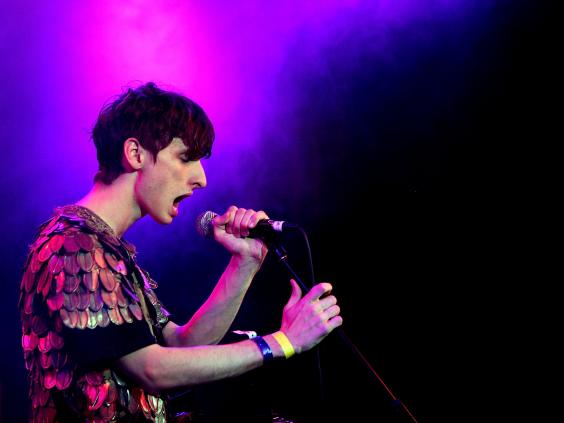 It's not the only theatre production to bring in a well-known musician to compose its score; earlier this year, folk musician Johnny Flynn brought Elizabethan musical instruments to a production of As You Like It at the Globe, which this week sees a new production of The Oresteia, with music by Mira Calix, a classical and electronic musician. In 2013, Tori Amos created the music and lyrics for The Light Princess at London's National Theatre, which is now hosting Our Country's Good, featuring a score by Cerys Matthews, founder of Catatonia. For her debut as a composer Matthews takes traditional music from Europe and America as her starting point for what she describes as "a sinewy, flexible and shifting score".
In a break between rehearsals, James Dacre and Jack Barnett are in the same room where they met a year ago to discuss how a collaboration on Brave New World might work. Meeting so early on in the process meant that the music was as much a part of the development of the play as the visual effects or the acting.  "I knew These New Puritans' music very well, I've always admired its extraordinary complexity, originality and variety, but mostly its sense of narrative and event," says Dacre.
Music was also an integral part of Huxley's 1932 dystopian novel, in which the citizens of the World State are genetically engineered to be happy with their allotted caste, but have sacrificed free will for contentment. In the book, Huxley describes "synthetic music boxes" and music is extremely popular in the World State, where it is enhanced by "scent and colour organs", although the lyrics often lack emotional resonance. It is telling that for the very first radio production of Brave New World, Huxley had a full orchestra. One can surmise that he imagined the music of the novel as vividly as the characters. In King's new version, Lenina, who is more of a central protagonist than in the novel, even uses a song to seduce her love interest, John the Savage. As Huxley wrote: "'Hug me till you drug me, honey.' She too had poetry at her command, knew words that sang and were spells and beat drums. 'Kiss me'; she closed her eyes, she let her voice sink to a sleepy murmur, 'Kiss me till I'm in a coma. Hug me, honey, snuggly…'".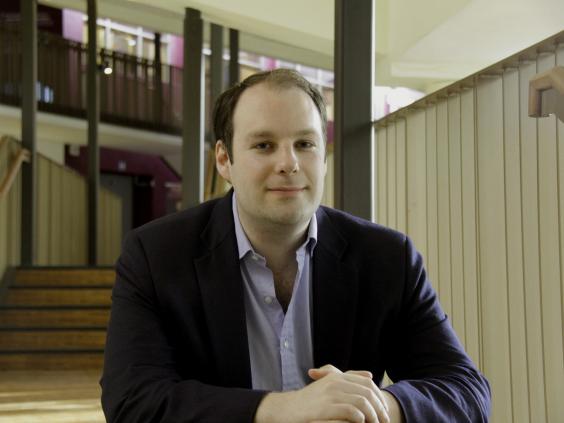 Dacre says: "Huxley imagines advertising, commerce and the media in the future will create such an overpowering sense of noise and bombardment that they will suffocate human creativity. But he says music can also be an outlet for creativity, so we really wanted to explore that idea of music being able to nurture humanity but also to suffocate it."
Barnett began his work on the score by making lists of which instruments would fit with each place in the novel. "I broke it up into the World State, the reservation, John the Savage and Soma. They each had different sounds they could contain. Then you get to John the Savage, and his is this really dense, shifting, almost mid-20th-century classical world with orchestral instrumentation – strings and brass and lots of really bright pitch percussion," says Barnett.
Soma, the only drug in the World State which is "euphoric, narcotic, pleasantly hallucinant", has been updated by King to work in different dosages. "If you take a small amount it's like anti-anxiety medication, it just relaxes you, if it's a mid-level dose it's more like MDMA and then if you take a large enough dose and go on a Soma holiday it's like LSD," she explains.
Naturally, the music is similarly psychedelic. Barnett allows more modern techniques to seep in when Soma is involved. "Backward sounds are only allowed in Soma states and particular techniques like Harmor resynthesis, which  is this obscure digital technique, are allowed on Soma.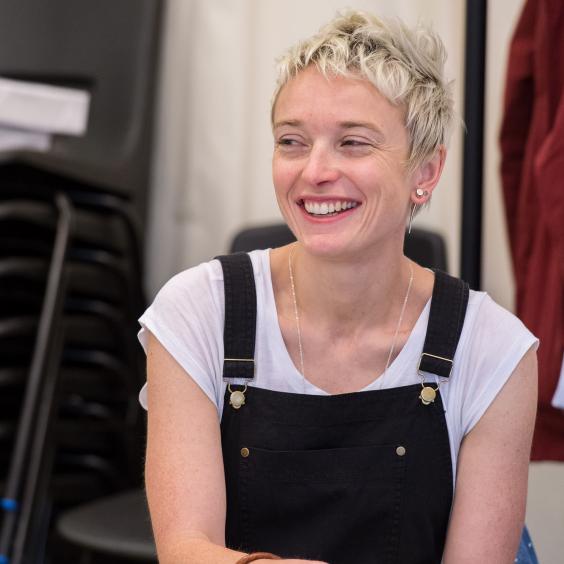 Bombardment from social media and technology and its hold on our lives has also become a central theme in this production, but it is demonstrated by noises and light effects rather than props, says Dacre. "Rather than trying to imagine what an iPhone might look like in the future we are trying to capture what it feels like to be constantly assaulted by modern technology. So Dawn [King] has asked us to consider what it feels or sounds like for someone to always be scanning their Facebook wall."
So what does scrolling through a Facebook wall "sound" like? "It's one that's not fully resolved yet. It's about making something sound saccharine," says Barnett. "It feels like there's a neon, frenzied, intense kind of a quality to it," adds Dacre. 
"A lot of it feels so far like it's got a hyper-oscillating quality. We have recorded the company saying the slogans of the World. Our sound designer has recorded three or four versions of each one, so we might play them backwards."
When the production begins this week in Northampton, before moving on to Edinburgh, the sound will be immersive, Dacre explains.  "It will play on dozens of speakers; a lot of amplification, so lots of contact mics within the design and video design is a central part so there will be monitors and projections and so on."
Barnett is currently living in Berlin and working on a new album for These New Puritans. He has found that composing for a play, rather than a record, is a liberating experience. "What's been great is I don't have to find a definitive version. I can just make lots of variations and then we can work together, rather than a definitive statement of 'this is what's being released'. When we record I have a habit of producing two different versions and it is a pain in the arse because you always have to cut down and down – but here we have the option to say 'look, here are the pieces that could work.'"
"We'll discuss a piece of music and then 24 hours later Jack will come back with five different options and each will be completely arranged and beautifully scored", says Dacre "He has produced so much we have all had to upgrade our Dropbox accounts."  
'Brave New World' is at Royal & Derngate, Northampton, 4 to 26 September, and  King's Theatre, Edinburgh, 29 September  to 3 October 2015
Reuse content