Maxine Peake has described watching herself playing Hamlet as "completely traumatic" and said it took her a couple of days to get over it.
The Bafta-nominated actress, who played Stephen Hawking's nurse in Oscar-winning film The Theory of Everything, performed the title role in Hamlet at the Royal Exchange Theatre, Manchester.
A filmed version of Sarah Frankcom's critically-acclaimed theatre production is set to hit cinemas in just over a week's time.
But, having watched a preview screening, Peake admits to finding the transition from stage to screen in this instance "difficult".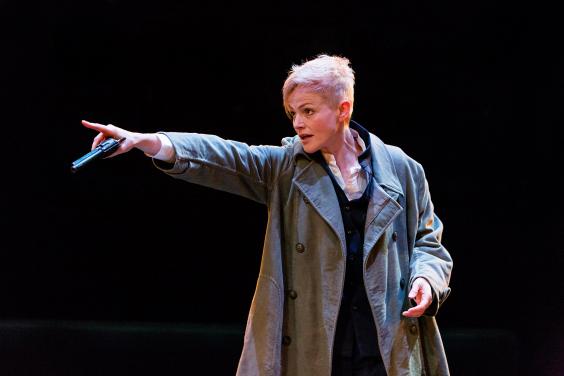 "Don't get me wrong, I think the production and the other performances are brilliant," she told The Independent.
"But it was just difficult to watch it. Of course people will know that acting on stage is a completely different process to acting for a camera. But when you're doing something  the camera picks it up and it is totally different."
"Sometimes it can really knock your confidence. In general it's very strange seeing yourself. That funny thing I do with my mouth. But I'm over it now. It took a day or two, but I'm fine."
Peake follows the likes of Sarah Bernhardt and Frances de la Tour in taking on the male role of Hamlet, generally acknowledged as a make-or-break part.
In contrast to the all-male (The Globe's Twelfth Night and Richard III starring Mark Rylance) and all-female (Phyllida Lloyd's Julius Caesar and Henry IV) productions of late, Peake's Hamlet exists in a production of both men and women. But there are gender-bending surprises such as the female gravediggers and Jodie McNee as Rosencrantz.
Hamlet is trans in this contemporary production, Peake's Prince of Denmark having been born female but identifying as a boy.
"Hamlet was born a girl but very quickly didn't feel that fitted," she said. "He very quickly took on a male mantle. Of course everyone in the court was shocked and divided.
"Everyone to accept it whatever they thought [because he is royalty] and that unspoken feeling serves as a backdrop for the production."
The actress, who many will recognise from TV's Silk, Shameless and The Village, received rave reviews for the production -"delicately ferocious" raved the Guardian, The Times gave it five stars and called it a "fabulous, feminised production", Manchester Evening News hailed it a "milestone" Hamlet, and the Independent lauded her  "emotional ferocity" – but Peake is uncomfortable with the praise.
"But it's none of my business what I think of myself, I always say. If someone comes up and praises your performance it can be quite rude if you disagree with them."
Opens on 23 March in 300 cinemas nationwide.
Reuse content