Defence barrister Will Burton is the golden boy of his criminal chambers. Beadily aware of every legal loophole, Burton specialises in outwardly guilty-as-sin clients – on top of which, he has yet to lose a case. "Everyone deserves a defence" is his own defence for helping to acquit some particularly unsavoury characters, whose hands he has to think long and hard about shaking after securing their freedom. He enjoys gaming the rules, but he doesn't care to inspect the human misery obscured by his clever legal arguments. And then Burton is persuaded to defend an arrogant psychopath whom all the evidence suggests has sadistically murdered a young woman. Will this be a case too far?
I don't want to reveal any more of the plot to BBC1's new three-part thriller, The Escape Artist, but having watched next Tuesday's opening episode, I can say that I am well and truly hooked. Proper Homeland hooked, in a way that perhaps I'm no longer by the real Homeland. Burton is played by the increasingly impressive David Tennant, currently by all accounts a triumphant Richard II at Stratford and who, in the last 12 months, has played the detective in ITV's smash-hit whodunit Broadchurch, the envious MP who will stop at nothing to prevent his wife's political ascendency in Paula Milne's The Politician's Husband, and a French agent in pre-war Poland in BBC4's adaptation of Alan Furst's The Spies of Warsaw. He has either been very lucky, or very canny in choosing the right projects. "If you're privileged enough to be reading a number of scripts, then the ones that you don't want anyone else to have are quite easy to recognise," is how Tennant himself puts it. "And this was one of those. I read it straight through, was completely hooked and convinced, teased and satisfied by it."
The Escape Artist is written by David Wolstencroft, who is swift to return the compliment. "I would cast David Tennant in everything I do if I could," he says. "He raises everybody's game, and he reminds me of Kevin Spacey in the way that he can turn on a sixpence and takes things in a new direction. His fans will be shocked by the direction he takes in this."
Wolstencroft has pedigree when it comes to dishing out shocks. The creator of Spooks, he caused a furore in 2002 by violently killing off Lisa Faulkner's M15 character Helen Flynn in only the second episode – a rate of attrition he was set to continue in further series by regularly bumping off lead protagonists. He firmly believes that television, rather than the cinema, is the natural screen home for thrillers. "I grew up with series like Cracker, House of Cards and Edge of Darkness," he says. "And the bar keeps on being raised, which as a writer I respond to very much. Look at something like Sherlock and the way they tell stories on that show."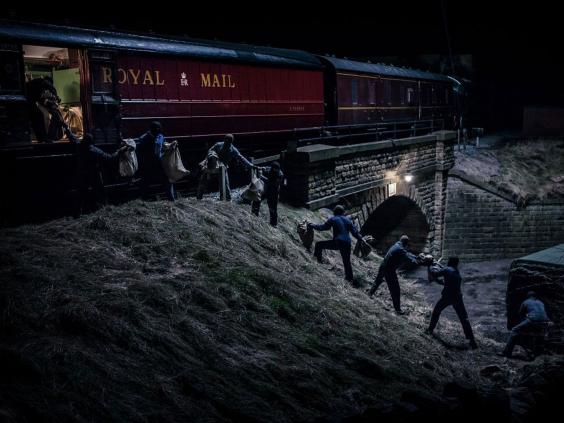 Indeed, look at most of the talked-about TV dramas this year and many of them seem to have been murder mysteries, including Tony Basgallop's What Remains, starring David Threlfall from Shameless as a detective investigating a slaying in a multi-occupancy house, the much-criticised but also (despite the weak ending) much-enjoyed The Fall, which BBC2 has re-commissioned for a second series – just as ITV has re-commissioned Broadchurch, which also starred David Tennant and had nine million viewers tuning in to discover the identity of the killer.
From abroad, we've had Jane Campion's Top of the Lake, as well as the tail-end of the Scandinavian crime-wave, The Killing 3 and The Bridge, whose second series begins on BBC4 in January, while it's Anglo-French re-make, The Tunnel, is currently showing on Sky Atlantic. But not all thrillers are murder mysteries, and since Spooks and Homeland, the spy drama has experienced something of a renaissance in recent years – with the entertaining The Americans, about married KGB agents posing as a suburban couple in 1980s Washington DC, as a sort of period companion piece to the continued adventures of Homeland's Carrie Mathison and Nicholas Brody.
Wolstencroft doesn't like the term spy drama, preferring to call shows like Homeland and The Americans "domestic espionage thrillers". "Homeland is set in the world of espionage… but it personalises it emotionally, which is what makes it such a mouth-watering concept," he says. "When things come through the front door (of the home) it makes them much more relatable than talking about, 'What if the North Korean missiles got into the wrong hands' – after all, you're not making a documentary about geo-politics."
The latest TV drama closest in spirit to Homeland – right down to the one-word title beginning with 'h' – is Hostages, which, like Homeland, is based on an Israeli TV drama. Beginning on Channel 4 in January (no doubt in the Homeland slot) it stars Toni Collette as a surgeon forced by a rogue FBI agent to agree to murder the US President while operating on him. She manages to put off this outwardly routine surgery for a fortnight, conveniently allowing the drama to unfold in 13 daily chunks, like a truncated version of the Kiefer Sutherland saga 24. But with the focus equally on the surgeon's dysfunctional family – the hostages of the title – the DNA here is assuredly that of Homeland – although here's the difference: CBS intend to wrap up this show after one series, artistic self-discipline that perhaps Showtime, makers of Homeland, might have been wise to consider.
BBC2's Legacy, which begins in November, could also be categorised as a "domestic espionage thriller". Set in the 1970s, Paula Milne's 90-minute drama involves a young M16 operative (played by Boardwalk Empire's Charlie Cox) who discovers that his father, a decorated war hero, worked for the KGB. The era is very much that of John Le Carré's Smiley novels – one which Wolstencroft himself was eager to distance himself from when he first wrote Spooks in the fateful, epoch-changing year 2001.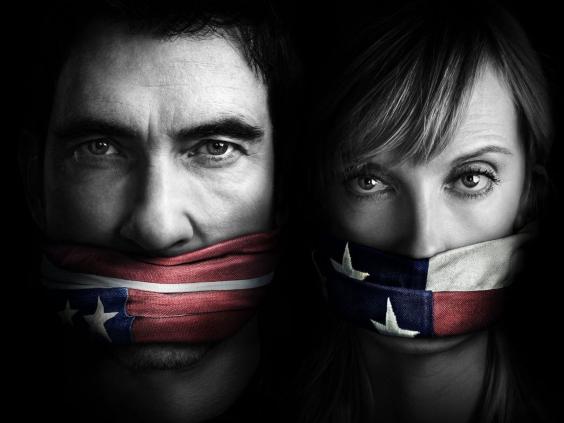 "Before Spooks (spy fiction) was Le Carré on the one hand and Bond on the other," he says. "There was a need for a contemporary British show that explored espionage in a fresh way. The genre needed some oxygen." This was also his approach to the legal drama when he wrote The Escape Artist. "There's an inherent stuffiness to the genre", he says. "All that Rumpole baggage."
Wolstencroft was also inspired by his own experience of fighting a civil court case – likening the legal system to "a huge Terry Gilliam contraption". "I'd get up in the morning and deal with all these concepts and terminology, and intellectually knowing what I had to do," he says. "And then I'd go home and be a complete bastard and take things out on people unnecessarily. I didn't count on that – I'm generally quite mild-mannered, but I was just so angry.
What he wanted to do in The Escape Artist, he says, is to take the profound emotions felt by those caught up in the legal machine, and put them back into the genre – meanwhile domesticating it in the way that Homeland managed to drag espionage into the home. Some might baulk at the prospect of yet another female victim of a sexually motivated murder, but the production is scrupulous in avoiding any gratuitous imagery; the crime is swiftly detailed in a sequence in which Tennant's jaded barrister briskly describes a set of (unseen by the viewer) crime-scene photographs that he's flicking through. Was such circumspection a reaction to criticism that has been levelled against recent dramas like BBC2's The Fall, that it glorified violence against women?
"It wasn't a reaction to anything – it was my own judgement", replies Wolstencroft. "I'm a father of a girl and this was very, very important to me. I'm particularly proud of the way that we've treated it – it's a reality of the criminal law that people do end up like this, but there was never any question that we wanted to glorify it or dwell on it."
Does Wolstencroft think there's a larger reason why television seems to be producing so many gripping thrillers at the moment – shows that provide the metaphorical "water-cooler moments" that are the holy grail of commissioning editors? "I have a pretentious theory," he says. "Speaking personally, I write stories that scare me because they are a way of dealing with things that scare me," he says. "That's the reason why fairy tales exist – to help children deal with concepts like death.
"I think we're seeing more thrillers because the world has got increasingly more terrifying. The systems we have been relying on are slowly crumbling and, as a result, we are feeling like we want to go towards a controlled environment, one which gives us this visceral sense of things spinning out of control – but, at the same time, has a finite conclusion. Comedy offers the opposite. Comedy offers an escape but we also naturally go towards stories that scare us. Unconsciously, they are about our own situation."
'The Escape Artist' begins on Tuesday at 9pm on BBC1
The thrill season: Six others to watch
Legacy
Set in the 1970s, an inexperienced young MI6 recruit (Charlie Cox) discovers that his father, a decorated war hero, spied for the KGB. Based on Alan Judd's Cold War novel, Paula Milne's one-off drama also stars Andrew Scott ('Sherlock') Romola Garai ('The Hour') and Simon Russell Beale. (November on BBC2).
Lucan
The nanny-slaying peer who vanished in November 1974 continues to exert a fascination, and in this adaptation of John Pearson's book 'The Gamblers', the whodunit element is supplied by the question: who killed Lord Lucan (Rory Kinnear)? (December on ITV).
The Great Train Robbery
Another real-life crime – the 1963 theft of cash from a mail train by Ronnie Biggs, Buster Edwards et al – is dramatised by 'Broadchurch' creator Chris Chibnall, whose two-part drama observes the heist from the differing perspective of the police and the robbers (December on BBC1).
Sherlock
"The Empty Hearse", Mark Gatiss's adaptation of "The Empty House", in which Conan Doyle resurrected Holmes from his seemingly fatal fall, opens a new trilogy of adventures for Benedict Cumberbatch's consulting detective and his trusty sidekick Watson (Martin Freeman). So just how did Sherlock fake his own death? (BBC1 in January).
Hostages
By kidnapping her family, a rogue FBI agent (Dylan McDermott) forces Washington surgeon (Toni Collette) to agree to assassinate the President during a routine operation. As in 'Homeland', the lead family has two troubled teenage children, while the surgeon's husband is having an affair. Messy (January on Channel 4).
The Bridge 2
The first series of this Scandi-thriller had a body discovered halfway across the Oresund bridge between Denmark and Sweden – but how are the writers plausibly going to re-unite laidback Copenhagen copper Martin Rohde (Kim Bodnia) and obsessive Porsche-driving Malmo detective Saga Noren (Sofia Helin)? In the shape of a rusty old coaster ship that collides with the very same bridge, that's how (January on BBC4).
Reuse content