Just across the road from CBS Television City, the studio in Hollywood where James Corden is due to begin hosting The Late Late Show on 23 March, a vast billboard of the British actor and comedian's face looms over the intersection of Fairfax Avenue and Beverly Boulevard.
Yet even with his name, his portrait and the title of his programme so prominent on the local horizon, few Americans appear to be aware of Corden, or even to know why they should be.
"I've never heard of him. I don't even recognise his face," said 50-year-old Pamela Orellana, as she waited for a bus in the shadow of the billboard earlier this week. Nor was she keen on Corden's Late Late Show predecessor, Scottish-born Craig Ferguson, who hosted the programme for 10 years until his exit last December. "He was too bland," Ms Orellana said.
Marquise Rosales, 23 – an actor, no less – also seemed unfamiliar with Corden's oeuvre, despite the Brit's recent movie roles in Begin Again with Keira Knightley and Into The Woods with Meryl Streep. "I hadn't heard of him until this moment," Mr Rosales said, glancing up at the 20-foot-tall mug of the UK's latest television export. "He looks like he has a lot of personality, though."
Apart from those fleeting film performances, the 36-year-old is essentially unknown in the US, except to New Yorkers who saw him onstage during the Broadway run of One Man, Two Guvnors, for which he won a Tony Award in 2012. When Ferguson announced his Late Late Show departure, Corden was not on any of the media's lists of prospective replacements – nor was he the black or female late-night host that the internet had been crying out for.

Nevertheless, CBS has seen fit to hand the Londoner the reins of an American institution. Broadcast at 12.35am five nights a week, The Late Late Show may be the least-watched of all the late-night network chat shows, but it is still regular viewing for almost two million people.
Ferguson won fans for his eccentric British approach to the late-night talk-show format: rambling monologues; a robotic skeleton sidekick. His appeal proved too narrow, though, to earn him promotion to the network's flagship Late Show slot at 11.35pm, which is presently occupied by David Letterman. When Letterman retires in May, he will be replaced instead by Stephen Colbert.
The omens for Corden's debut are mixed. Appearing on Colbert's previous programme, The Colbert Report, in December, he suggested it was "going to be a complete disaster." In an interview on the Late Late Show, which is filling the gap between Ferguson and Corden with guest hosts, Letterman wondered aloud, "Where's the tubby kid?" adding: "If I invested my money in a guy to do a show and he says, 'I'm going to need a couple of months,' I think that's a flag."
Read more:
 
Corden has never hosted a talk-show, and irritated many UK viewers when he emceed the Brit Awards, but he will surely make a pleasant change from some of the other British broadcasters to have graced US screens in recent years. Like John Oliver, whose series Last Week Tonight has been a hit for HBO, Corden is younger, friendlier and far less curmudgeonly than, say, Simon Cowell, Gordon Ramsay, Jeremy Clarkson or Piers Morgan.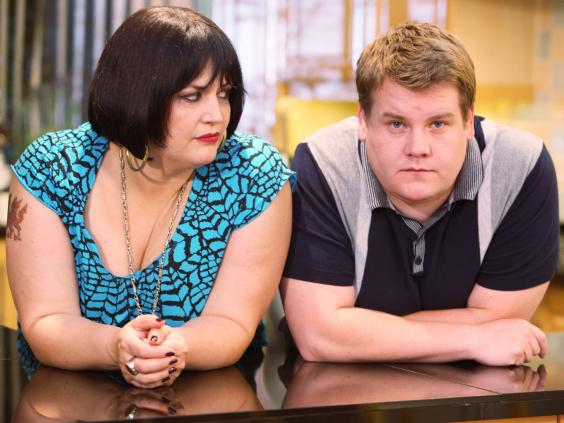 Crucially, he will be the only late-night host under the age of 40, and with his 4.9 million Twitter followers, he ought to appeal to the coveted millennial demographic. "Late-night is a shrinking audience," said Brian Lowry, Variety's TV critic. "It's very competitive and they're all fighting over smaller and smaller parts of the pie. The part of the pie that is the most valuable when you're selling beer ads is young guys. And CBS is hoping Corden will bring in a younger audience."
Born in August 1978 and brought up in Buckinghamshire by an RAF musician father and a social worker mother, Corden's first big break came when he was cast in Alan Bennett's 2004 play The History Boys – and then in the 2006 film version. From 2007 to 2010 he co-wrote and co-starred in the BAFTA-winning BBC sitcom Gavin & Stacey, but then soured his own success with an obnoxious BAFTA acceptance speech, a terrible sketch show, Horne & Corden, and an even worse film, Lesbian Vampire Killers. The US networks NBC, ABC and Fox all attempted to remake Gavin & Stacey for an American audience; no version ever made it to broadcast.
However, Corden had found himself a fan in Nina Tassler, the chair of CBS Entertainment, who pursued him to appear on the network before there was even an opening at The Late Late Show. Tassler has described him as "a force of nature, an acting tsunami [with] such a sensitivity, a sweetness and a kindness that he really made an impression on me."
In preparation for his new role, Corden relocated to LA with his wife Julia and their two children. His producer is Ben Winston, son of the scientist Lord Robert, who previously produced the One Direction documentary This Is Us. His writers include David Javerbaum, lately of The Daily Show. His bandleader will be cult musical comedian Reggie Watts, his first guest will be Tom Hanks.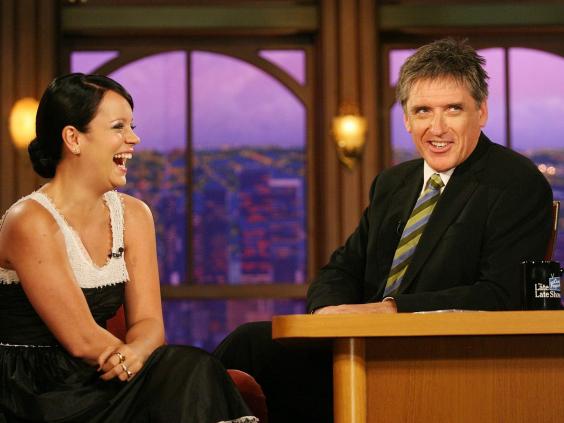 Other than that, the format and content of the revamped Late Late Show will remain a mystery to the outside world until next Monday night. "When you get a job like this, your first thought is, 'Oh, let's rip up the rule book,'" Corden recently told the New York Times. But, he went on: "No one wants to be the arrogant British guy who isn't paying homage to the institution."
In today's patchwork TV landscape, CBS must compete not only with other networks such as NBC – which has successfully refreshed its old late-night line-up with Jimmy Fallon taking over The Tonight Show at 11.35,  and Seth Meyers at 12.35 – but also with cable channel rivals, notably Comedy Central, home of The Daily Show and the recently concluded Colbert Report.
"The landscape is in a great deal of flux," said Lowry. "NBC dominates what has become an extremely competitive and fractured market. But in some ways that's a blessing for Corden, because it takes a little bit of the heat off. First impressions will be significant, but he'll have a chance to tinker and fine tune the show over time."
At last, after several other people on the pavement outside Television City confessed their ignorance, one man said he knew exactly who Corden was. "I think he's a real talent," said Johnny, 33, who works in television, and who declined to give his last name. "I haven't seen him do much hosting, but if they give him time to settle in and allow him to be himself, he'll be really successful here." Johnny would think that, though: turns out he's British, too.
Reuse content