Imagine what it would be like to start all over again, in an alien world, with an unfamiliar climate and build a new community from scratch. Luckily you don't have to join the suicidal crew of the Mars One mission to find out. This week on BBC2, a new drama series explores a similar scenario which took place right here on Earth, back in January 1788 when 1,000 British convicts, marines and seamen landed in New South Wales. The penal colony they built there is the setting for Jimmy McGovern's new seven-part drama, Banished.
Ripper Street's Myanna Buring stars as sharp-tonged Elizabeth Quinn whose relationship with fellow convict Tommy Barrett (Julian Rhind-Tutt) puts both their lives in danger. Russell Tovey gives his usual lovable dope an 18th century twist as their friend James Freeman and Australian actor David Wenham plays Governor Arthur Phillip, whose job it is to turn this ramshackle penal colony into an outpost of real civilisation.
McGovern's drama might be the first time this particular story has found its way onto British television, but the survival of small groups in adverse circumstance is an enduringly popular theme. It's in teen sci-fi like E4's The 100 and pessimistic horror such as The Walking Dead, which makes audiences wonder whether human society is really worth all the effort of survival. The frontier spirit also underpins plenty of reality survival programmes ranging from the silly 10,000 BC on Channel 5 to the BBC's more serious-minded Castaway 2000. And clearly TV personality Bear Grylls would have been a hardy homesteader in some far-flung corner, if only he hand't been born about two hundred years too late.
It's not a real detail from history which poses the biggest threat to harmony in this community, but an invention of the writer's own imagination - a custom whereby soldiers reserve the convict women exclusively for their own "use". Meanwhile, the one historical fact which still overshadows the legacy of Australia's first colonists has been deliberately side-stepped; their treatment of the people who were already living there. "We just didn't have room, in this first series at least, to treat the Aboriginal people's story with the respect and care it deserves," said McGovern."Ten minutes per episode would just have been an insult."
The appeal of colony shows is usually in how they allow us to observe a fledgling society as it functions or fails, only without the attendant risks of death, disease and disaster. So by fictionalising many of the most challenging parts of the real Botany Bay colony and focusing instead on character, Banished is taking a risk. Will it work? As will most such experiments, you'll have to stick around to find out.
Why Netflix still reigns supreme
Better Call Saul is better than most Breaking Bad fans dared to hope, a third highly anticipated series of House of Cards goes live this weekend, soon followed by Tina Fey's new comedy The Unbreakable Kimmy Schmidt. By all accounts, Netflix is going from strength to strength, and yet the true extent of its influence is only just becoming clear.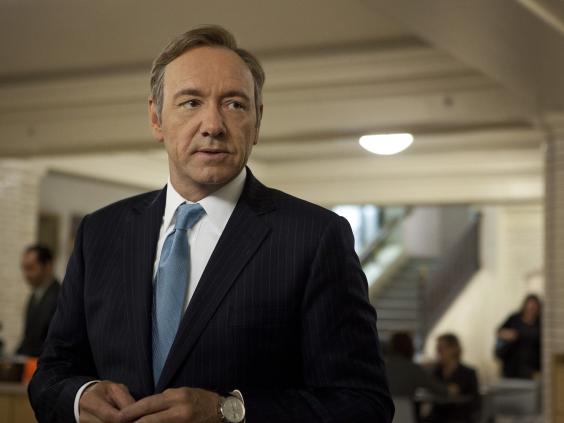 In an interview with this week's Radio Times Kevin Spacey recalled a Netflix gift subscription he sent to director Woody Allen back in the early days of House of Cards, in lieu of an audition. "He wrote me a very warm letter back…and said he would absolutely consider me." Did it work? While Allen is yet to cast Spacey in any film project, the exposure to online television clearly had some effect. Earlier this year the notoriously computer-shy 79-year-old announced that his first ever TV series would be for an online streaming service. No, not Netflix, their rival Amazon Prime.
CATCH UP
Sesame Street's House of Cards spoof, YouTube
For preschoolers this four minute clip is just another version of the Three Little Pigs story, but for grown-up fans of a certain Netflix political thriller, there's much more going on. 'Frank Underwolf' is determined to get into the White Brick House, however much huffing and puffing it takes.
Citizenfour, 4oD
Don't miss your chance to watch an Oscar-winning documentary for free. Director Laura Poitras who was already working on a film about US government surveillance when, in January 2013, she received an encrypted email from a stranger. That stranger turned out to be Edward Snowden and the rest is still-unfolding history.
http://www.channel4.com/programmes/citizenfour
Critical, Sky Go
Line of Duty writer Jed Mercurio is back with this scapel-sharp medical drama set in a state-of-the-art hospital trauma unit. Forget all the soapy storylines of Casualty, this is a gritty procedural with medical jargon so dense you'll barely understand a word- and that only makes it more gripping.
Immigration Street, 4oD
When a film crew arrived in Derby Road, Southhampton hoping to make a sort-of-sequel to Benefits Street, they didn't count on the local community fighting back. What they ended up with was a single hour of television, not about immigration, but about how the media's framing of immigration affects real communities.
http://www.channel4.com/programmes/immigration-street/
Reuse content