From Downton to demon-hunting, by way of romcoms and workplace dramas, Cara Theobold has the range for a long and successful career. But one might not have expected to see her urinating on another young woman who has been bound and gagged and is lying on the concrete floor of a disused warehouse.
It's a scene from Crazyhead, a cheerful new comedy drama from E4, the youth arm of Channel 4, and the role is, to say the least, a change of pace for the 26-year-old Yorkshire actress best-known for her two-year stint as kitchen maid Ivy Stuart in Downton Abbey.
"Reading a script where the first scene ends with your character pissing on someone is unusual", Theobold concedes. "It was the first scene we filmed and it took three days to shoot – a great bonding moment for the cast."
This expulsion of bodily waste is part of a DIY exorcism performed by Theobold's character, Amy, on her best friend who has become possessed by a demon. Yes, well, demons... I'm sorry about that if you're as immune as me to the fascination of demons, or zombies for that matter – for they amount to the same thing, although zombies tend to be slower to get around the place.
But what makes Crazyhead more than watchable for the demon/zombie-averse is that it's a female-led adventure featuring two of the sparkiest young actresses of the moment – Theobold and Susan Wokoma (Michaela Coel's sister in Chewing Gum), and that it's written by Misfits creator Howard Overman – a sort of British Buffy the Vampire Slayer, I suggest to Theobold, to little avail. "I haven't actually seen Buffy but there are so many shows that have been referenced," she says.
"It's in a world where demons are real and only a select few are gifted with being able to see them. We meet my character Amy when she's discovering that she can see demons, while Raquel [Wokoma's character] has known all her life that she can see them and she is a self-styled demon-hunter, who guides Amy on this adventure... of having to save the world from demons, basically."
So there you have it, but again what elevates Crazyhead is its style, with its nod to 1980s Americana, and at a screening of the first episode I find myself sitting next to its director, Al Mackay, who says he was inspired by films such as The Lost Boys and An American Werewolf in London. "In the Eighties they did comedy horror better than we do now," he says.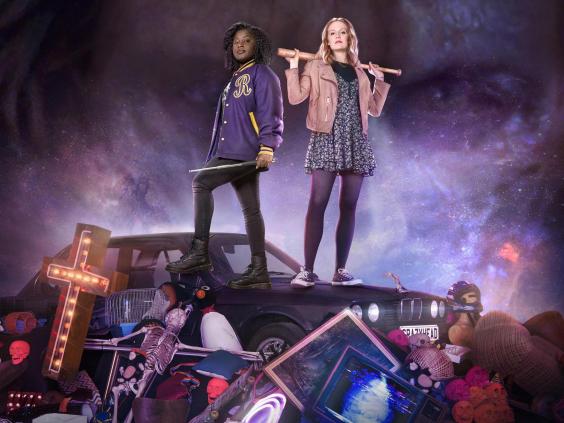 Howard Overman, meanwhile, adds that he was inspired to create kick-ass heroines after witnessing an unsavoury scene on the streets of north London.
"I was in Islington and this girl was cycling along and this d**khead shouted out 'lucky saddle!'. And she parked up her bike, and she took off her quick-release saddle and walked away. But I had this idea for a character who, at the point where she took off her saddle, gave him a good clout round the head with it."
"I loved all the fighting", says Theobold. "As the series goes on we get to do a lot of fighting, with various bizzare weapons... you'll see. The things that our characters get to do, it feels so different from what I've done before and the majority of things out there".
Theobold was in the final year of drama school at London's Guildhall when she won a part in the world's biggest TV show – playing Ivy the kitchen maid for two series of Downton Abbey before her ambitious character ditched her lot as Mrs Patmore's right-hand woman and began a new life in America.
"I'd never done an audition before, not professionally," she says of her lucky break, one which meant graduating early. "When I went up for it I just thought it would be a great experience – clearly I hadn't learnt to be nervous or scared then because I ended up getting the role.
"I joined in series three so I'd already seen one and two and loved it, and my parents [both teachers living in Wakefield] were big fans and that was when it was at its height of being exciting in America. And so my first experience of a show coming out was the world press days, which was quite a lot to take in.
"I worked mainly with the downstairs cast, and you sort of live there and feel you are of that world and being in that nurturing environment gave me a lot of confidence. But I was really happy to do two series and use that as a platform – Ivy's story came to an end. She was a character who wanted much more from life. She wasn't satisfied."
Theobold could be talking about herself. After leaving Downton in 2014, she has appeared in Call the Midwife, Last Tango in Halifax, Kay Mellor's lottery drama The Syndicate and the Channel 4 comedy Scrotal Recall (soon to be revived on Netflix under the blander title of Lovesick). She also starred in what, for my money, was one of the best comedies of last year, Johnny Sweet's rom-com Together.
"I had a lot of fun on that", she says. "I've always loved comedy and I did a lot of comedy at drama school so it's nice to have the opportunity to do some".
Together proved that Theobold's comedic ability, and there was something kooky about her portrayal of the hapless Ellen that – along with her own fresh blonde/blue-eyed looks and dress sense (today, culottes from Top Shop and a stripy, off the shoulder top from Whistles) – reminds me of the young Cybil Shepherd. "Thanks", she says, before revealing that her own role models are Emma Thompson, Olivia Colman and Julie Walters. "I think longevity is key and these amazing actors have that," she says.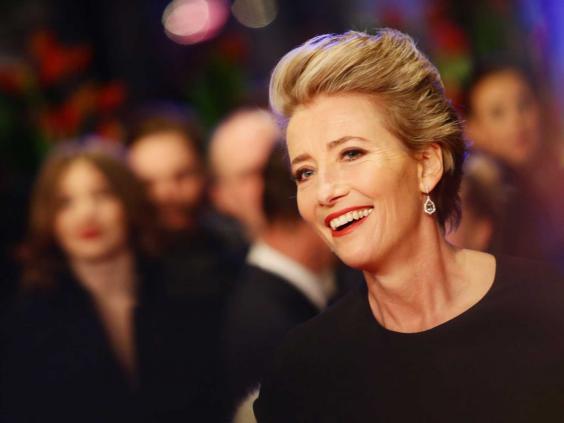 "I remember when I left Downton Abbey, Jim Carter [who played butler Carson] said, 'go for the jobs that challenge you, because that's the thing that will keep you sustained through a long career', and that's definitely what I want. Having been in a show with Maggie Smith is definitely inspiring.
"For me it's all about the projects. I would love to do film and I would love to do British film as well, and I hope to be able to do comedy and drama – I think I would get bored just doing one or t'other. I would hate to get pigeon-holed into one type of character or genre, just because I think being fulfilled is liberating."
And although there is, in Theobold's estimation, "a long way still to go", she is encouraged by the way that young female writers like her friend Michaela Coel with Chewing Gum, and Phoebe Waller-Bridge, with Fleabag, are at last creating characters who aren't just "the perfect 'The Girl'
"Because what is that?" she says. "Just as we can have flawed heroes we can have flawed heroines. The honest portrayal of real people is much more interesting than some shiny version".
'Crazyhead' begins on E4 at 9pm on Wednesday 19 October
Reuse content