Harry Hill has not had the best experience with acting in the past, as he would be the first to admit.
The beloved 50-year-old comedian, who has never played a dramatic role till now, recalls a particularly excruciating audition for the part of Napoleon in Night at the Museum 2. "Beforehand I said to my agent, 'I'm not particularly short, I'm not known for my French accent, I'm bald and I have glasses. I can't quite see it!'" he says. "As expected, my audition was terrible. I did a dreadful French accent. I sounded like Inspector Clouseau, which is always the default position for an English actor playing a Frenchman. So I said to the producers, 'There's an elephant in the room. I think maybe you've got the wrong man for this part'. They replied, 'Don't worry – we can fix that in the edit!'."
Unsurprisingly, he didn't get the part. "In the end, the role was played by a well-known French actor [Alain Chabat] who was the best thing in the film. He blew everyone else off the screen!"
However, the comedian had no such qualms when he was offered the title role in The Incredible Adventures of Professor Branestawm. Charlie Higson's adaptation of Norman Hunter's classic children's books about an archetypal nutty professor, which will be warming the nation's hearts on Christmas Eve. Hill plays the eponymous hero, and it's not quite such a stretch of a role in this case, given Hill's scientific background: prior to committing to comedy, he was a doctor, real name Matthew Hill.
Branestawm is an inveterate inventor so shambolic that he endangers everyone around him when his madcap experiments go wrong – as they invariably do. The eccentric prof, who lives in the quaint English village of Great Pagwell, is so forgetful he has to wear several pairs of glasses because he keeps mislaying them. And from what I see on set at Chiswick Town Hall in west London, Hill, who as a child loved Hunter's books, was born to be Branestawm.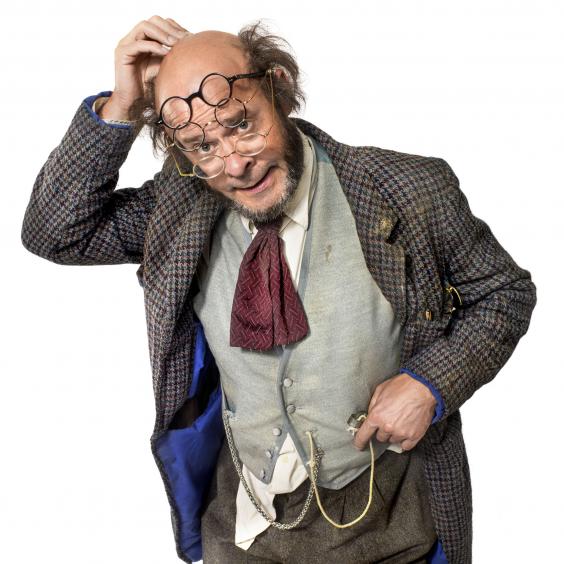 I am privy to a scene in which the dastardly businessman Mr Bullimore (played with moustache-twiddling relish by Ben Miller of Armstrong and Miller fame) is attempting to convince Great Pagwell Council to compulsorily purchase Branestawm's house in order to build a giant munitions factory. "Lovely, lovely munitions," Miller beams. "I've only had two of my factories blow up and demolish the whole town." At the meeting, the bumbling, bungling Branestawm proves too preoccupied with demonstrating to the council his marvellous new invention – an enormous tea-maker manufactured from an old-fashioned gramophone precariously holding tea cups and spoons, lashed to a brass boiler and then strapped to the top of a pram – to notice the threat posed by the villainous Mr Bullimore.
In a break between scenes, Hill explains why this was the role to launch him into the thespian realm: as a schoolboy in rural Kent, he was a budding inventor and, with friends, set up a company called Staplehurst Chemical Industries to manufacture stink bombs, disappearing ink and smoke bombs. So, he says, he immediately realised he was made for this role. "This part is not a very big stretch – the Harry Hill character is not a million miles away from Branestawm. Both characters create their own world. They're both very internal, and everyone else has to fit in with their world. They also both wear glasses and are bald!"
Meanwhile, Higson, the 56-year-old former Fast Show star turned bestselling children's author, agrees that "Harry's persona is just right for this part because, like Branestawm, his character is in his own world and doesn't mind if he upsets people. There is something anarchic and chaotic about him. It's the perfect fit."
Hill has had a mixed year, career-wise, having co-written I Can't Sing!, the satirical X Factor musical that opened – and then quickly closed again – at the London Palladium earlier this year. However, the experience doesn't seem to have knocked his confidence, to judge by the future he jokingly envisages for The Incredible Adventures of Professor Branestawm.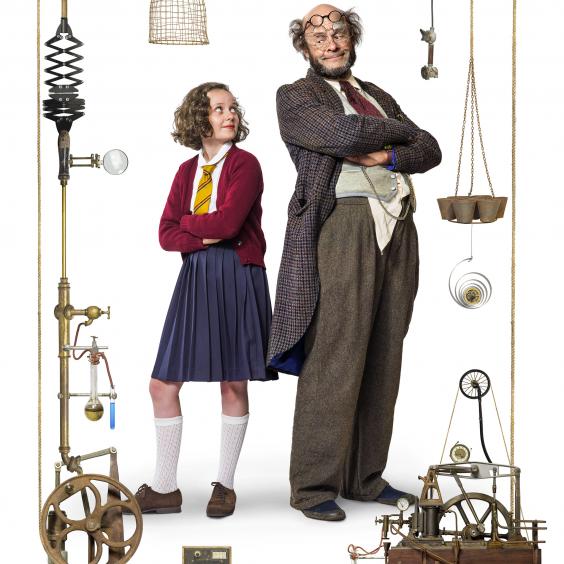 "Next time, we'll do it as a musical," he jokes. "We'll start in the regions and come into the West End. We'll process triumphantly down Oxford Street to the Palladium chanting, 'He's back – and this time he's Branestawm!'."
Higson, who plays the mayor of Great Pagwell, has also had a whale of a time working on the drama, he says. "It's very satisfying bringing to life a book that you love. You do worry about mucking it up, but hopefully this will help revive people's interest in Norman Hunter's wonderful books."
He's also excited by its scheduling. "Christmas is the one moment in the year when you all sit down as a family and watch something together. Last Christmas, I sat down with my three sons and my dad, who's in his eighties, to watch Catherine Tate's Nan. That was good family entertainment which we could all enjoy together … I hope that this has a similar effect and that people end up repeating the catchphrase I've invented: 'We want to build a giant munitions factory right in the middle of town. What's wrong with that?'" 
The Incredible Adventures of Professor Branestawm certainly looks like ideal cheery Christmas fare – and in Hill's eyes it certainly beats another traditional festive pursuit. "The one thing I don't like doing at Christmas is playing charades," sighs the comic. "It's a busman's holiday for me. Being in showbiz, I don't like to play charades and not be paid for it! I think, 'This is supposed to be my day off! What if my agent found out I was working for nothing?'"
But after playing Branestawm, Hill is more than happy to try his hand at more paid acting work. "Now I've got the taste for this acting lark, I'd love to play a baddie in The Bill or a surgeon in Downton Abbey – is that too much to ask?" 
'The Incredible Adventures of Professor  Branestawm' will be broadcast on BBC1 at 8.30pm on Christmas Eve