Who's the most significant character in 21st-century television drama? Walter White? Don Draper? Well, how about Olivia Pope?
For the uninitiated, that's Kerry Washington's not-to-be-messed-with political fixer in Scandal, the Washington-set melodrama, whose third season starts on Sky at the end of this month. It is currently one of the biggest shows in the US, pulling in an average of 10.5 million viewers each week, and is notable, shockingly, for being the first show to feature a black female lead on US network television in nearly 40 years. And, two years on from when sharp-suited Ms Pope first strode on to our television screens, she's beginning to wield serious influence, off-screen as well as on.
That's to say, other black actresses are finally following in Washington's wake. Last week saw the launch of Halle Berry vehicle Extant, in which the Oscar-winner plays an astronaut impregnated with an alien life form. Meanwhile, the upcoming autumn schedules include The Help's Viola Davis in legal thriller How To Get Away With Murder, her  co-star Octavia Spencer in hospital-set comedy-drama Red Band Society, Oscar nominee Taraji P Henson starring alongside Terrence Howard in highly anticipated hip-hop saga Empire and Jada Pinkett Smith as a villain in Batman prequel Gotham.
Following a decade in which black male actors enjoyed a similar breakthrough, with Michael K Williams, Idris Elba, L L Cool J and Laurence Fishburne among those who enjoyed eye-catching roles, it marks another crucial step forward for diversity on US television screens.
And the person to credit for this? Shonda Rhimes, the 44-year-old behind Scandal, Grey's Anatomy and now How To Get Away With Murder. A black female showrunner (right) who has built her reputation on diverse casting, ethnically and otherwise, she is now arguably the most powerful person in US network TV. So great is the struggling ABC network's debt to Rhimes that, in this year's autumn schedules, they've placed all three of her programmes back-to-back on Thursday nights, effectively creating a primetime "Shondaland", as her production company is named.
"Shonda's greatest gift is how much power she holds as a woman of colour," says acclaimed crime writer Attica Locke, who is part of the writing team for Empire, which airs early next year. "The [diverse] casting in Grey's was a very big deal at the time [it started] and there's no question that the success of Scandal has led to an Olivia Pope effect. We are definitely seeing more black women and women of colour on our television screens."
To take another example, women of colour are the lifeblood of Netflix's prison comedy-drama Orange is the New Black, which has a multi-ethnic ensemble of inmates, each provided with a detailed backstory. It has also been a sizeable hit, commercially as well as critically, reflecting, like Scandal, a recently published report in Hollywood by UCLA's Ralph J Bunche Center which found that "broadcast comedies and dramas with diverse casts excel in the ratings".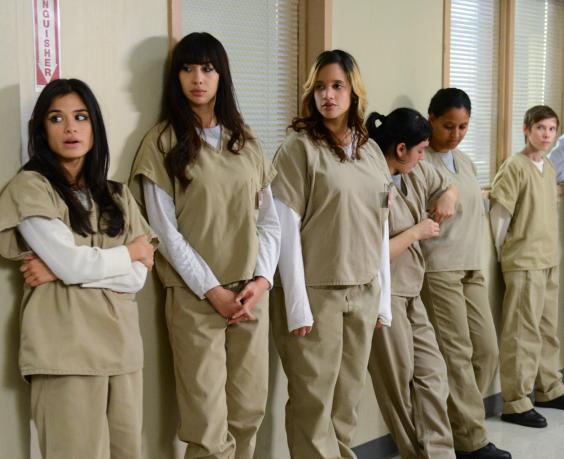 Certainly, the progress being made in the US makes UK television seem especially sluggish by comparison. Indeed, the situation over here has become a source of increasing anger: last month Lenny Henry criticised the BBC for its continued inability to put more non-white faces on screen, despite numerous initiatives over the years, while a few weeks ago the actor and campaigner Danny Lee Wynter launched the pressure group Act For Change to campaign for greater diversity in television regardless of race, gender, class, disability, sexuality or age. He says that while British television has made great strides on its news programmes, it still lags behind the US in other types of commissioning. His proposal? Quotas to ensure broadcasters are as good as their intentions.
"How can we be so enlightened as a nation to welcome in gay marriage or have a landmark occasion such as the Paralympics opening ceremony and yet still have every single one of our major TV dramas (excluding the [soaps]) led almost entirely by white faces?" he asks. "You look at a show like [BBC legal drama] Silk and there's no reason why some of the leads can't have been Asian or East Asian or Black. They had a couple of characters of different ethnic origin including Indira Varma, who is on our board, but across five episodes these characters get about five minutes of screen time and really there's no excuse. It certainly doesn't reflect the legal profession in this country."
For Wynter, British television's diversity problem is driven by an inability to move beyond racial stereotyping. "The parts up for grabs for BAME (Black, Asian and Minority Ethnic) actors still tend to be reductive in terms of scale, scope and quality of part," he says. "A great actor won't mind playing a multi-faceted, complex, messy criminal who happens to be gay and black, as depicted in The Wire, but on British television those roles are scarce. This is why, for Act For Change, quotas are the only way."
But while the US can be portrayed as a promised land for BAME actors by comparison – last month Henry also testified to a House of Commons select committee that Britain "haemorrhaged" under-appreciated minority ethnic talent across the Atlantic – it's clear that its TV industry still has much to learn in conquering racial prejudice too.
Former Hollyoaks actor Ricky Whittle recently said that US executives did not know what to make of him as a black Briton, for example. "I actually spoke to one of the heads of a studio and he said I confuse middle America," he said. "When they see a black person, they see athlete, they see rapper or they see criminal … and then when they hear a British accent they hear posh .... So, when they see and hear me, it's confusing."
It's also the case that some ethnicities are making greater progress than others. This can be seen in this year's Emmy nominations which recognised 11 black actors including Kerry Washington but largely overlooked Asian American and Hispanic actors with the most notable omission being Mindy Kaling, the Indian-American creator and star of widely praised comedy The Mindy Project.
And for all that men and women of colour may be enjoying more prominent TV roles across the Atlantic, visibility is only part of the solution. "When I started going for meetings about writing for television I was given scripts for all the pilots for the new season. I must have read about 20 of them and by about the 17th or 18th script I just felt like crying," says Locke. "Because the problem wasn't that they didn't have people of colour, it was that only white men were allowed to wrestle with the big existential issues. You can't just have a black doctor walk across the screen and call that diversity. It's not enough to have colour-blind casting; you need to reflect different cultural experiences as well."
"I would say that it's more interesting to look at The Mindy Project [than Scandal]," says Locke, in reference to the new wave of diverse casting. "The important thing about that is that the lead character is clearly and specifically Indian American, not just brown. The comedy and the story are driven by the character's cultural background and that's the level we need to get to. It's not just a case of casting two Asians on a show or having a black couple on network television. It's about being steeped in a specific culture, about ensuring that if you cast black American or Asian actors on your show they talk and behave as black Americans or Asians would talk and behave. We need to normalise differences and take away people's fear."
'Scandal' is on Sky Living from 31 July at 9pm
Reuse content