'I knew lots of Oregons at Bristol University," says Charlotte Ritchie, referring not in some obscure way to the Pacific Northwest American state but, as every Fresh Meat fan knows, her character in the Channel 4 comedy drama; Oregon (real-name Melissa), the middle-class model pupil pretending to be radical, having an affair with her married English tutor, falling in and out of friendship with the show's resident anti-establishment wild child, Vod (Zawe Ashton), organising campus sit-ins and running for the presidency of the student union (which she won, only to discover that the union was bankrupt). "Lots of Oregons at Bristol... and lots of JPs."
JP is the obnoxious public-school character miraculously made endearing by Jack Whitehall, who along with Joe Thomas from The Inbetweeners, were the best-known members of the cast when Fresh Meat first aired in 2011. But the show has been the making of Ritchie – along with Ashton, Greg McHugh and Kimberley Nixon – and she is now starring in her first break-out sitcom, a new BBC3 comedy about a dysfunctional brother and sister, Siblings. At the same time, she is releasing an EP with her actual (and fully-functioning) brother, the singer-songwriter Luke Ritchie. For, yes, she is not only a deft comedy actress but a talented vocalist, too.
Siblings first, however, since this is the reason for our interview. Ritchie and Tom Stourton (son of Radio 4 presenter Edward Stourton) play Hannah and Dan, who are described in the press notes as "the world's worst brother and sister... obnoxious, lazy, self-centred, underachieving, incompetent and occasionally depraved". In the opening episode, Hannah slips drugs into her best friend's drink – and the dialogue in Siblings echoes the rhythms of Fresh Meat, which is probably because it's written by occasional Fresh Meat writer Keith Akushie.
"My character is very one-track-minded and blunt," says Ritchie, who reveals herself to be otherwise – chatty, discursive, nimble-witted and devoid of Oregon's intellectual pretensions. "It's liberating playing Hannah because she does what she wants and I absolutely don't do that. I act almost entirely on what I think I should do."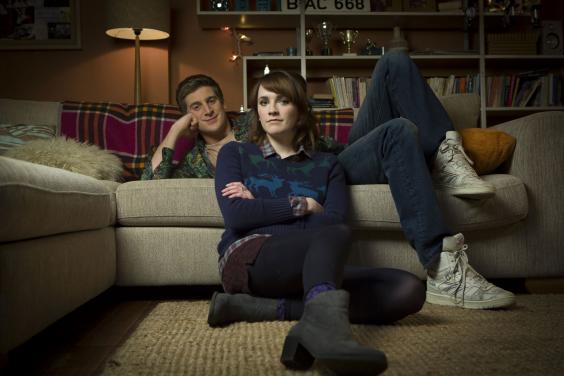 The responsible type, then, and needless to say Hannah's relationship with Dan is nothing like Ritchie's relationship with her real brother Luke – although their partnership isn't without its farcical element, like when they toured universities during last year's freshers' week. "Shambolic," is how she describes it. "We both lost our wallets in the same day and I crashed his car into a bollard. And one of the places we turned up to had been razed to the ground the week before and another – in Newport – had been so badly flooded, they didn't tell us until five minutes before we got there."
She describes their sound on Light of Another as "close harmony stuff", with influences ranging from Willy Mason to Ben Howard by way of John Martyn. "We like a lot of country stuff, as well – Gillian Welch and Alison Krauss & Robert Plant." Strangely enough, she doesn't mention The Carpenters, for although pop and rock history is littered with brother acts – from The Kinks, Bee Gees and The Beach Boys to Radiohead, Kings of Leon and Oasis – I struggle to come up with other brother-sister music acts beyond the rather unpropitious (given the outcome) example of Richard and Karen Carpenter. "What was that brother and sister on The X Factor? Same Difference?" muses Ritchie, adding: "A brother-and-sister duo is definitely in danger of being a bit twee." And possibly a bit icky, given the intimate scenarios of their songs? "Someone asked me the other day: how does it work? Do you look at each other when you sing? And I'm like 'absolutely not' – because the songs are all about love and things like that."
Luke and Charlotte have a sister, Alice, who is a journalist, a London stringer for Agence France-Presse, but who also sings – and plays the piano and the flute. They sound like the Von Trapp family. "She's not enough of a show-off to be with us," says Ritchie. "We never used to get on at all because I was a real brat when I was 12... she used to find me sickening, but now we're good pals. Perhaps we should Photoshop her on to the cover of our EP."
On the day we meet, Ritchie is in the midst, at the age of 24, of moving out of her childhood home in Clapham, south London, and into a shared rental in Mile End. Needless to say, her parents, Elise and Robin, are also musical – meeting when Robin hired Elise as a vocalist in his band. With a young family to support, Robin exchanged his music for selling encyclopedias, although not before he'd performed with Paul Simon. "Paul Simon came and did a gig at Portsmouth where my dad was vaguely at university," says Ritchie. "They played a student night before Paul Simon was Simon and Garfunkel and I think he slept on my dad's friend's floor. And me and my brother were like, 'This is the coolest thing ever...'."

Ritchie's maternal grandfather, Stephen McCormack, was the first controller of Anglia Television in Norwich, while her grandmother was the actress Nancy McCormack. With such a pedigree, it is hardly surprising that she joined the National Youth Music Theatre and toured Japan at the tender age of 11. "Wasted on me," she says. "I remember nothing about that trip except for the toilets that automatically flushed."
Having obtained an agent at 15 after starring in a short film, The Open Doors, alongside Michael Sheen and Cherie Lunghi, two years later she auditioned for a classical crossover group consisting of four winsome brunettes designed to be a sort of female equivalent of Simon Cowell's Il Divo.
Ritchie was anything but a typical X Factor wannabe and admits to being somewhat blasé about beating off 120 other girls in the selection process. "There was a guy who wanted to put together a vocal harmony group for a CD and when he called me and said, 'You're one of the girls', I was like 'Cool... that sounds great' and I think he was kind of expecting more."
All Angels signed a five-album deal with Universal and Ritchie, somewhat to her own bemusement, found herself playing before the Queen at the Festival of Remembrance. "I really didn't understand how I got from my singing teacher's living room to the Albert Hall," she says. "We were manufactured and packaged and always had perfect make-up on, perfectly-done hair, but – and I am not usually one to be blowing my own trumpet – we got really good at our harmonies."
All Angels even got to harmonise on the pitch at Wembley just before the 2011 Champions League final between Barcelona and Manchester United – and their preparation and performance that night is preserved for anybody to see on YouTube (exit Charlotte Ritchie; enter Lionel Messi). "The Champions League Final... that's the bit that really gets people," she says.
"They think it's really cool... and it was cool, because I got to be on the pitch and everything. But I gave my ticket away to my manager's son; he's 15 and the biggest football fan you could meet and I don't really care that much about football. I went home and watched it with my brother."
All Angels toured with Katherine Jenkins and sold over one million CDs, but only a small proportion of the proceeds made it into Ritchie's pocket: "For a 17-year-old it was loads of money," she says. "But because we didn't write any of the songs or arrange them, we were essentially session singers." Still, she made enough so that when she left Bristol University, she wasn't laden with student debt. With such a stellar career, I wonder why she bothered with university.
"I've never really taken for granted this would last," she says. "My mum and dad are constantly saying to me, 'Enjoy this now because soon you'll be an unemployed teacher'. Not an employed teacher... an unemployed teacher..."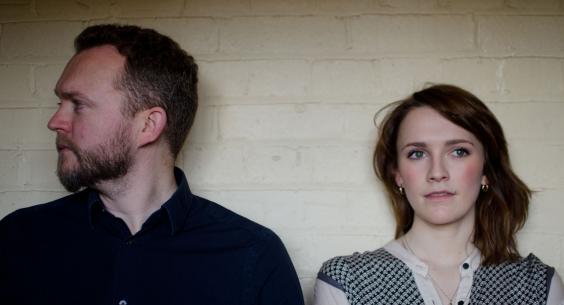 Two weeks before the end of her English and Drama degree at Bristol, and with her dissertation (on the difference between live and recorded performance) still unfinished, Ritchie found herself in Manchester filming the first series of Fresh Meat, having swapped real university life for a pretend one, and real housemates for fictional ones. "What I thought was a good sign is that it took us a while to become really good friends," she says of the cast. "We'd kind of chat and learn about each other as the weeks went on.
"By the end, we were having dinner with each other every night and now, for the past two years, we've done it every single night after we've finished filming, after 12 hours together. If anyone came and visited, they'd be 'I can't believe how much you moan... how much you complain about your job', even though it's amazing."
The 34-year-old Greg McHugh, the Scottish actor who plays the resident weirdo Howard, is the oldest of the cast members. "Greg's fatherly... he can be really grumpy but really lovely with it," says Ritchie. "Kimberley's very motherly; she's always the one who remembers everyone's birthday. Jack is like a child; he's either not with you – completely distracted by his phone – or he's really energetic and hyper.
"Zawe's really great. I think the fact that she and I play good friends on screen had a real impact – we don't have the same dynamic, but a similar one, especially when I look up to her and think 'She's really cool... she's got lots of good stories'... she's really in the biz."
Amazingly, to a committed fan such as myself, there is still no word on whether Fresh Meat will return for a new series, but then its success means that the cast now has numerous commitments. Ritchie has just finished filming a pilot for BBC3. Is she sad that the BBC have decided to restrict its youth channel to online? "I think it gets a really bad rep because of programmes like Snog Marry Avoid, which some people like but I don't," she says.
"But it's got loads of great comedy; for example, when I was much younger I was awake late one night and I saw an episode of The Mighty Boosh – I'd never seen it and I only caught it because it was on telly. I think it's a shame to get rid of something like that."
Ritchie is an eloquent speaker, is happy to declare herself a feminist ("I would be mad if I said I wasn't") and reckons young people have a tough time compared to their parents' generation ("I have friends with a first from a good university and they can't get a job... it knocks people's confidence"), but don't expect any glib, Oregon-like political posturing; the complete opposite, in fact.
"I have views but I tend not to express them freely, because I'm not informed enough," she says. "Nothing annoys me more than uninformed people not considering the effects of what they say".
'Siblings' begins on BBC3 later this month. Charlotte and Luke Ritchie's EP, 'Light of Another', is released in June
Brothers & sisters unite
The Carpenters
Karen and Richard Carpenter were one of the bestselling acts of the 1970s, with a string of melancholy classics including 'Close to You' and 'Rainy Days and Mondays'. Karen died from an eating disorder in 1983.
Donny and Marie Osmond
Still wowing them in Vegas, the Mormon siblings and two of the brightest sets of gnashers in showbiz were first paired together in 1976, in TV's 'The Donny & Marie Show'.
The B52s
Love Shack, baby… beehive-haired chanteuse Cindy Wilson joined older brother Ricky in the post-punk combo that put the rock into lobster.
No Doubt
Before he left to become an animator on 'The Simpsons', Eric Stefani played keyboard in the American rock band fronted by another occasionally cartoonish character, his sister Gwen Stefani.
Reuse content