'Getting On', the low-key and naturalistic sitcom noir set in the geriatric ward of an NHS hospital, and starring its joint writers Jo Brand, Vicki Pepperdine and Joanna Scanlan, debuted without fanfare on BBC4 in July 2009. But over the course of three series, it turned critics into besotted admirers ("not just funny: it's a radical, profound masterpiece", that sort of thing), and captured the notice not only of various TV awards, but also a tiny but dedicated audience that included a disproportionate number of health-service workers.
"People working in the NHS have a passionate devotion to it," says Scanlan, who played ward sister Den Flixter. "I was in Robin Hood's Bay [in North Yorkshire] and a Polish nurse saw me and nearly fainted… she was palpitating. And occasionally in the street, people run up and say, 'Excuse me, I just want to say thank you.' And you go, 'Sorry… what?' and they say, 'I loved Getting On; thank you so much.'"
One might have expected similar gratitude from BBC4, but the Corporation's attitude remained curiously non-committal; new head of comedy Shane Allen eventually announced its demise last summer, alongside that of Heading Out, Sue Perkins' sitcom about a gay vet which also featured Scanlan. "They didn't want to put Getting On on BBC2 and that was a slight issue for us," says Pepperdine, who was so brilliant as uptight, tin-eared consultant Dr Pippa Moore. "The Thick of It, Lead Balloon and Rev all went to BBC2, and in an ideal world we would have transferred too. In the end they offered us three more episodes, which was kind of odd."
"Anyway, we had got to the point where we wanted to do something different," interjects Scanlan. "We'd done an awful lot of hospital work and we knew we'd transfer some of that to the American show."
The "American show" is Getting On's US remake: a BBC Worldwide/HBO co-production that has translated the downbeat ambience to a California setting. Alex Borstein (the voice of Lois Griffin in Family Guy) takes Scanlan's role and Laurie Metcalf (Roseanne, Desperate Housewives) fills Pepperdine's.
The show was well received and has been re-commissioned, with Scanlan and Pepperdine very hands-on executive producers. "We're quite intensively involved with the American writers," says Scanlan. "Some Skype, but we've also sat in hotel rooms and talked for 10 hours. It's great transferring our character work to the American health system; that's more interesting for us than looking again at the British system."
BBC4's Puppy Love
BBC4's Puppy Love
1/5 Puppy Love

The show is set around dog-training classes in the Wirral

BBC/Woof Productions

2/5 Puppy Love

Joanna Scanlan stars as a Liverpudlian dog trainer in the new series

BBC/Woof Productions

3/5 Puppy Love

Scanlan and Pepperdine were determined to use real dogs and their real owners in the show

BBC/Woof Productions

4/5 Puppy Love

Dog tired: The BBC4 sitcom is once again written by and stars Scanlan and Pepperdine

BBC/Woof Productions

5/5 Puppy Love

Vicki Pepperdine with her Golden Retriever Archie (left) and Joanna Scanlan with Staffordshire terrier Millie

Dan Burn-Forti
Our interview is taking place in a restaurant in Wilmslow, Cheshire, where Scanlan is staying while filming nearby as a maverick detective inspector ("Aren't they all?") in No Offence, a Channel 4 police drama written by Shameless creator Paul Abbott. It's a leading role for an actress more used to supporting parts, whether as bumbling Whitehall press officer Terri Coverley in The Thick of It or (with Pepperdine) in the most recent series of Rev. We're not here to discuss this prominent performance, however, but another BBC4 sitcom, once again written by and starring Scanlan and Pepperdine.
Puppy Love is set around dog-training classes in the Wirral, run by a bustling individual called Nana V (Scanlan, complete with Liverpudlian accent). Pepperdine, by contrast, plays another of her uptight middle-class professionals – this time one with pooch behavioural issues.
"I've always had dogs in my life," says Scanlan, explaining the origins of the series. "When I was at boarding school my mother's letters were always news of the dogs… they represented so much. As a young person in London I couldn't have a dog until I was about 30, when I got one called Puppy – she features in the show in a photograph; she was a Jack Russell terrier – she got me through a long period of my life."
Puppy died aged 15, at which point Scanlan, now married to accountant Neil, visited Battersea Dogs & Cats Home in search of a huskie they'd seen on the website; they ended up taking home a Staffordshire terrier called Millie – the same Staffie that features in the sitcom as a rescue dog called No Name. It's not vanity: it's that Scanlan and Pepperdine were determined to use real dogs and their real owners.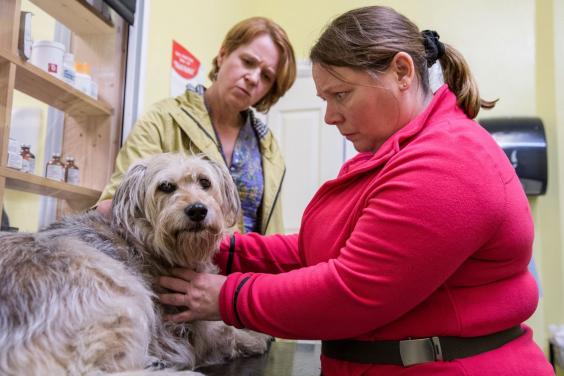 "In Getting On, when we filmed on the ward with the elderly ladies, they were extras but they were very much ordinary elderly ladies who didn't do too much supporting artist work," says Scanlan. "When we went to them in their beds, they'd respond realistically. That was a working practice we deliberately took to Puppy Love."
"It was also crucial for us that we weren't using showbiz dogs doing a trick for a treat," adds Pepperdine. "We wrote carefully to ensure that nothing ended on a dog doing anything; we weren't interested in 'Aren't dogs funny?' We were interested in what hole in the individual or collective psyche a dog fills."
"One of the things we really wanted to capture was the genuine love people have with their real dogs," says Scanlan. "There's a lovely moment in one episode, in the vet's, where a lady is sitting on a chair and her big dog is sitting in front of her and she's looking at her dog and adoration is pouring out of her eyes, and the dog just puts its paw up and puts it on her arm. It's fleeting, but it gives a truth to the story."
By the time they started working together on Getting On, and inspired by Scanlan's "perfect dog" Puppy, Pepperdine also got herself a canine companion – the fulfilment of a childhood dream, her parents having always refused to buy her one. But this pooch, a Golden Retriever called Archie, was nothing like Scanlan's four-legged paragon. "I was terrified of it at times because it would grab my clothes as I walked past, and jump on the sofa and never come off," says Pepperdine. "We went to endless dog trainers, one of whom said I had to lie on top of it – the alpha role, it's called. I didn't do it… I thought, a) I might just kill it; or b) It might just rip my throat out… Those were the two options."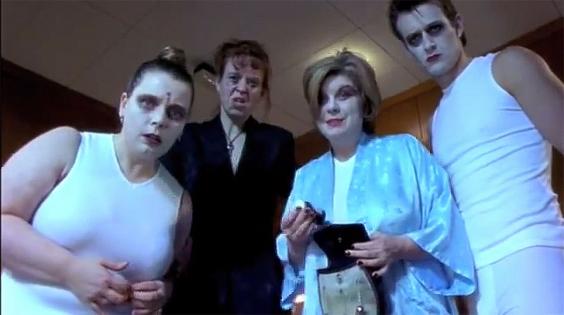 A "brilliant" trainer called Lisa eventually sorted out Archie, and the seeds were sown for what would, after many years, become Puppy Love. "It was five years before we made the pilot, after it had died three times," says Scanlan. "You go through a development phase and eventually the broadcaster says, 'No, actually, I don't think so,' then somebody else would come along and ask, 'What happened to that? I really liked it.'"
The duo met 15 years ago while appearing together in Coming Soon, Annie Griffin's comedy drama about an experimental theatre troupe that also featured Julia Davis, Ben Miller and David Walliams. "I played the rather unpleasant director; it's a theme… sadly I'm actually very horrible," quips Pepperdine. "Anyway, we got on very well and we just kept in touch and every so often we would say, 'Let's do something,' then we wouldn't quite have the time."
Both came to acting late. Pepperdine, whose parents both worked in the NHS in south-west London (partly inspiring Getting On), lacked self-belief in her thespian talents. "I was in the same class at school as Samantha Bond, who was incredibly brilliant and I thought that's what you have to be to be an actor," she says. "I was the funny person, I played the eccentric professor part in the school play – to great acclaim – but I thought that wasn't really acting."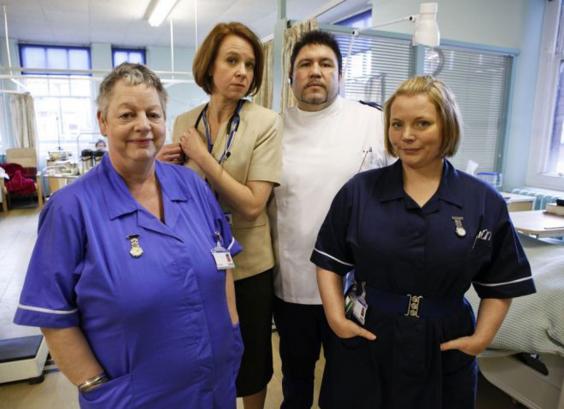 Having studied history of art at the University of East Anglia, and worked for Help the Aged and in publishing, at the age of 27, Pepperdine summoned up the courage to apply for drama school – East 15 in Essex, because her heroine Alison Steadman had been there.
Scanlan, whose parents ran a hotel in north Wales, studied history at Cambridge, where she joined Footlights, and befriended Tilda Swinton and Hugh Bonneville, both of whom appeared in the final episode of Getting On, and Simon Russell Beale (who didn't). She undertook a European tour of Romeo and Juliet in which Bonneville played Romeo while Scanlan was Lady Capulet. "I skipped the Juliet phase," she says. "I'm not sure how much of an ingénue's career I would have had – I'm far too chunky."
After Cambridge, Scanlan fell into both lecturing (teaching performing arts at Leicester Polytechnic) and "a post-education depression" that didn't lift until she visited a doctor with what had hitherto been diagnosed as ME. "He asked me a couple of simple but pertinent questions, and said, 'If you don't go back to acting, you're going to be ill for the rest of your life.' As he said it, I thought, 'Oh dear… that's true,' then I felt so embarrassed because now I was going to have to say, 'I want to do it too,' and it just seemed such a show-offy thing."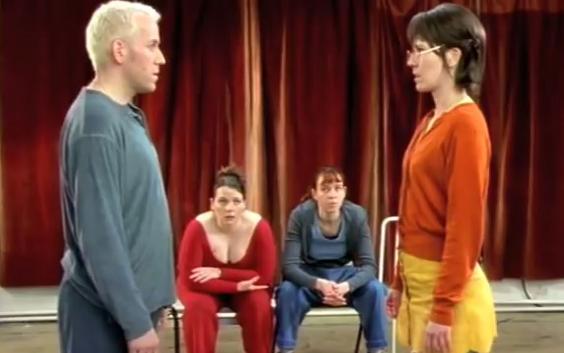 While Scanlan teamed up with another aspiring writer-performer, Jo Unwin (now a literary agent), contributing scripts to various TV shows, Pepperdine formed a double act with Melanie Hudson and hit Edinburgh – where they picked up French and Saunders' agent and a Radio 4 show. "Melanie and I went our separate ways after 10 years; we were playing two young women sharing a flat, then we became too old for two young women sharing a flat – although it was radio."
Scanlan's desire not to appear "show-offy" and Pepperdine's sense that comic acting wasn't really acting might have held them back. But was there also a feeling that they were at a disadvantage as women in comedy? "I often wonder whether my gender was an element, and whether men would trust that a woman could deliver," says Scanlan. "Who knows, but it took a long time."
Puppy Love is filmed in West Kirby on the Wirral Pensinsula, where Scanlan was born, and from where Pepperdine's father's family once hailed. "Vicki and I had been writing together for about a year before we discovered that each of our fathers came from within a quarter of a mile of each other," says Scanlan. "It made sense to us; there's something about a shared sense of humour that is about being local."
They are both enjoyable company, and a joy to listen to, whether it be Pepperdine's deadpan delivery while recalling her attempt to update her Wikipedia page ("It kept asking me who I was and I panicked and logged out") or Scanlan's description of "medieval Wednesdays" while growing up in Ruthin in Denbighshire.
Are they as warm to those who recognise them while they're out and about? "We got loads of nominations and awards for Getting On," says Scanlan, "but the BBC never really got it out to the public. Look around – there aren't people in this restaurant going, 'Over there… those are them two.' I quite like it, though, because I like being able to walk freely among people."
Except among health-service workers, of course – and perhaps, in future, dog owners.
'Puppy Love' begins on BBC4 in mid-November
Reuse content