The new TV miniseries Bonnie & Clyde, the latest screen version chronicling the life and crimes of America's most infamous outlaws, has the type of illustrious screen forebearer that could so easily have rendered it a hostage to fortune.
Arthur Penn's 1967 film transcended the status of a mere movie to become a youth cultural movement making stars of Warren Beatty and Faye Dunaway as Clyde Barrow and Bonnie Parker.
When casting the leads, the makers of the two-part, four-hour TV film, which airs on the Lifetime Channel for the next two Thursdays, sought to banish memories of Beatty and Dunaway by looking over here.
Holliday Grainger, 25, from Didsbury, Manchester, best known as a period drama fixture in The Borgias, Great Expectations and Jane Eyre, was cast as Bonnie.
Australian director Bruce Beresford, whose previous film credits include Driving Miss Daisy, cast Grainger after she seeing an audition tape she sent online. "I didn't know she was English because she auditioned in an amazing American accent," Beresford says.
Grainger is a ball of energy in the film, which seeks to make the case that Bonnie was the driving force for the crime spree which her and Clyde embarked upon between 1931 and 1934, during which they killed nine police officers and several civilians.
She's both a volcanic and vulnerable Bonnie- at one point bursting into a journalist's home to demand she gets written about- and certainly better than Miley Cyrus, an unlikely early frontrunner for the part. "When the producers first sent me the script, they mentioned Miley Cyrus," Beresford says. "I was apprehensive but when I called back, they said, 'We've changed our minds. We don't want her.'
The director was initially reluctant to take on the project. "Originally I didn't even want to read it but I thought the script was an interesting take on the characters," he says. Rather than glamorise their exploits as the 1967 film did (its tagline was "They're young…they're in love"), the latest take on the outlaws depicts them as tragic victims of the depression. "It could easily have gone the other way," says Beresford. "It was like that with a lot of people."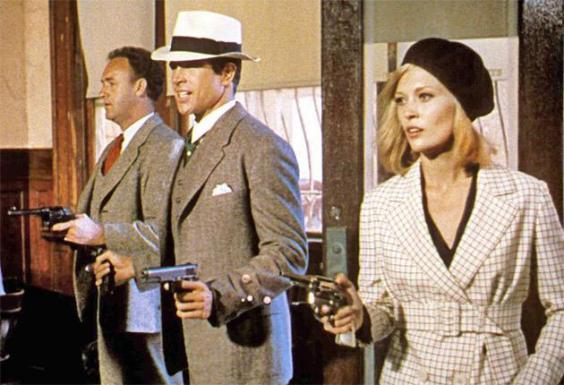 Emile Hirsch, the 28-year-old Californian actor who steps into Clyde's brogues, said he deliberately avoided seeing the 1967 film until after shooting in Louisiana had finished, but ironically bumped into Beatty at an LA party shortly after having received the script.
"I benefited from not seeing the original so I didn't have that monkey on my back shoving bananas in my ears!" he says. "I was able to say we're going to make Bonnie & Clyde for this generation and for people who've seen the original and want to see a different take on it."
The new incarnation has generated controversy for taking liberties with Clyde's passivity (Grainger describes Hirsch as bringing "stoic depth" to the role). But Beresford defends the dynamic: "That was the conclusion the writers came to when they did the research. When I did the research, I thought it was valid."
Eight decades on from their crime spree, Hirsch sees parallels between Bonnie and Clyde and today's 'selfie' culture: "This narcissism and quest for fame that Bonnie and Clyde embarked on is something a lot of people have today in an age of round-the-clock celebrity. It's this seething, crazy rage for fame that is frothing at all times. I think people will identify with Bonnie and Clyde in a really sick way."
Grainger concurs, reckoning that the combination of her creativity and self-absorption would have seen Bonnie Parker a cyberspace natural today.  "I think it's important to differentiate between what the actual Bonnie was probably like and the Bonnie in our script", she says, "but even in her diary extracts that I read, she seemed a lost young teen who was so lonesome and depressed with life.
"Everything was so dull and she couldn't get anywhere. There's an aspect of people being even more stifled back then because there was no freedom. You couldn't find jobs on the internet. If Bonnie was alive now, she'd be blogging and sending her poetry off left, right and centre."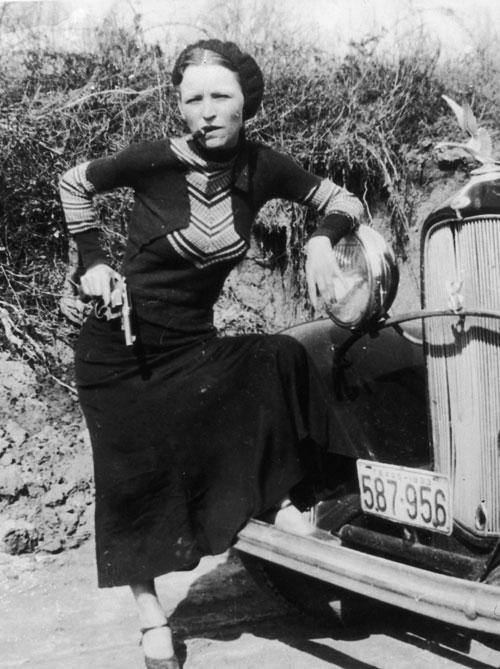 Reviewers have been divided over the new Bonnie & Clyde, though ratings extended to almost ten million viewers when it was broadcast Stateside in December.  USA Today declared its approach made it "feel more like an expansion than a remake" while The Boston Herald sniffed: "There oughta be a law against series like Bonnie & Clyde."
This polarity is also reflected in the miniseries' message that presents them as both creative livewires and cautionary tales. Grainger doesn't hide her admiration for the murderess: "She was such a creative, talented girl. She wrote poetry and got rejected as an actress by MGM. There's this drive and rebellion and sense of anti-establishment which is admirable. It all got a bit out of control but it's not like she ever set out to kill people!"
As with the 1967 film, which also featured Gene Hackman and Estelle Parsons, who won a Best Supporting Actress Oscar, the new Bonnie & Clyde features a strong supporting cast. William Hurt is law enforcer Frank Hamer while Holly Hunter- Hurt's co-star from Broadcast News- plays Bonnie's mother.
Hurt is renowned for his intellectually offbeat views on life and film and he doesn't disappoint here. Bonnie & Clyde, he argues, is influenced by 9/11. "[Arthur Penn's] Bonnie and Clyde was a big deal for our generation," Hurt says. "This is a version for this time. Times change fast, especially if you have September 11 along the way and the 2008 meltdown. Who's really saying what in what time about what? It's so different…what I see is a very blunt morality tale.
"I see a story fairly directly told with new elements in it that the old one certainly didn't have at all, like that the whole story between them [Bonnie and Clyde] was previewed between character and destiny. What this film is implying is something in our time that people might accept that these events were inevitable."
Hurt warms to his theme. "There's a lot of work coming out like that seems bathed in that framework because of the morality that's being shaped in these times. Look at Batman and Superman through Lois Lane.  The documentary of Bonnie and Clyde has never been told in a really thoroughly accurate way. It was always a massive idealised, demonised or lionised  interpretation of an event.
"You look back through the history of drama at Restoration drama, Classic Greek Drama, Jacobean Drama or Elizabethan Drama or 1960s drama. It reflects time and space and holds a mirror up to nature. This is a tragedy in the classic sense."
Director Beresford, who adds he might next be collaborating with the writer William Boyd on their third project, adopts a more prosaic view of the doomed outlaws: "They were a couple of kids who just ambled down the wrong path."
Bonnie & Clyde airs on Lifetime on 6 February and 13 February