It must be a first for a football match. The crowd is actually cheering the referee.
The Independent is in the stand at Walton Casuals Football Club in Surrey to watch the filming of a climactic scene from BBC1's one-off family drama, The Boy in the Dress, and the dozens of extras beside us are whooping and hollering at the referee's every move. David Walliams, portraying said referee, is playing to the crowd and is clearly loving every second of it.
Adapted from the comedian's own bestselling debut children's novel, the script homes in on Dennis (Billy Kennedy), a 12-year-old misfit with an unhappy home life. After catching sight of a model by chance in a fashion magazine one day, he makes a bold decision: to go to school wearing a dress – and damn the consequences. The very first line of the book – "Dennis was different" – sets the tone.
Done up in a ridiculously bouffant wig and tight black shirt and shorts, 43-year-old Walliams is playing an exceedingly camp drama teacher who has been called up at the last minute to referee Dennis' school football match.
Skipping merrily into the middle of the pitch, the teacher admits that, "I don't know much about football, but I've seen a couple of games on the TV, and how hard can it be?" The referee proceeds to conduct the pre-match coin toss. "Heads! It's Elm Forest to serve. Ooo, exciting!"
In a break between takes, I compliment Walliams on his flamboyant tippy-toes run to the centre circle. "Thank you," he smiles. "I've spent the last 43 years perfecting it."
It was another, equally camp character who provided the inspiration for the original book. When, 11 years ago on Little Britain, Walliams started cavorting around in a dress as the rubbish transvestite Emily Howard and exclaiming in the most unconvincing manner, "I'm a lady!", little did the performer know that this over-the-top sketch-comedy character would spawn a children's literature phenomenon.
TV specials to watch this Christmas
TV specials to watch this Christmas
1/14 Doctor Who

Nick Frost plays Santa Claus in the Doctor Who Christmas special

BBC

2/14 Downton Abbey

The cast of Downton Abbey up sticks to Northumberland for a shooting party this Christmas

ITV

3/14 The Wrong Mans

Matthew Baynton and James Corden in the Christmas episode of The Wrong Mans

BBC

4/14 The Great British Bake Off Xmas Masterclass

Christmas cooking can be a right nightmare, but never fear, for Mary Berry and Paul Hollywood are here

BBC

5/14 Top Gear

The Top Gear Patagonia Special is going ahead despite complaints from the Argentinian government

BBC

6/14 Miranda

Miranda Hart will put her sitcom character to rest after two Christmas specials

BBC

7/14 Mrs Brown's Boys

Agnes Brown returns for two Mrs Brown's Boys episodes this Christmas

BBC

8/14 Call The Midwife

Miranda Hart will be all over our screens as she also stars in the Call The Midwife festive special

BBC

9/14 Black Mirror

Jon Hamm stars in an episode that will see people 'blocked' in real life

Channel 4

10/14 Esio Trot

Dustin Hoffman and Judi Dench star in the BBC adaptation of Roal Dahl's children's novel

BBC

11/14 The Boy In The Dress

David Walliams' latest children's comedy promises a cameo appearance from Kate Moss

BBC

12/14 The Incredible Adventures of Professor Branestawm

Harry Hill makes his acting debut in this family drama about an absent-minded, mad professor who causes chaos with his hare-brained creations

BBC

13/14 Attenborough's Paradise Birds

It wouldn't be Christmas without David Attenborough's soothing tones

BBC

14/14 EastEnders

The Carter family pose for a photo in the EastEnders Christmas special

BBC
Plonking himself down in a seat next to me in the stand, Walliams takes up the story. "I was inspired to write The Boy in the Dress in 2008 by a real boy who went to school dressed as Emily Howard. He sent me a letter about it and then queued to meet me outside the Manchester Apollo after a Little Britain gig.
"He said to me, 'I don't know if you remember me, but I'm the boy who goes to school dressed as Emily Howard.' I replied, 'I do remember you, and I'm very glad you do that. It's really brave of you.'"
Walliams, whose big break came with Little Britain in 2003, continues: "That started me thinking, 'What if I wrote a story about a boy who feels different from everyone else and wants to express that by going to school in a dress? Wouldn't that make a really interesting children's book?'
"I wanted to write a story about tolerance, but also about the hypocrisy of the adult world. I love that line from Eminem: 'My mom smokes more dope than I do.' Grown-ups are always telling children to stop doing the things they do themselves."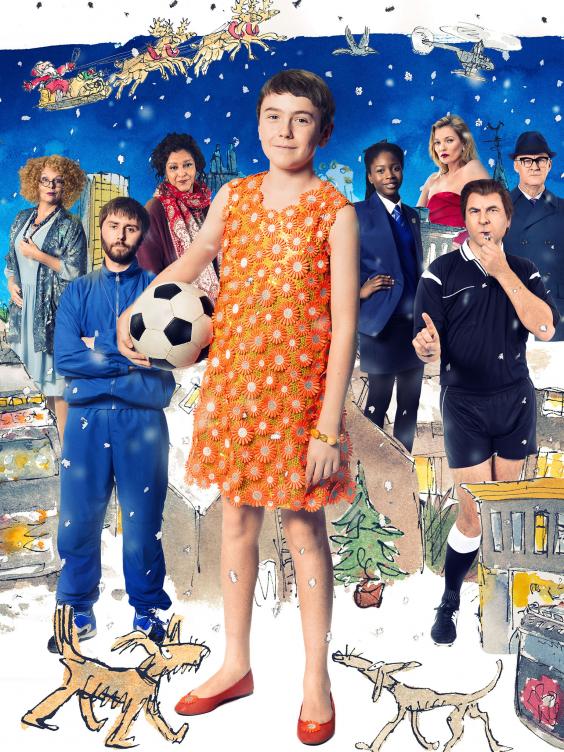 But for all his well-documented love of cross-dressing, Walliams is quick to point out that The Boy in the Dress is not autobiographical. "It's not about my own childhood. It's more a fantasy of how I would have liked my life to have been back then.
"All children feel like outsiders. Something in their head separates them from others. But I was lucky – I felt accepted. I was fortunate as I found something I loved, which was acting and making people laugh. That was my route to acceptance."
No doubt it is this positive message about celebrating individuality that has helped attract a top-notch cast to The Boy in the Dress, which goes out on BBC1 at 6.55pm on Boxing Day. The company of actors also features Jennifer Saunders as Miss Windsor, Dennis's hysterical French teacher, Tim McInnerny as his tyrannical headmaster, Steve Spiers as Dennis' dad, Meera Syal as a mum with a crush on Dennis' dad, and a certain Kate Moss as herself.
Dressed in Miss Windsor's curly blonde fright wig and frumpy turquoise top, Saunders says she was drawn to The Boy in the Dress because, "It has a really proper message. David makes it cool to be tolerant and to be different. He's always so different himself. He's saying, 'Be who you want to be and don't apologise for the rest of your life'."
It would be misguided, however, to think that Dennis' life is straightforward. He does, of course, risk general opprobrium when he resolves to go to school in a dress. Walliams, who has also starred in Come Fly With Me and Big School, underscores that, "Dennis doesn't just wear a dress for laughs. It's safe if you just do it for laughs – it's like dressing up as a woman for Rag Week with balloons up your shirt. But it's not like that for Dennis. His situation is difficult."
The novel, which has sold close to half a million copies since its publication in 2008, has had a major impact on its young readers. "Just yesterday," Walliams reveals, "I got a tweet from someone saying that the book had helped their child to understand a relative who is transvestite.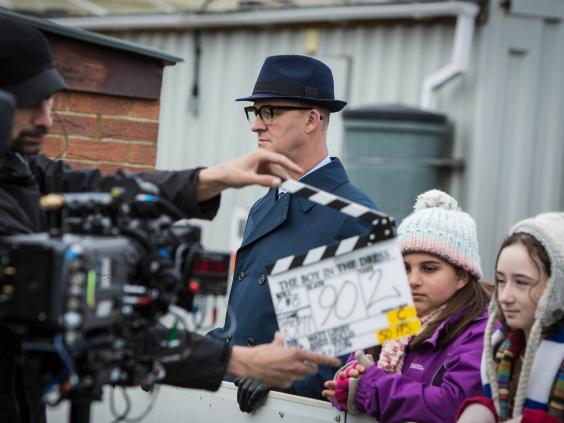 "If you can move people with your work, that's great. You don't get to do that as a comedian, where the effect is more uncomplicated. I love the fact that books can have a more emotional dimension. You can develop characters with an emotional life and take people on a bigger journey."
He continues that, "The Boy in the Dress is sad, yet ultimately uplifting, and I hope people will shed a few tears watching it. I often got emotional writing it. That's the weird effect that fiction can have on us. When I watched War Horse, I thought, 'Why am I crying? It's a puppet horse."
But for all that, can a book or its TV adaptation ever really change anything? Walliams, who has also created yet another parallel career as a judge on Britain's Got Talent, reckons so. "You can definitely change things through drama. For instance, I grew up watching The Boys From the Blackstuff, and great drama like that can change the way you think. If something moves people, it can alter them. Drama can hit you harder than a documentary."
In the course of writing seven novels for younger readers over the past half a dozen years, Walliams has become one of our most successful children's authors. He has been described in publishing circles as, "A phenomenon, the Roald Dahl of his generation." It is estimated that his books have generated sales in excess of £13 million.
Saunders, 56, believes that Walliams' books, "will become children's classics. They're full of life and slightly wicked. David doesn't try and be politically correct, although he is in fact totally PC."
According to the actress, the key thing is that, "He doesn't shove his message down kids' throats. Children don't want to be lectured, and David gets that – he never talks down to his readers. His books are universal, too. Like Roald Dahl, he doesn't have to aim at a particular market because everyone relates to his stories.
"David also possesses such a strong comic voice. His books are like Little Britain – they have a naughtiness that is very appealing. David speaks to the child in all of us."
Joining us in the stand at Walton Casuals FC, Syal agrees that Walliams' books refresh the parts that other children's authors cannot reach. "My nine-year-old son is the hugest fan of David's books and so are all his friends. We just bought the hardback of his latest book, Awful Auntie, because we didn't want to wait for the paperback. My son read it in just two days."
Fifty-three-year-old Syal, who is currently starring in Behind the Beautiful Forevers at the National Theatre, carries on that, "What David has done for younger readers is not dissimilar to what JK Rowling did. He has a massive following among the under-11s. He just knows how to write for children. I can't think of anyone else who could have got a story about a boy in a dress into the mainstream.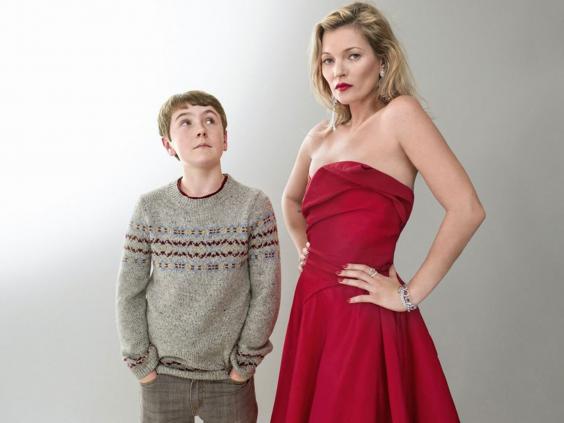 "This book understands that children are tolerant and accepting, and like honesty and humour. David's gift is that he's so plugged into how kids see the world. He doesn't worry about how the novels are going to be received. He remembers how children think and can tap into that. And crucially, he does it without being patronising."
One thing Walliams' style does is encourage larger-than-life performances in the film version of The Boy in the Dress. Saunders laughs that, "What I adore about David's writing is that there is no way you can go over-the-top when you're performing it. It fits in with my general rule, which is, 'Never underplay!' It's the kind of stuff I love doing – big and funny and touching."
Mr Stink and Gangsta Granny, two other dramatisations of children's novels by Walliams, have been broadcast over the past couple of Christmases. So adaptations of his books are quickly becoming as much a staple of the festive season as the egg-nog-fuelled family row.
Saunders thinks this is the most appropriate time of year to show The Boy in the Dress because, "It's a proper family sit-down. It appeals equally to adults and children. It's an hour of colourful, bright, cartoony fun. It already feels like a Christmas tradition. Spend your Christmas with David Walliams and a boy in a dress.
"There's your headline."
'The Boy in the Dress' will be broadcast at 6.55pm on BBC1 on Boxing Day and repeated on New Year's Day at 1.10pm.
Reuse content